TSMC founder says dedicated engineers are Taiwan's advantage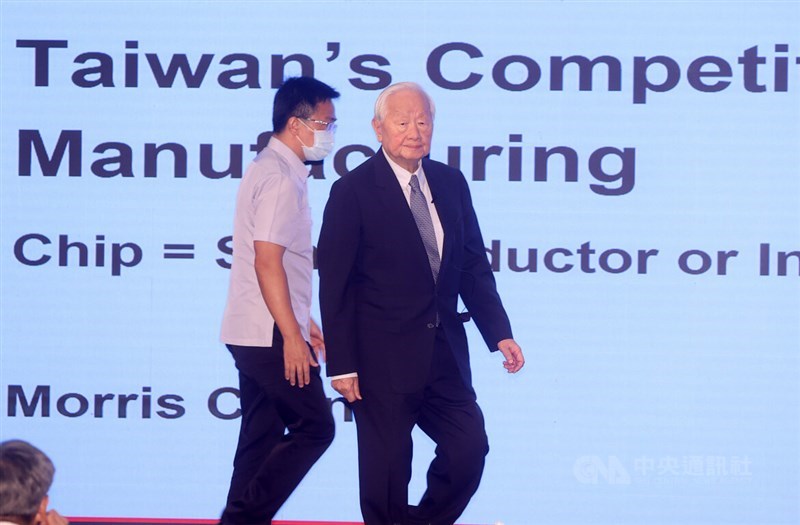 Taipei, Sept. 18 (CNA) Taiwan and its semiconductor industry have an advantage -- its engineers who are dedicated to their work, said Morris Chang (張忠謀), founder of contract chipmaker Taiwan Semiconductor Manufacturing Co. (TSMC), referring to the company's low employee turnover rate of only 4-5 percent a year.
On the other hand, the turnover rate in the United States had ranged between 15 and 20 percent a year during the 1970s-80s, Chang said during a speech in Taipei Monday.
Chang, who retired from TSMC as the chairman in 2018 after serving the company for more than 30 years, said that in the 1950s-60s, the U.S. had a competitive semiconductor industry but starting from the 70s-80s, the situation changed for the worse with the turnover rate rising to above 10 percent a year.
A semiconductor company, like TSMC, needs to spend several years training its engineers and even production line workers, Chang said, adding that he could not figure out "how a semiconductor supplier with a turnover rate above 10 percent a year will make any significant achievement."
Aug. 19: TSMC installs first EUV machine in U.S.; job opening ads posted
Dubbed the godfather of the semiconductor industry, Chang created a unique business model in which IC designers outsource to companies such as TSMC, a pure play wafer operator, to roll out chips by using its advanced production technologies.
That business model has helped the company become the world's largest contract chipmaker with a more than 50 percent share in the global market.
Chang said under this business model, TSMC is not competing with its clients, and its clients, through outsourcing to the chipmaker, are able to devote themselves to IC design. Chang described the business model as "team work."
In addition to a talent pool, the chipmaker has three production sites in Taiwan: one in Hsinchu, northern Taiwan; a second in Taichung, central Taiwan; and a third in Tainan, southern Taiwan.
With convenient transportation connections through a high-speed rail system, the company's 1,000 to 2,000 engineers are able to move quickly from one plant to another to work on their projects.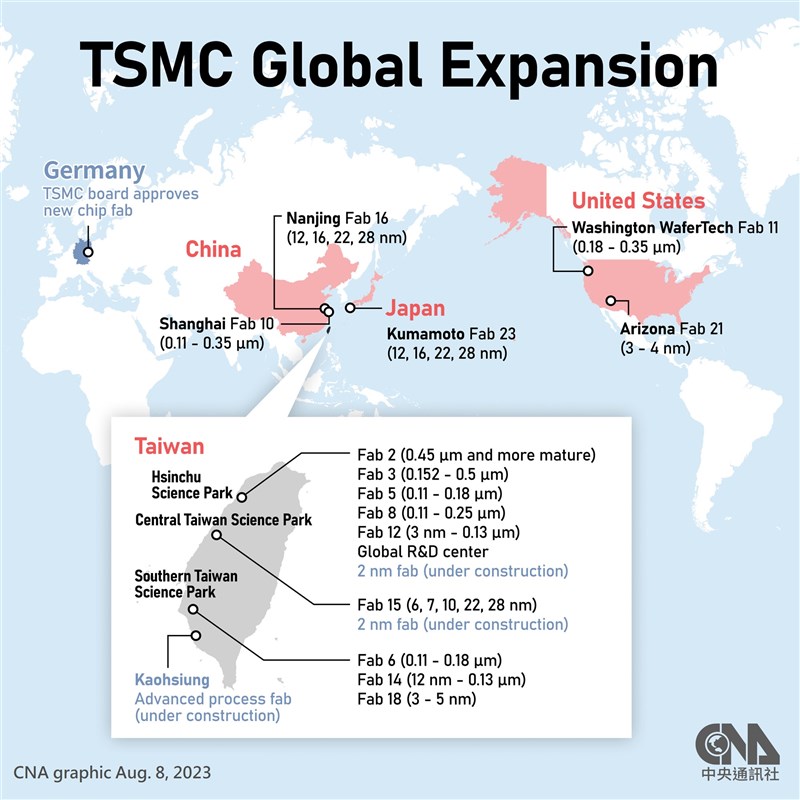 The U.S. is much larger than Taiwan, so such a working model is impossible there, Chang said.
TSMC is investing US$40 billion to build two wafer fabs in the U.S. state of Arizona. One is scheduled to begin mass production using the company's advanced 4 nanometer process in 2025, and the other is slated to start commercial production using its more sophisticated 3nm process in 2026.
According to TSMC, commercial production at the first plant in Arizona has been pushed back from the initial 2024 date due to a lack of skilled workers, which is slowing down installation of its clean room equipment.
In June, Fortune magazine cited several former and current employees in the U.S. complaining about TSMC's "brutal" corporate culture on Glassdoor, a U.S. site that lets members anonymously review corporate companies.
One engineer wrote that some employees "slept in the office for a month straight. Twelve-hour days are standard, weekend shifts are common. I cannot stress ... how brutal the work-life balance is here." Another employee wrote that TSMC was "about obedience [and is] not ready for America."
In response, Mark Liu (劉德音), who succeeded Chang as TSMC chairman, said: "Those who are unwilling to take shifts should not enter the (semiconductor manufacturing) industry since this field isn't just about lucrative wages but rather a passion for it."
Sept. 6: TSMC Chairman touts future of semiconductor development at SEMICON
Aug. 2: TSMC pledges U.S.-based hiring first in Arizona investment
In a separate statement Monday, Taiwan's Investment Commission said it has approved TSMC's application to remit US$4.5 billion to the U.S. to raise the capital size of its subsidiary TSMC Arizona Corp. and facilitate its investment in the U.S. state.
It was the second time TSMC has sought approval to raise the capital size of the Arizona unit. In March, the commission approved the chipmaker's plan to remit US$3.5 billion to the Arizona unit.