Taiwan opens carbon exchange in Kaohsiung
Taipei, Aug. 7 (CNA) A carbon exchange was opened in Kaohsiung Monday as part of Taiwan's ongoing efforts to reduce carbon emissions and eventually achieve the goal of net-zero emissions by 2050.
Speaking at the inauguration ceremony, President Tsai Ing-wen (蔡英文) said that establishing a carbon exchange platform in Kaohsiung is expected to bring Taiwan into line with other countries in the world as they push for industrial transformation through carbon emissions reduction, referring to the United States (New York), the United Kingdom (London), Japan (Tokyo) and Singapore, all of which already have carbon exchanges.
The local carbon exchange will work with its international counterparts in a bid to help Taiwan reach its goal of low carbon emissions, Tsai said.
Efforts to cut carbon emissions in Taiwan are expected to bring in more than NT$4 trillion (US$126 billion) in private investment and NT$5.9 trillion in production value, while potentially creating more than 550,000 related jobs from 2023-2030, Tsai added.
The carbon exchange, which was set up by the Taiwan Stock Exchange (TWSE) and the Executive Yuan's National Development Fund, is headquartered at the Kaohsiung Software Park with its exchange information center located in Taipei.
April 22: Carbon exchange to help Taiwan achieve 2050 net-zero goal: NDC
April 22: Taiwan to collect carbon fees starting in second half of 2024
According to the TWSE, services provided by the carbon exchange include a carbon consultancy, education and training, as well as carbon credit trading.
To assuage concerns among local enterprises about the impact of carbon emissions reduction, the TWSE has said the carbon exchange will initially focus mainly on consultation services on related issues, including carbon fees and levies in the domestic market, international carbon border taxes and carbon neutrality.
In addition, the carbon exchange will devote itself to cultivating a talent pool for carbon credit trading to develop a sound foundation for operations, according to the TWSE.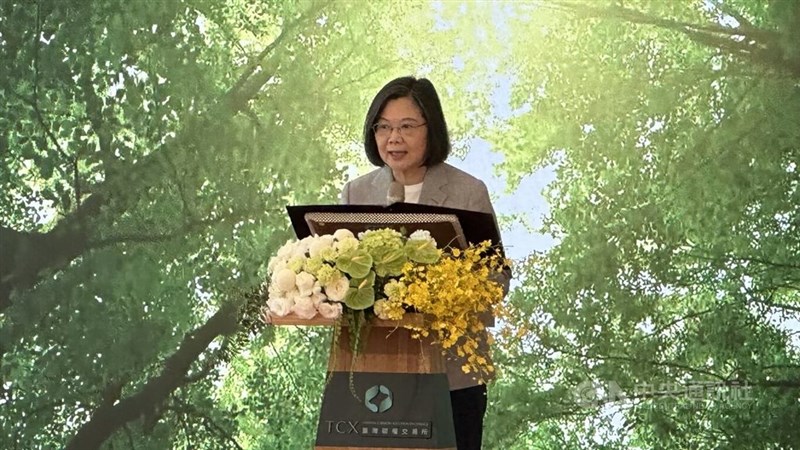 At the opening ceremony, TWSE Chairman Sherman Lin (林修銘), who also chairs the newly established carbon exchange, said companies can take advantage of carbon credit trading to meet demands such as the need to cut their carbon fees and levies and achieve carbon neutrality.
The carbon exchange also plans to launch cross-border carbon credit trading by joining forces with creditworthy institutions to provide support to high-quality carbon credit trading internationally, Lin said.
Lin noted that Taiwan is very competitive in various businesses, such as semiconductors, information and communications, textiles and metal industries globally, but because clients, including Apple Inc. and Google Inc., have increasingly demanded suppliers cut carbon emissions, Taiwanese companies in the supply chains could face more challenges.
Taiwan enacted the Climate Change Response Act on Feb. 15 making the goal of net-zero emissions by 2050 part of the law to demonstrate the country's determination to combat climate change, Lin added.
At a time when the world is pursuing net-zero emissions, Lin said carbon pricing has become a necessary tool in business management worldwide. A local carbon exchange will give Taiwan an effective carbon pricing mechanism for carbon credit trading.
May 29: Law amendment mandating rooftop solar panels passes Legislature
June 1: NT$64.3 billion approved to turn all public buses electric by 2030
In March, the government released its roadmap for achieving net-zero emissions by 2050.
According to the roadmap, 60-70 percent of Taiwan's electricity needs in 2050 will be met by renewables, with another 9-12 percent coming from hydrogen and 20-27 percent from fossil fuels with carbon capture, utilization and storage capabilities.