Taiwan shares end up after come off low amid SVB woes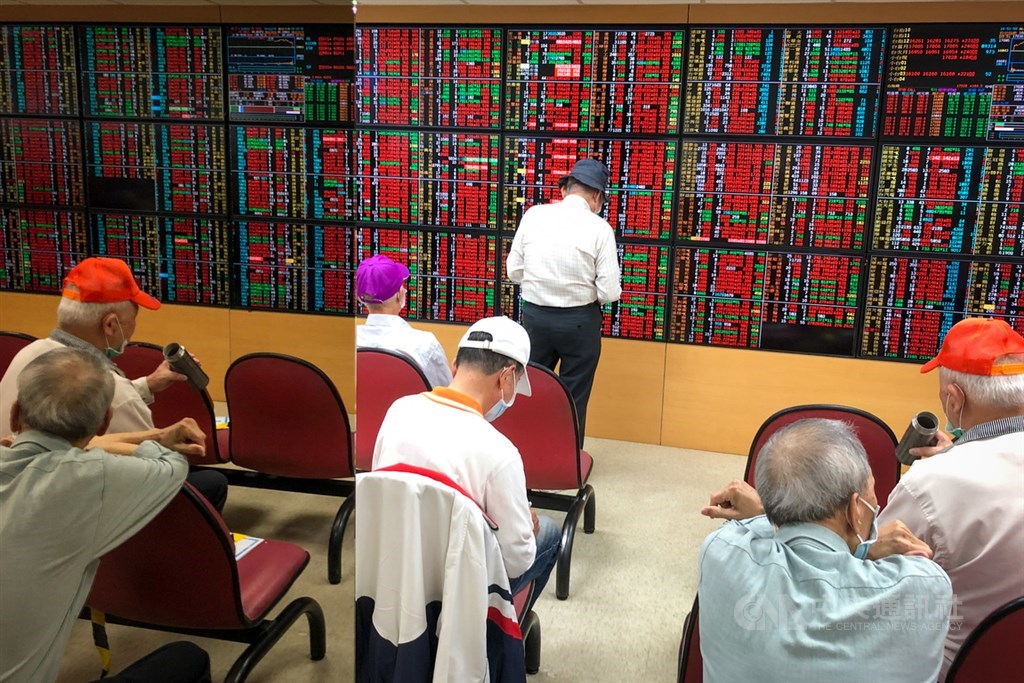 Taipei, March 13 (CNA) Shares in Taiwan closed higher after recovering from earlier weakness Monday as sentiment improved following a decision by Washington to guarantee that all deposits taken by financially troubled Silicon Valley Bank (SVB), both insured and uninsured, will be paid in full, dealers said.
Buying increased in select large cap stocks in the semiconductor industry as well as shipping stocks in the transportation industry, with bargain hunters turning active to vault the broader market back into positive territory by the end of the trading session, dealers added.
The Taiex, the weighted index on the Taiwan Stock Exchange (TWSE), ended up 34.29 points, or 0.22 percent, at 15,560.49 after moving between 15,349.67 and 15,571.17. Turnover totaled NT$239.22 billion (US$7.82 billion).
The market opened down 12.17 points and selling increased in the early morning session as investors took their cue from the losses suffered on U.S. markets where the Dow Jones Industrial Average lost 1.07 percent and the tech-heavy Nasdaq index dropped 1.76 percent on Friday in the wake of the collapse of SVB.
The bank had long provided funds to venture capital-funded startups and struggled to raise funds after heavy losses due to the tech industry downturn and rising interest rates, dealers said.
With the Taiex falling closer to 15,300 points, the nearest technical support, bargain hunting emerged and focused on semiconductor heavyweights such as contract chipmaker Taiwan Semiconductor Manufacturing Co. (TSMC) and smartphone IC designer MediaTek Inc., as well as cargo shippers including Evergreen Marine Corp.
Dow futures positive
The buying helped the broader market return to positive territory by the end of the session, dealers said.
"The buying largely reflected an uptrend on Dow futures, pointing to a rebound on the spot market later today, as the U.S. government rushed to rescue SVB," Moore Securities Investment Consulting analyst Adam Lin said.
On Sunday, U.S. Treasury Secretary Janet Yellen, Federal Reserve Chair Jerome Powell and Federal Deposit Insurance Corp. (FDIC) Chairman Martin J. Gruenberg issued a joint statement that they have approved a plan for FDIC to take control of SVB and ensure depositors of the bank will be able to gain access to all their deposits.
"On the back of SVB's financial woes, many investors at home and abroad tend to think the Federal Reserve will slow down the pace of its current rate hike cycle in a bid to prevent liquidity risks in the market," Lin said.
More and more investors are betting the Fed will raise its key interest rates by only 25 basis points instead of 50 basis point at the upcoming policymaking meeting scheduled for next week, he added.
"I guess foreign institutional investors returned to the buy side today, scrambling to rebuild their positions and eventually boosted the main board," Lin said, referring to the falling U.S. dollar during the day.
According to the TWSE, foreign institutional investors bought a net NT$4.31 billion worth of shares on the main board Monday, when the greenback moved sharply lower by NT$0.179 to close at NT$30.651.
Foreign investors
Riding the foreign institutional buying, TSMC, the most heavily weighted stock on the local market, rose 0.58 percent to close at NT$516.00 after coming off a low of NT$509.00.
Smartphone IC designer MediaTek Inc. gained 1.06 percent to end at NT$764.00 after hitting a low of NT$743.00.
Among other semiconductor stocks, shares in IC packaging and testing services provider ASE Technology Holding Co. rose 1.40 percent to close at NT$108.50, and United Microelectronics Corp., a smaller contract chipmaker, added 0.96 percent to end at NT$52.50.
Powerchip Semiconductor Manufacturing Co., another smaller contract chipmaker, lost 1.02 percent to close at NT$33.80.
Also in the electronics sector, which rose 0.39 percent to end at 732.87, off a low of 721.60, iPhone assembler Hon Hai Precision Industry Co. rose 0.98 percent to close at NT$103.00, and Largan Precision Co., a supplier of smartphone camera lenses to Apple Inc., gained 1.69 percent to end at NT$2,405.00.
Bucking the upturn, PC brand Asustek Computer Inc. tumbled 9.22 percent to close at NT$266.00 after reporting a net loss for the fourth quarter of last year.
Bargain hunters also bought into shipping stocks in the hope of generous cash dividend payouts, dealers said.
Sectors outside tech
In the transportation sector, which rose 0.92 percent, Evergreen Marine, the largest container cargo shipper in Taiwan, rose 3.33 percent to close at NT$170.50, with rivals Yang Ming Marine Transport Corp. and Wan Hai Lines Ltd. gaining 0.58 percent and 1.77 percent, respectively, to end at NT$69.10 and NT$80.50.
"Despite foreign institutional buying large cap tech stocks, many local investors largely trimmed their holdings today to lock in the recent profits built for non-tech stocks. Today, tourism stocks fell victim to a sell-off," Lin said.
The tourism industry lost 2.01 percent with Formosa International Hotels Corp. falling 4.09 percent to close at NT$269.50, and Chateau International Development Co. dropping 5.77 percent to end at NT$47.40.
In addition, Phoenix Tours International Inc. shed 2.99 percent to close at NT$63.90, and Lion Travel Service Co. lost 3.32 percent to end at NT$116.50.
In the financial sector, which lost 0.57 percent, Fubon Financial Holding Co. fell 1.03 percent to close at NT$57.70, and Cathay Financial Holding Co. lost 0.94 percent to end at NT$42.30, while Yuanta Financial Holding Co. closed up 0.22 percent at NT$22.32.
"Investors had better keep a close eye on whether foreign institutional investors raise their long position futures contracts before the March contracts settle Wednesday," Lin said.
"If they do, that will show they have turned upbeat about the Taiex amid eased concerns over the Fed's rate hikes."