New electricity rates for electric car owners to take effect May 30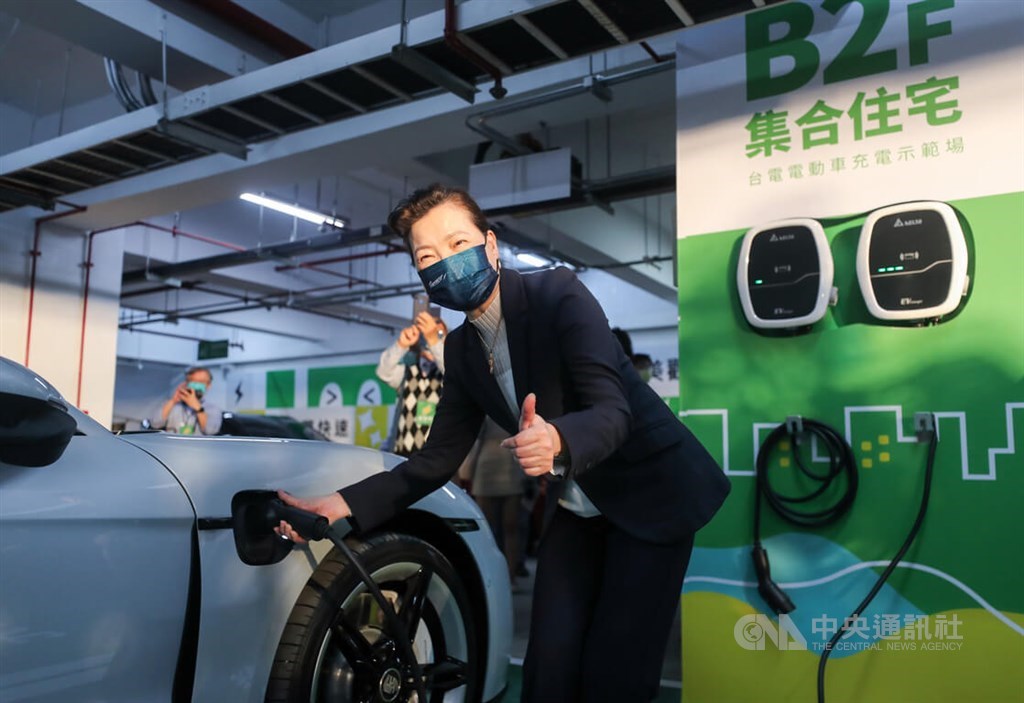 Taipei, May 27 (CNA) Economics Minister Wang Mei-hua (王美花) said Friday that new electricity rates for electric car owners, including a significantly reduced flat-rate NT$262.50 (US$8.82) monthly fee and per-kilowatt-hour (KWh) surcharges, would begin May 30.
Wang made the announcement of the launch date, which has been brought forward from June 1, during the unveiling of an EV smart-charging demonstration zone at state-run electricity supplier Taiwan Power Co.'s (Taipower's) Taipei service center.
The new rates, which are designed to encourage off-peak charging, will apply to the registered residential addresses of Taiwan's 10,000 or so electric car owners, as well as public charging points and battery-exchange stations for electric scooters.
The new scheduling will also feature per-kilowatt surcharges of NT$34.6 between October and May and NT$47.2 between June and September.
In addition, electric car owners will be charged an extra NT8.13 per KWh of electricity used between 3 p.m. and 9 p.m., with the surcharge dropping to NT$1.95 outside of these hours.
However, during the high electricity consumption months from June to September, these surcharges will increase to NT$8.35 per KWh between 4 p.m. and 10 p.m., and NT$2.05 per KWh outside of these hours, according to Taipower.
Taipower said that with the average driver in Taiwan covering 15,000 kilometers a year, electric car owners who charge their vehicles during off-peak hours would save around NT$14,000 a year in fuel costs compared to those driving a petrol or diesel car.
Unveiling its smart-charging demonstration zone, Taipower said that with around 600,000 electric vehicles (EV) currently on Taiwan's roads, demand for such charging points was increasing.
Given that improper installation could create both an eyesore and a safety hazard, Taipower said the demonstration zone was designed to show how and where to best install EV charging units.
To avoid such problems, acting Taipower Chairman Tseng Wen-sheng (曾文生) said that future installation of charging points in apartment complexes should seek to avoid using household outlets and instead opt for communal facilities.
Wang said that while the Ministry of Transport and Communications was leading efforts alongside local governments to expand charging point coverage, her ministry was also in negotiations with state-owned fuel supplier CPC Corp. to erect charging points at gas stations.