Making chips in U.S. too expensive: TSMC founder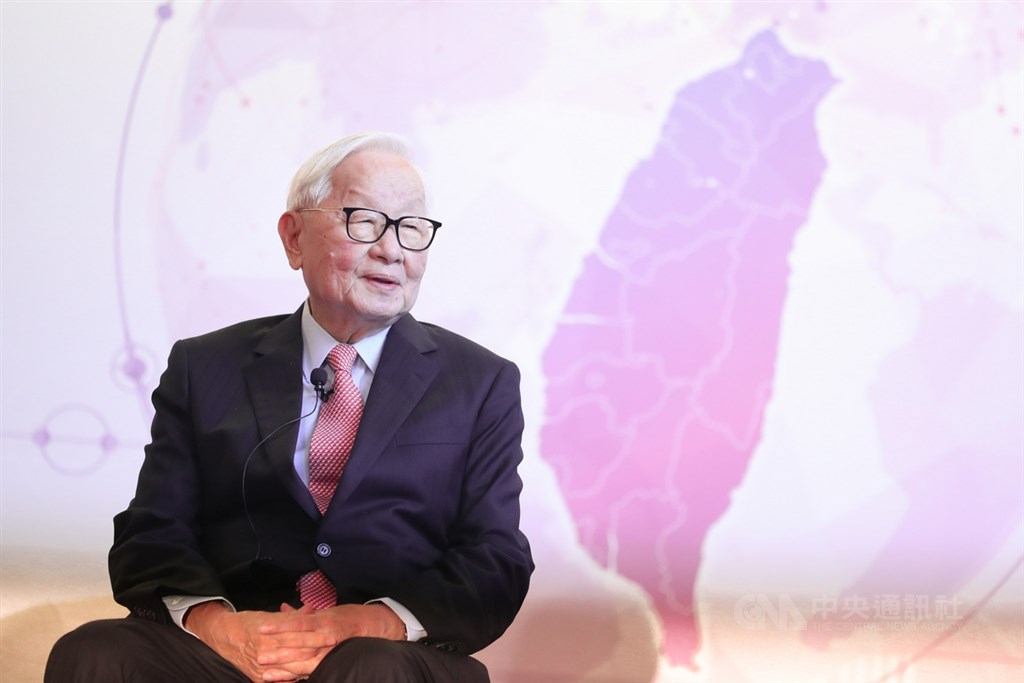 Taipei, April 21 (CNA) While the United States is looking to expand domestic chip manufacturing, Morris Chang (張忠謀), founder of Taiwan Semiconductor Manufacturing Co. (TSMC), the world's largest contract chipmaker, expressed skepticism due to the high costs of building and operating a manufacturing plant in the U.S.
Taking TSMC as an example, it costs the company 50 percent more to make the same product in the U.S. than in its chip factories in Taiwan, Chang said in a recent podcast interview with the Brookings Institution.
Chang was skeptical about Washington's push to boost domestic semiconductor manufacturing in response to concerns that Taiwan may not be safe as a war between China and Taiwan could erupt in the Taiwan Strait and disrupt chip supplies, saying that if there is no war, then this would be a wasteful and expensive exercise in futility.
If there is a war, "we will all have a lot more than just chips to worry about," he added.
In the podcast, Chang shared the story of how he established the world's largest producer of semiconductor chips and offered insights on the importance of cultivating technology talent and the future of semiconductor manufacturing returning to the U.S.
Noting that TSMC set up a factory in the northwestern American state of Oregon in 1997, Chang said, over the past 25 years, the company had tried to improve its productivity. But while improvements have been achieved, the large cost difference between manufacturing in Taiwan and in Oregon has remained unchanged.
The cost of producing a product in its Oregon manufacturing facility is about 50 percent higher than that for its Taiwan factories.
As such, TSMC did not scale up its manufacturing operations there. "Since [the facility] was still profitable, of course, we still [operate] it, but we didn't expand it," Chang said.
Due to the high unit cost of making chips in the U.S., Chang said it would be very expensive for the U.S. to increase the domestic manufacturing of semiconductors.
"This will be noncompetitive in the world markets where you compete with firms like TSMC," Chang said.
However, he said the U.S. had a very good strength in semiconductors -- design.
"The U.S. has got most of the design capability in the world. Taiwan has only a little (design capability), TSMC has none. There are a few companies in Taiwan that also do design, but they are not nearly as advanced as some of the U.S. companies," according to Chang.
He said that in the 1950s and 1960s, and the early part of the 1970s, the U.S. had a strong manufacturing sector because of a competitive talent pool. But a lot of talents then shifted to the more profitable designing and financial services industries.
TSMC's new fab in Arizona, which will utilize its 5-nanometer technology for semiconductor wafer fabrication, will be larger than the company's plant in Oregon and use much more advanced technology, said Chang.
TSMC decided to build the plant at the urging of the U.S. government, Chang said, adding that the decision was made after he retired as chairman and chief executive officer from the company in 2018.
Despite the current economic impact of geopolitical tensions, TSMC wants to be a semiconductor supplier to everybody in the world, said Chang.
In related news, construction of a wafer fab in Japan that will be run by a TSMC joint venture started on Thursday and is set to be completed in September 2023, with the fab expected to start product shipments in December 2024.
The new facility will have a monthly capacity of 55,000 12-inch wafers, according to media reports citing Japan Advanced Semiconductor Manufacturing, Inc. (JASM), the joint venture.