FAT's poor flight planning to blame for cancellations: CAA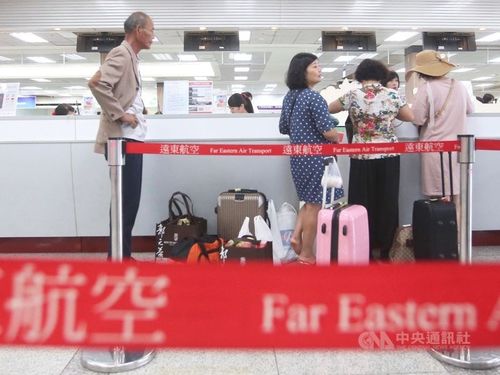 Taipei, May 19 (CNA) Last-minute flight cancellations on May 17 by Far Eastern Air Transport Corp. (FAT), a medium-sized international carrier in Taiwan, were a result of the carrier's poor flight planning, constrained by its aging fleet, the Civil Aeronautics Administration (CAA) said Sunday.
While FAT has complained that the cancellations were necessary after it exceeded its maximum number of flight hours of 1,350 hours per month set by the CAA, the administration said it had warned the carrier back in April that its flight hours scheduled for May could break the threshold.
The CAA said it has applied flight hours control to FAT since March 2017 due to safety concerns, as the airline has an old fleet comprising eight McDonnell Douglas (MD) aircraft that have been suffering more malfunctions in recent years.
According to the CAA, four of the aircraft are more than 26 years old, with the oldest topping 28 years, which poses serious flight safety concerns. The carrier's other aircraft are between 21 and 23 years old.
The CAA has demanded that the four older aircraft should be grounded permanently no later than the end of this year.
To modernize its fleet, FAT has introduced five ATR72-600 twin-turboprop aircraft since November 2017, with a fifth one expected to be put into service in late May.
However, since one of the original ATRs is undergoing mechanical problems and is under repair, the fleet capacity is actually lower than what FAT has planned.
The airline therefore borrows MD planes to serve domestic routes originally operated by its ATR aircraft, leading to an excess of MD flight hours, the CAA explained.
According to FAT, it will cancel another 31 flights through the end of May, including those from Taiwan Taoyuan International Airport to Borocay and Palawan in the Philippines, Danang in Vietnam, Niigata and Fukushima in Japan, as well as Jiju in South Korea.
In addition, its flights departing from Taipei Songshan Airport to Taiyuan and Tianjin in China will also be cancelled by the end of May, FAT said.
All flights from Taoyuan to Borocay, Palawan and Danang will be cancelled, FAT said.
The Department of Consumer Protection said Sunday that FAT will have to compensate passengers whose trips have been disrupted due to the surprise cancellations.