Contractor blamed for ceiling collapse at Taoyuan sports center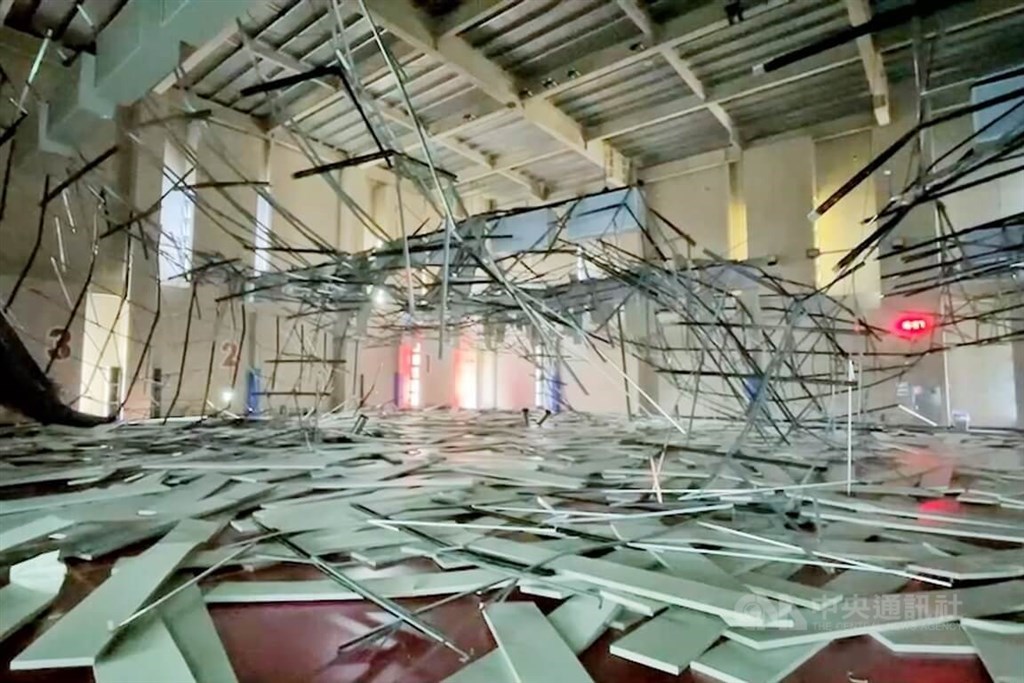 Taoyuan, Sept. 20 (CNA) Taoyuan's mayor said Tuesday that a building contractor bears the main responsibility for the collapse of a steel frame ceiling above badminton courts at the city's Bade Civil Sports Center during an earthquake on Sunday, which injured one person.
Speaking at a city council meeting, Mayor Cheng Wen-tsan (鄭文燦) said that in Taoyuan, Sunday's 6.8-magnitude earthquake measured only a 3 on Taiwan's 7-tier intensity scale, and should not have caused such damage.
Following the collapse, representatives of architectural, civil and structural engineering professional associations in Taoyuan were invited to inspect the site with city government officials, and on Monday they issued a report on their findings, he said.
According to Cheng, the report concluded that the building contractor, Reiju Construction Co., bore the main responsibility for the collapse for designing and constructing a ceiling with "insufficient durability."
A secondary cause was the recent installation of lighting fixtures by the China Youth Corps youth organization, the report said, according to Cheng.
The Bade sports center, which opened last year, is still under warranty, and the contractor has expressed a willingness to repair the ceiling and pay compensation, Cheng added.
Videos of the ceiling collapse, which occurred at 2:44 p.m. on Sunday when around two dozen people were playing on the badminton courts, have circulated widely on social media in Taiwan.
They have also reignited criticism of poor supervision of public works projects, coming after the closure this summer of the new Hsinchu Baseball Stadium due to building flaws.
Echoing these critiques, opposition Kuomintang (KMT) candidate for Taoyuan mayor Simon Chang (張善政) pledged that if elected, he would order a safety review of all building projects approved by the city government -- which is controlled by the ruling Democratic Progressive Party -- over the past several years.
Cheng, meanwhile, said Tuesday that he would publish the inspectors' report on the collapse, and look into whether relevant officials at the city's Office of Public Construction were in any way at fault.
According to Cheng, Reiju Construction has also been contracted this year to build community sports centers in Chiayi and New Taipei's Linkou and Yingge districts, as well as public housing developments in New Taipei and Taichung.