CORONAVIRUS
/
Taiwan reports 82,435 new COVID-19 cases, 42 deaths
Taipei, May 24 (CNA) Taiwan on Tuesday recorded 82,435 new COVID-19 cases, up by more than 16,000 after hitting a six-day low on Monday, and 42 deaths from COVID-19 complications, according to the Central Epidemic Command Center (CECC).
The 42 people who died ranged in age from their 10s to their 90s, and all but three of them had suffered from chronic illnesses or severe diseases, according to CECC data.
Sixteen of the 42 people had not been vaccinated against COVID-19, while six had received one vaccine shot, four had received two jabs and 16 had received three shots, the CECC said.
The data showed that 40 of the deaths were among people over the age of 50, while the other two were a boy over the age of 10 and a man in his 20s.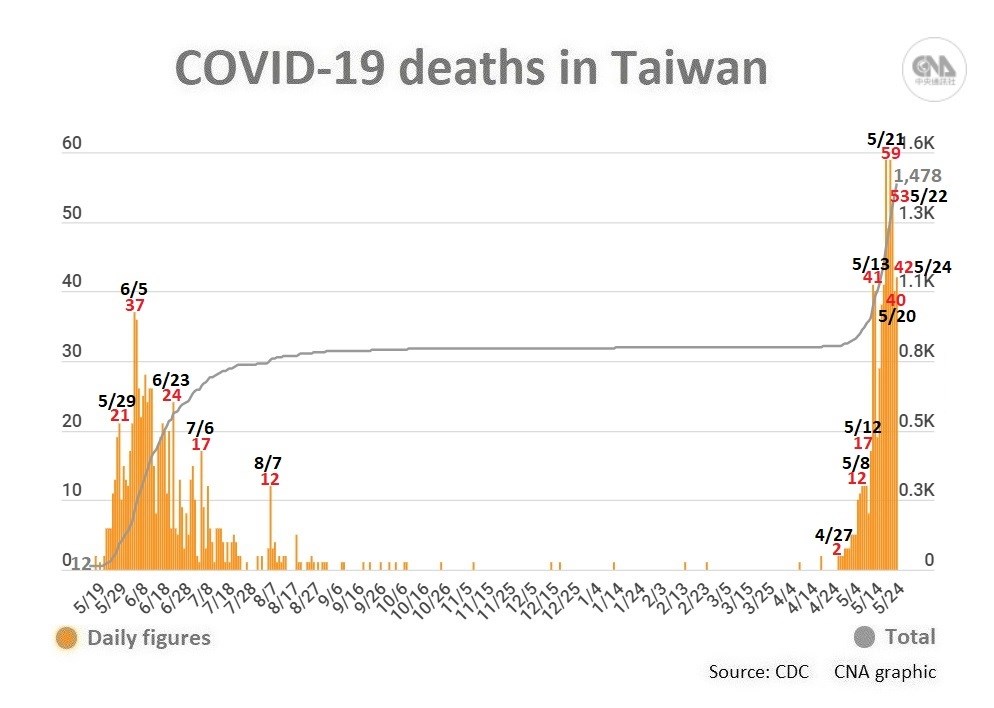 The boy, who had no underlying health conditions, went to a clinic on May 13 with a fever, dizziness and vomiting, Lo Yi-chun (羅一鈞), deputy head of the CECC's medical response division, said at a press briefing.
His condition stabilized after being treated at the clinic, but the next day his symptoms became more severe, Lo said. The boy tested positive on a COVID-19 rapid test and was taken to a hospital emergency room with a fever of 40.1 degrees Celsius, he said.
At the hospital, testing showed that the boy had mild pneumonia and fluid build-up around his brain, according to Lo.
After experiencing low blood-oxygen saturation and an irregular heartbeat, he was intubated and taken to the ICU, but later died of acute organ failure, Lo said.
The man in his 20s had been bedridden with a severe nervous system disease, and had died of acute respiratory and organ failure after contracting COVID-19, Lo said.
To date, 14 children in Taiwan have developed severe COVID-19 infections and five have died of COVID-related factors, while one other death, which was announced on Monday, remains under investigation.
The CECC on Tuesday also reported 53 additional severe cases and 198 additional moderate cases of COVID-19 on Tuesday, and changed the status of seven cases previously called moderate to severe.
Of the 1,359,424 million domestic cases recorded in Taiwan so far this year, 800 have been classified as severe infections and 2,364 as moderate, accounting for 0.06 percent and 0.17 percent of the total, respectively, according to CECC data.
In all other cases, the patients were either asymptomatic or had mild infections, the CECC said.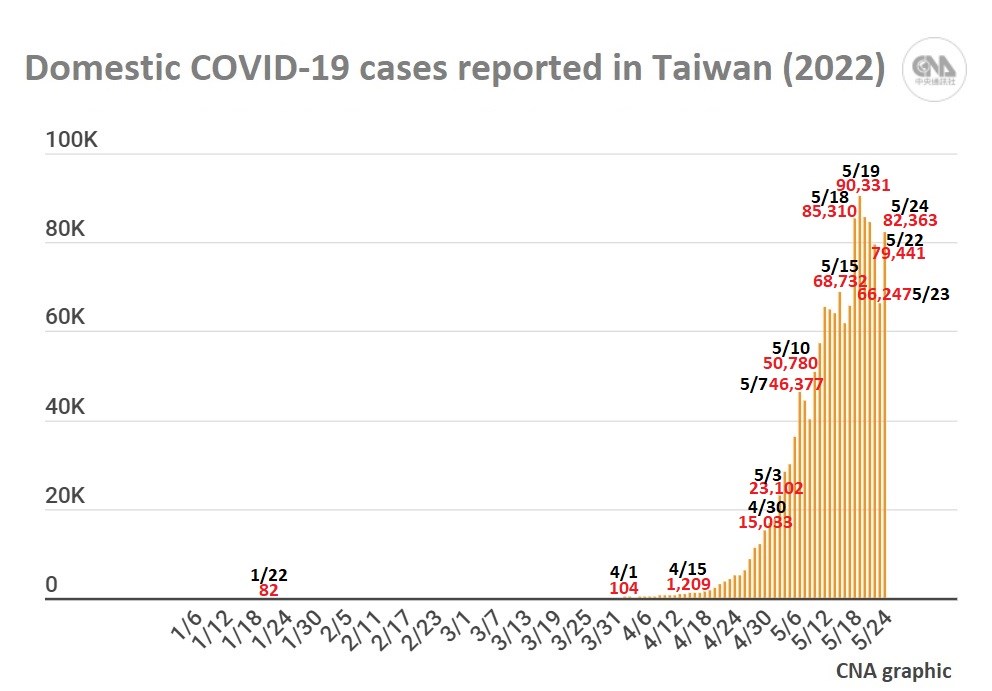 On Tuesday, New Taipei reported the highest number of domestic cases with 16,609, followed by Taoyuan with 10,532, Kaohsiung with 9,437, Taichung with 8,989, and Taipei with 8,566.
Tainan reported 5,593 cases, Changhua County 4,120, Pingtung County 2,670, Hsinchu County 2,186, Yilan County 2,128, Keelung City 1,897, Miaoli County 4,120, Hsinchu City 1,583, Nantou County 1,243, Yunlin County 1,216, Hualien County 1,211, Taitung County 911, Chiayi County 890, and Chiayi City 585.
Penghu County reported 210 cases, Kinmen County 119 cases and the Matsu Islands 38 cases.
Meanwhile, of Tuesday's 82,435 new COVID-19 cases, 72 were imported, including 39 travelers who tested positive on arrival in Taiwan, according to the CECC.
Taiwan has confirmed 1,469,019 cases since the pandemic began in early 2020, with 1,456,334 of them being domestic infections. With the 42 deaths reported on Tuesday, the number of confirmed COVID-19 fatalities in the country rose to 1,478.
Also on Tuesday
● Taiwan COVID-19 News Briefs: May 24
May 24: Government lifts purchase limits on rapid tests at major retailers
May 24: COVID-19 outbreak could peak by early June: CECC
Recent cases
May 23: Taiwan reports 66,283 new COVID-19 cases, 40 deaths
May 22: Taiwan reports 79,487 new COVID-19 cases, 53 deaths
May 21: Taiwan reports 84,639 new COVID-19 cases, 59 deaths
May 20: Taiwan reports 85,761 new COVID-19 cases, 49 deaths
May 19: Taiwan's daily COVID-19 cases top 90,000; total number exceeds 1 million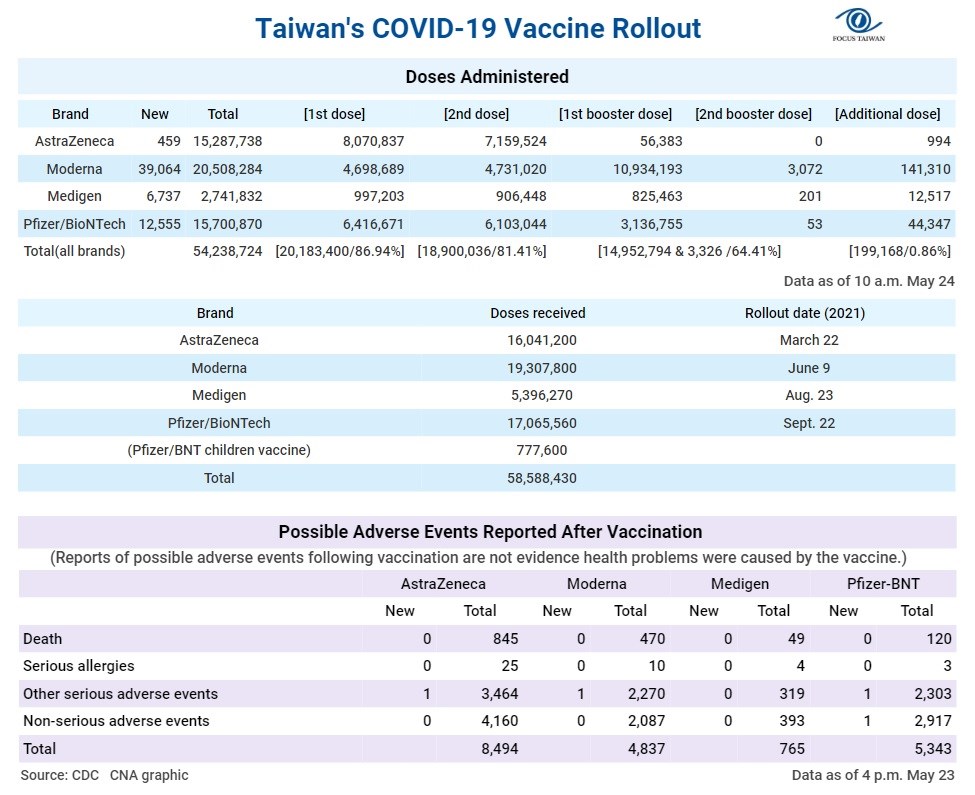 View All