Four participants in Taiwan ocean swim event hospitalized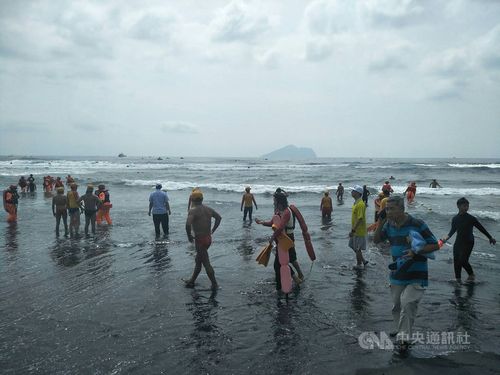 Taipei, May 26 (CNA) Four swimmers were hospitalized, one of them unconscious, after they were battered by rough waves in an ocean swim event in northeastern Taiwan on Sunday morning.
The 2019 edition of the annual Lanyang Ocean Swim kicked off in a coastal township in Yilan County at 8:30 a.m. with 1,127 participants, but was canceled half an hour later due to rough seas and strong winds.
At about 9:10 a.m., emergency calls were made for assistance to some swimmers, who appeared exhausted because of the rough waves, the Yilan County fire station said.
Four swimmers were taken to hospital, one of whom was a 72 year-old woman who had no vital signs upon arrival, the fire station said.
She was resuscitated but remained unconscious with a score of 3 on the Glasgow Coma Scale (GCS), emergency personnel said.
The other three people hospitalized were men ranging in age from 15 to 61, the fire station said.
Toucheng Swimming Club, which organized the event, said lifeboats had been placed on standby every 100 meters along the route, while more than 200 rescue personnel and several jet skis were deployed to deal with emergencies.
When the event was canceled at 9 a.m., the swimmers were picked up and brought back to shore on the lifeboats, the swimming club said.
According to Central Weather Bureau forecaster Hsiao Chia-sen (蕭家森), some swimmers may have been caught in a riptide, which would have left them exhausted if they panicked and tried to battle the current.