American fugitive 3D gun maker to be deported from Taiwan soon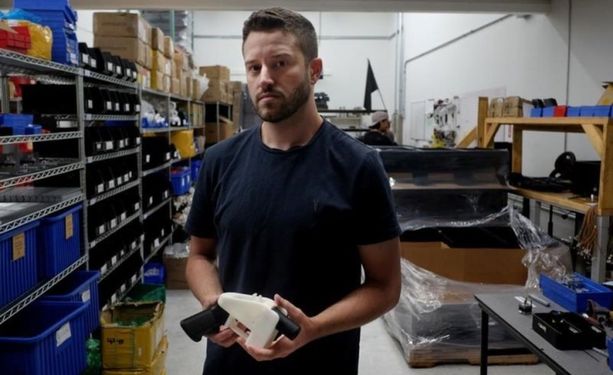 Taipei, Sept. 22 (CNA) An American citizen who fled to Taiwan after being accused of sexual assault on a child in Texas and put on a wanted list by the authorities in the United States, will be deported soon, the National Immigration Agency (NIA) said Saturday.
Cody Wilson, the owner of a company that makes untraceable 3D-printed guns who is wanted on an arrest warrant accusing him of having sex with an underage girl, entered Taiwan with a valid passport on Sept. 6, said Chang Wen-hsiu (張文秀), head of the NIA's international and law enforcement division, said.
However, Wilson was arrested by the Criminal Investigation Bureau (CIB) in a low-cost hotel in Wanhua District of Taipei on Friday evening.
The 30-year-old Wilson was placed under investigation in the United States on Aug. 22 after a 16-year-old girl accused him of paying her US$500 for sex at a hotel in Austin, according to a Reuters report published Thursday.
Austin Police Commander Troy Officer said U.S. authorities interviewed the girl involved and obtained a warrant for Wilson's arrest on Sept. 19 only to find that he had already fled to Taiwan, the report said.
Speaking in a news conference, Chang said U.S. authorities informed the NIA Thursday afternoon, saying Wilson had been put on a wanted fugitives list. Chang said Taiwanese law enforcement authorities on the same day located Wilson's whereabouts and kept a close eye on him.
On Friday, the U.S. sent a notice to Taiwan, saying Wilson's passport had been revoked. The revocation of his passport by the U.S. made Wilson's stay in Taiwan illegal so he was soon arrested in the Taipei hotel where he was staying.
Chang said after Wilson's arrest in Taipei, his lawyer contacted the NIA on Friday, noting Wilson was willing to leave Taiwan. The lawyer said his willingness to leave Taiwan came after negotiations with U.S. prosecutors.
Chang said during the American fugitive's stay in Taipei, he lived in three hotels. Before he lived in the low-cost hotel in Wanhua, Wilson checked into a five-star hotel which the local media reported was the Mandarin Oriental Taipei.
According to the NIA, after Wilson entered Taiwan, he stayed in Taipei until his arrest. Chang said after an investigation by the CIB, Wilson was found to have shown no irregular behavior in Taipei, but if wrongdoing is found later, authorities in Taiwan will deal with it in an appropriate way.
Chang said the NIA has been in talks with the American Institute in Taiwan's (AIT), the U.S.'s de facto embassy here, to issue a travel document to Wilson to deport him.
While Chang only said Wilson will be deported soon, the Apple Daily said the American fugitive is expected to leave Taiwan in 48 hours.