Taiwan delegation attends Shinzo Abe's state funeral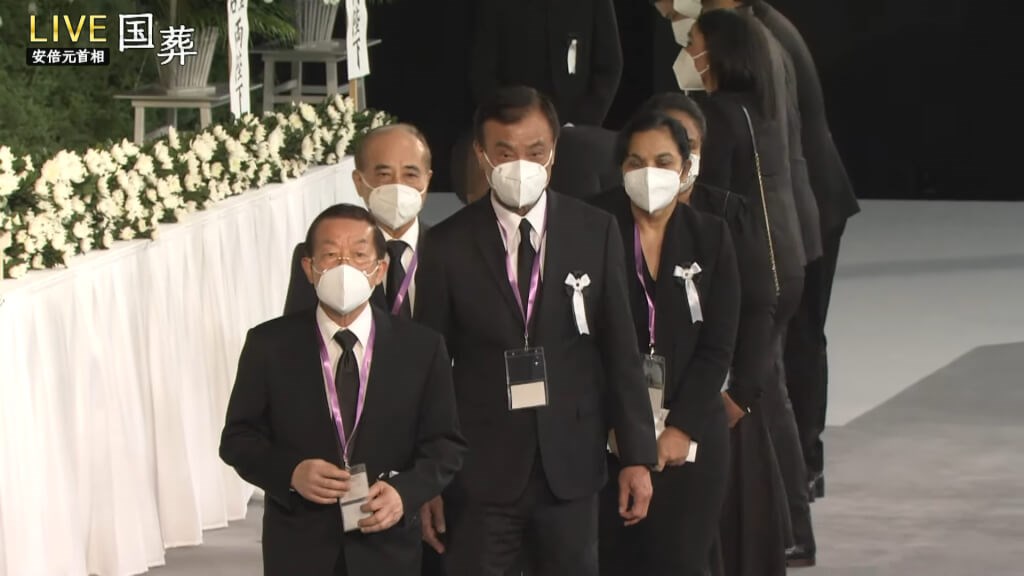 Tokyo, Sept. 27 (CNA) A Taiwanese delegation attended the state funeral of former Japanese Prime Minister Shinzo Abe in Tokyo on Tuesday and was among hundreds of foreign dignitaries to offer flowers at the ceremony.
The three-member delegation, appointed in mid-September by President Tsai Ing-wen (蔡英文), offered flowers at Abe's state funeral at Nippon Budokan in Tokyo, as the host of the ceremony referred to the delegation as coming from "Taiwan."
The delegation consisted of two former Legislative Yuan speakers Su Jia-chyuan (蘇嘉全), who is currently chairman of the Taiwan-Japan Relations Association, and Wang Jin-pyng (王金平) of Taiwan's main opposition Kuomintang, as well as Taiwan's representative to Japan Frank Hsieh (謝長廷).
Other foreign leaders who also offered flowers at the ceremony included United States Vice President Kamala Harris, Indian Prime Minister Narendra Modi, and Australian Prime Minister Anthony Albanese.
The ceremony, which was streamed online, was attended by approximately 4,300 people, including about 700 foreign dignitaries from 218 countries and regions, according to the Japanese government.
Abe died on July 8 at the age of 67, hours after he was shot twice by a man with a makeshift shotgun on a street in the city of Nara, near Osaka, during an election campaign. He served as prime minister from 2006-2007 and from 2012-2020.
Tuesday's ceremony has aroused mixed reactions in Japan, and recent polls conducted by the country's Kyodo News and public broadcaster NHK showed that about 60 percent of people in Japan did not approve of the state funeral.
According to international media reports, critics of the state funeral include pacifists who were opposed to the change of legislation in 2015 undertaken by the Abe government to allow for the overseas deployment of Japanese troops for combat missions.
Others questioned the huge cost of the ceremony -- an estimated US$12 million -- to be borne by taxpayers, reports said.
In addition to the Taiwanese delegation, Annie Lee (李安妮), the daughter of Taiwan's former President Lee Teng-hui (李登輝) and chairwoman of the Lee Teng-hui Foundation, also attended the state funeral at the invitation of Abe's family.
Annie Lee told reporters on Monday she would present two letters, signed by herself and her mother Tseng Wen-hui (曾文惠), respectively, to the family of Abe on the day of the ceremony.
Lee described the bonds shared between her father and Abe as similar to the relationship between a father and son because both had cared tremendously about each other's physical and mental health as well as their families.
Lee Teng-hui, who died in July 2020, grew up in Taiwan during the Japanese colonial period and maintained a deep connection with Japan's culture and people during his time as president (1988-2000) and after his retirement.
Following Lee Teng-hui's passing, Abe praised the former president as having "built the foundation of Japan-Taiwan relations" and said that Japanese people "have special feelings of closeness to him."
Both Lee Teng-hui and Abe were important figures in promoting the friendship between Taiwan and Japan, Annie Lee said, adding that she believed more young people from both countries would follow the footsteps of the two and continue promoting bilateral ties.