CORONAVIRUS
/
Premier, health minister apologize for rising COVID-19 death toll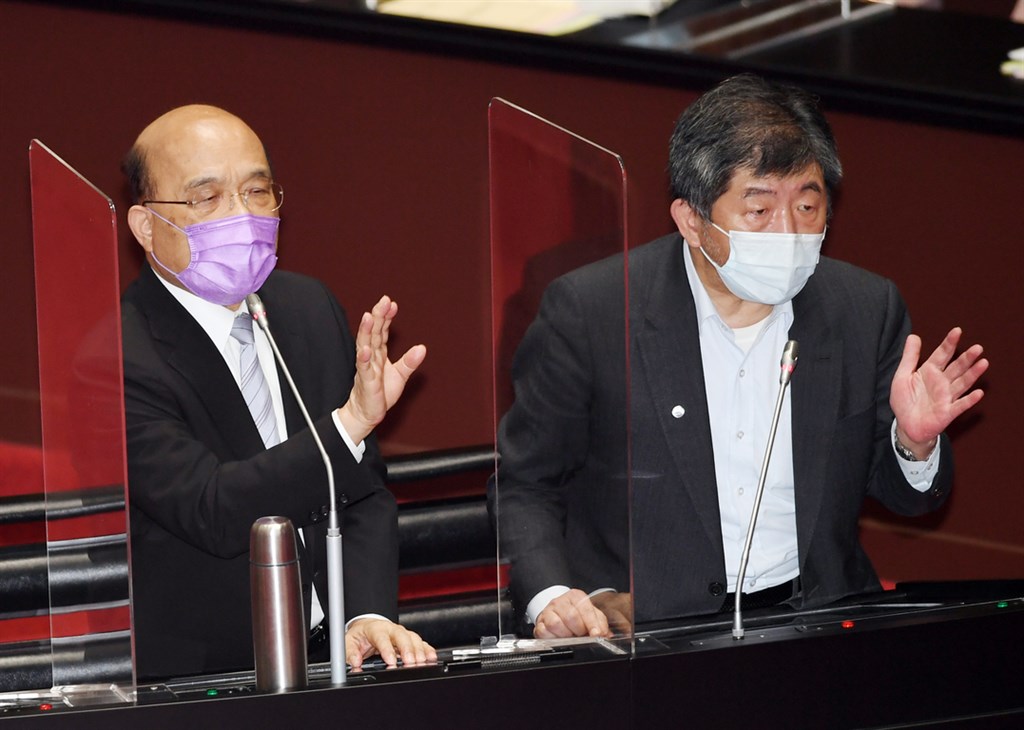 Taipei, June 9 (CNA) Premier Su Tseng-chang (蘇貞昌) and Health and Welfare Minister Chen Shih-chung (陳時中) apologized Tuesday for the rising COVID-19 death toll in Taiwan, in response to questioning from an opposition party legislator.
The number of confirmed COVID-19 deaths in Taiwan rose to 308 on Tuesday, Kuomintang (KMT) Legislator Tseng Ming-chung (曾銘宗) said at a legislative hearing, as he was questioning Su and Chen.
Tseng asked Su and Chen whether they were willing to apologize for the situation and to the families of the deceased, and said at one point he would remain silent for the rest of his allotted questioning time if they did not apologize.
Chen responded, "Every life is precious, and as the commander of the Central Epidemic Command Center, I am sorry. We feel that for every life we should do more, and we will try our best so this does not happen again."
"As the premier, I hold the highest executive responsibilities in the country. Seeing the suffering and even death of our people, when we have not taken care of them as well as we can, I am sorry," Su said.
Tseng said that as an opposition lawmaker, he respected Su and Chen more for being willing to apologize.
On the topic of vaccines, Tseng asked when 60 percent of people in Taiwan would be able to receive their first COVID-19 vaccine shot.
Chen said they were working to reach this goal by the end of October, but he couldn't make any guarantees.
Kung Wen-chi (孔文吉), also a KMT legislator, asked Chen whether he could elaborate on how the government has fought to obtain internationally recognized COVID-19 vaccines.
"You're acting as if the issue of vaccines has nothing to do with you," Kung said.
Chen said that the government has been working on procuring vaccines since last year, but every time he mentioned any progress, they faced suppression.
"Can't you all see this situation clearly?" he said.
The "suppression," which Chen did not elaborate on, also occurred when Japan donated vaccine doses to Taiwan recently, Chen said, adding that this was why when the government worked hard to obtain vaccines, it did not say anything publicly.
As for whether Taiwan is preparing for the "Delta" variant of the COVID-19 virus, which was first detected in India, Chen said current vaccines on the market are all effective against new variants.
The government has also contacted pharmaceutical companies that are developing second-generation vaccines against these variants, and will draw up relevant rollout plans based on what is being done in other countries, he said.
As of Tuesday, Taiwan had confirmed a total of 11,694 COVID-19 cases, over 10,000 of which are domestic infections reported since May 15, when the country first recorded more than 100 cases in a single day.
The number of confirmed COVID-19 deaths in the country stands at 308, including 296 recorded since May 15.
(By Wang Cheng-chung, Fan Cheng-hsiang, Lin Yu-hsuan and Chiang Yi-ching)
Enditem/ls
View All