PHOTO ESSAY
/
Taiwan celebrates National Day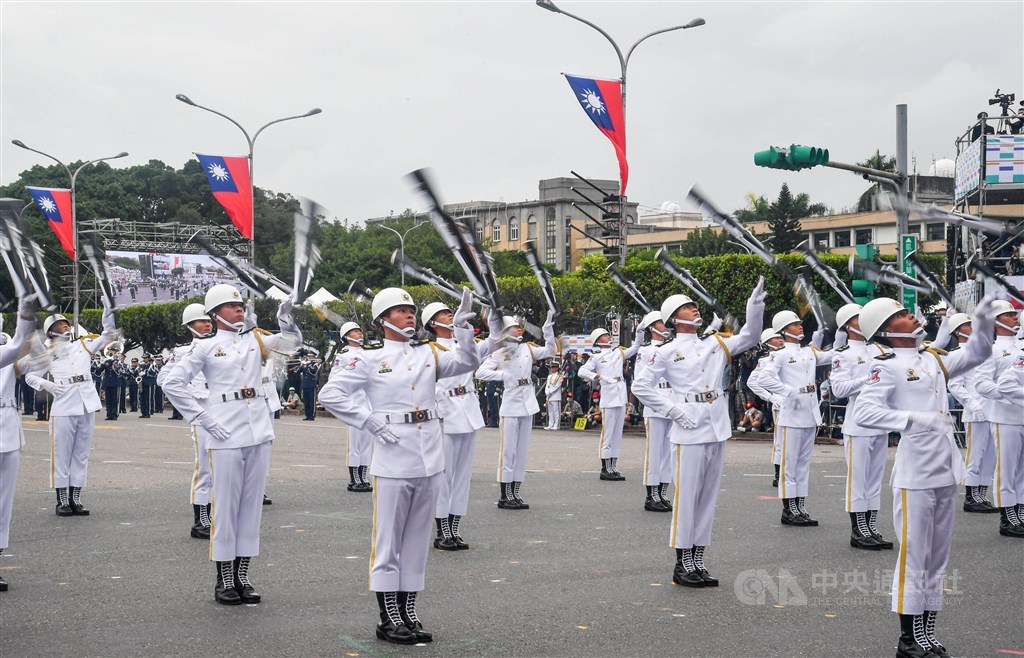 Taipei, Oct. 10 (CNA)The Republic of China (Taiwan) holds annual celebrations around the country on Oct. 10, known as Double Ten Day National Day. One of the highlights of the celebrations is an annual parade in front of the Presidential Office in Taipei that this year carries the theme "2020 Proud of Taiwan."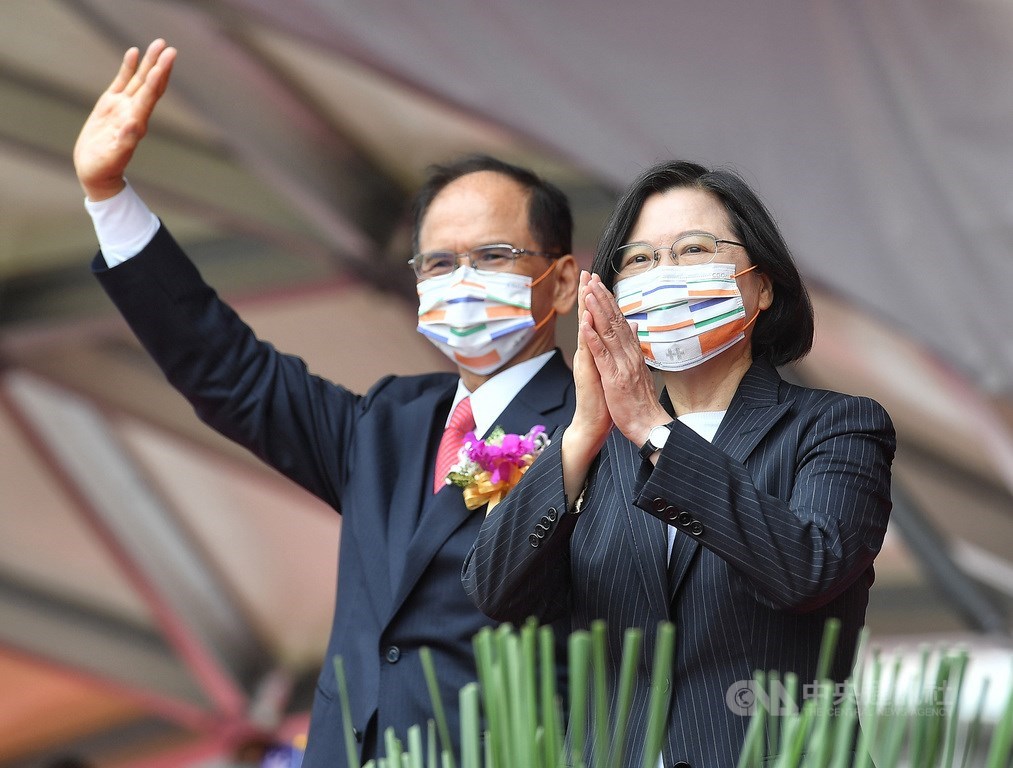 President Tsai Ing-wen (蔡英文, right) and National Day Celebration Chairperson and Legislative Speaker Yu Shyi-kun (游錫堃) display their gratitude to front-line healthcare workers. Medical staff and essential workers are considered heroes of the nation as they protect Taiwan against the COVID-19 pandemic.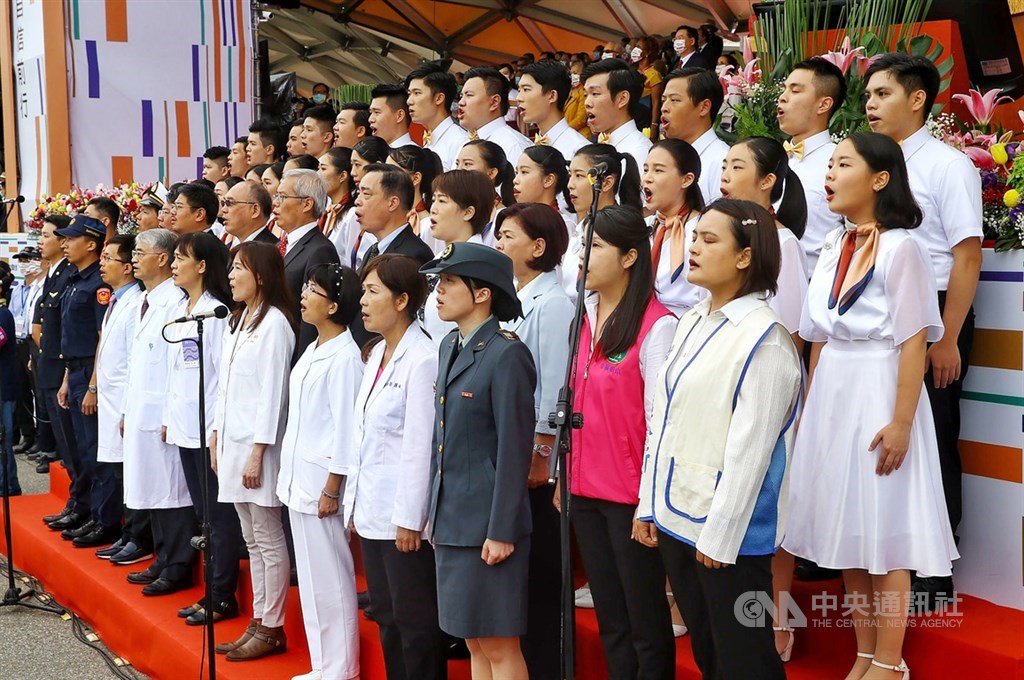 Medical staff and Taipei Medical University's Sing Song Chorus lead the nation in singing the national anthem. Taiwan has been praised by the international community for its success in combating the Covid-19 pandemic. The country has not recorded a domestic infection since April 12.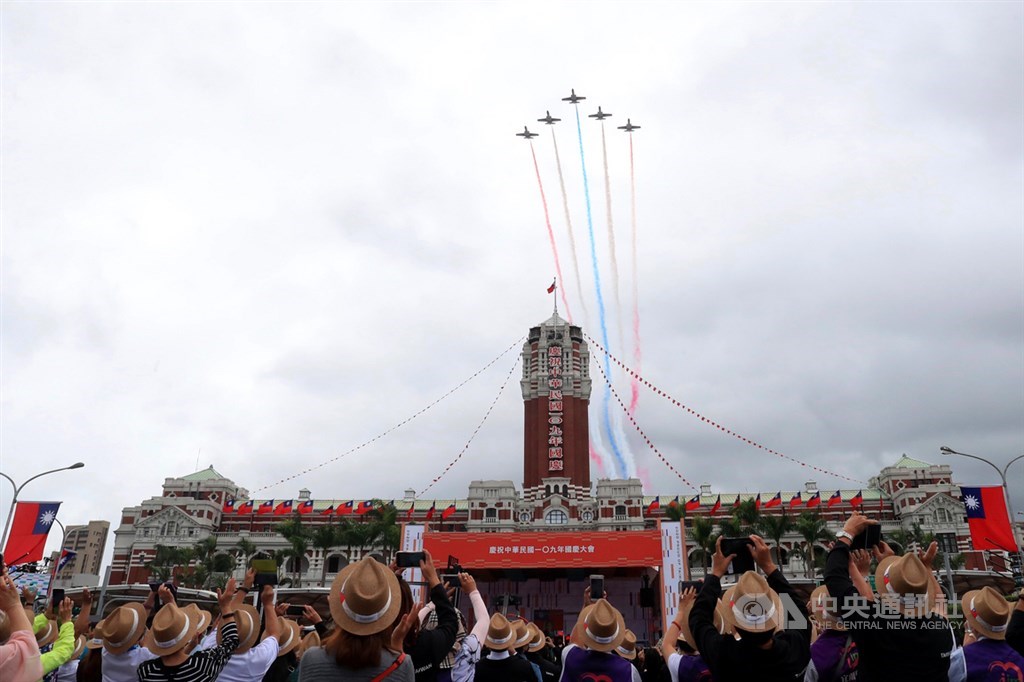 The Air Force's Thunder Tiger Aerobatics Team performs an air show as it flies over the Presidential Office on Saturday, leaving behind a trail of smoke in the colors of Taiwan's national flag.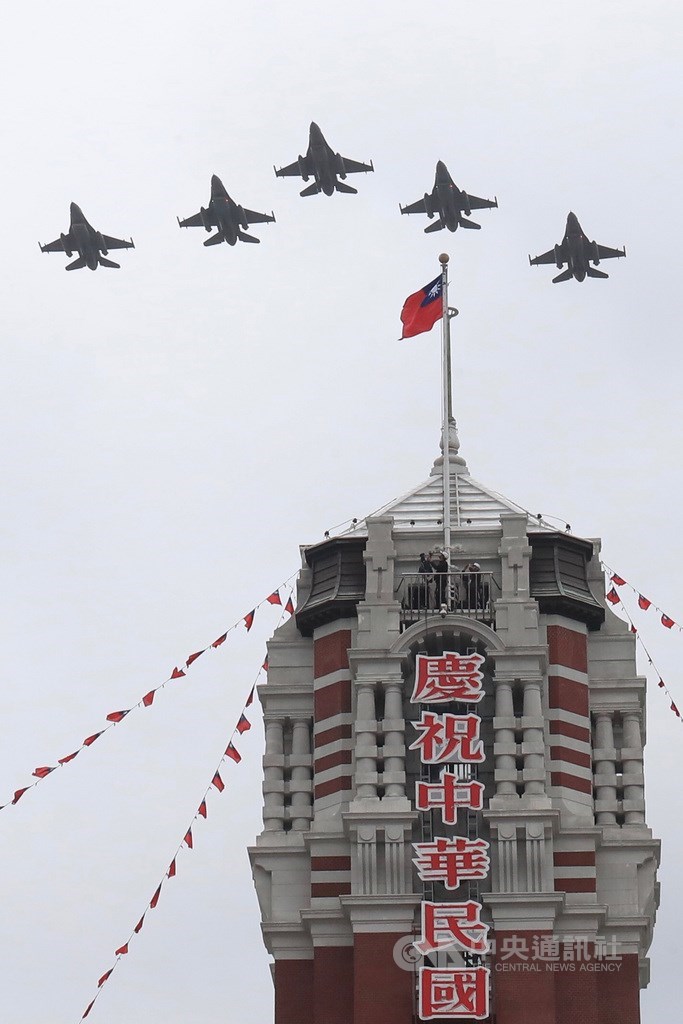 A formation of F-16Vs fly over the Presidential Office. With its heritage of gallantry in battle and unshakable belief in Taiwan's sovereignty, the Air Force reflects the military's air defense capabilities in safeguarding the country.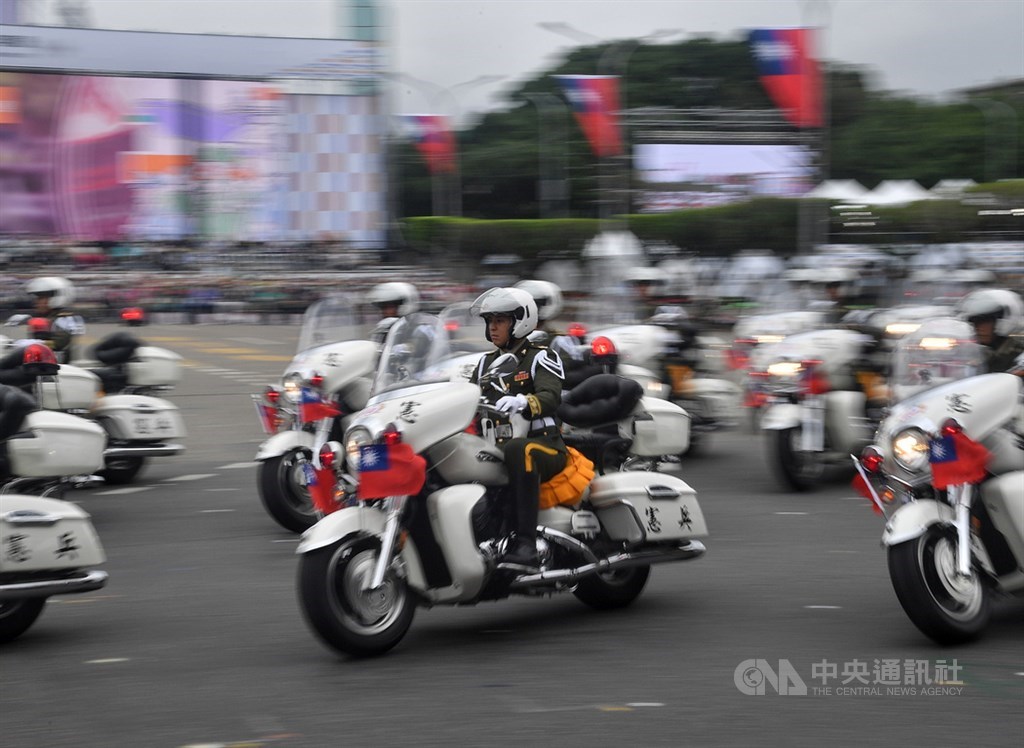 The Military Police Rapid Reaction Company perform agile and skillful maneuvers on heavy motorcycles. The company mastered circle formations both clockwise and counter clockwise, showing their determination to safeguard Taiwan's freedom and democracy.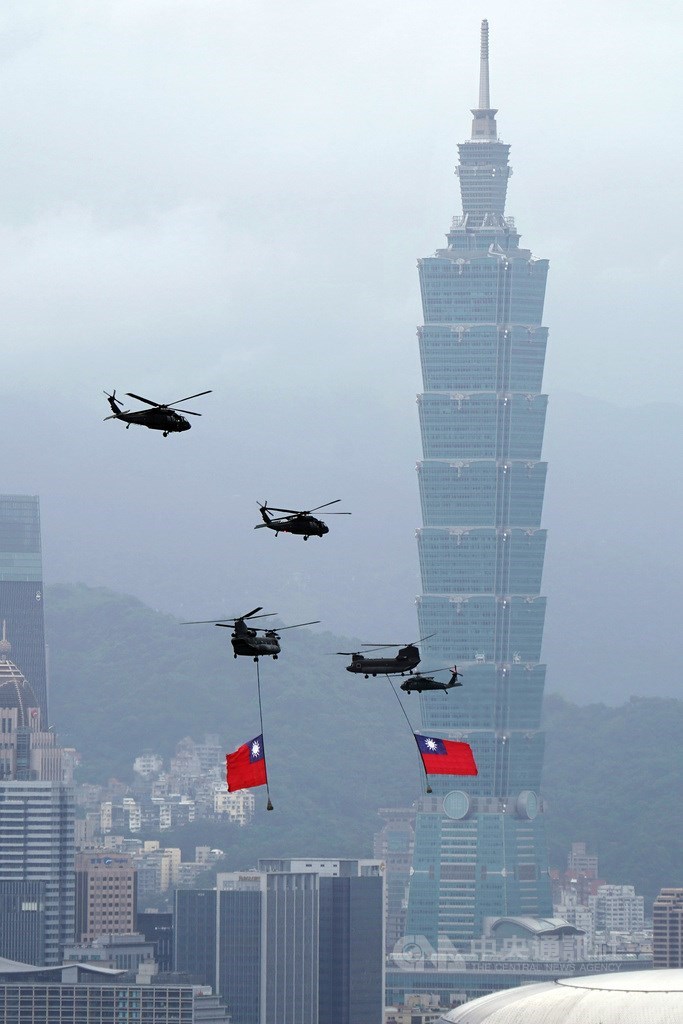 Two CH-47SD Chinook tandem-rotor helicopters carrying Taiwan's national flag flies over the nation's capital as UH-60 Black Hawk helicopters follow close by.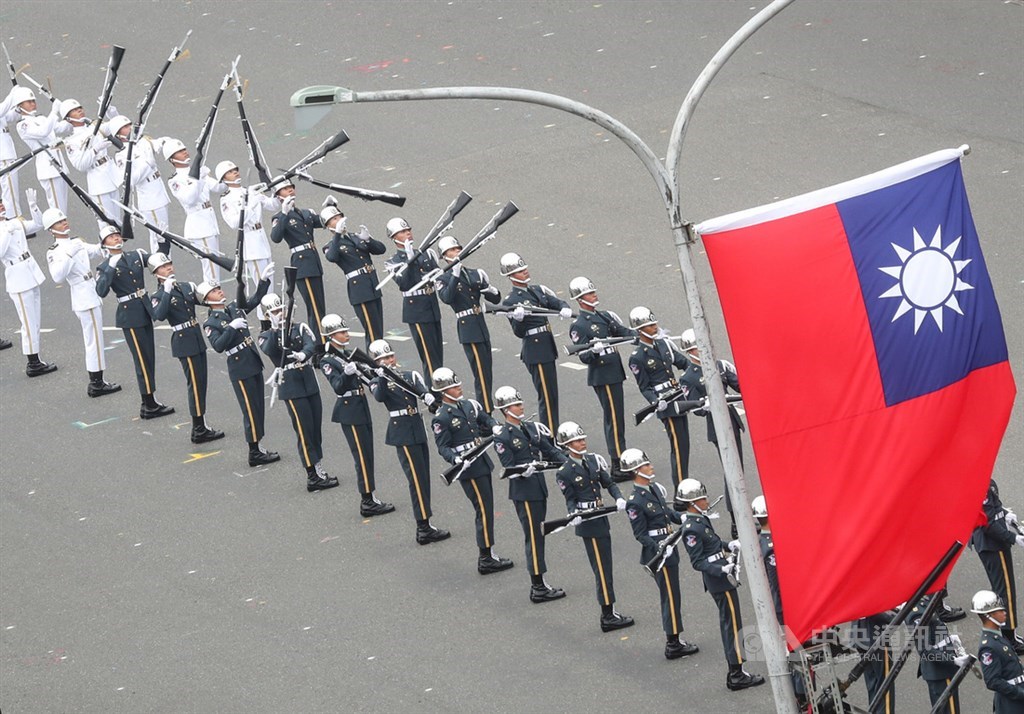 The Ministry of National Defense Honor Guards toss and catch their parade rifles during a drill performance at the parade. Their rifle-tossing is perfectly timed and is aimed at showing exemplary teamwork between Taiwan's armed forces.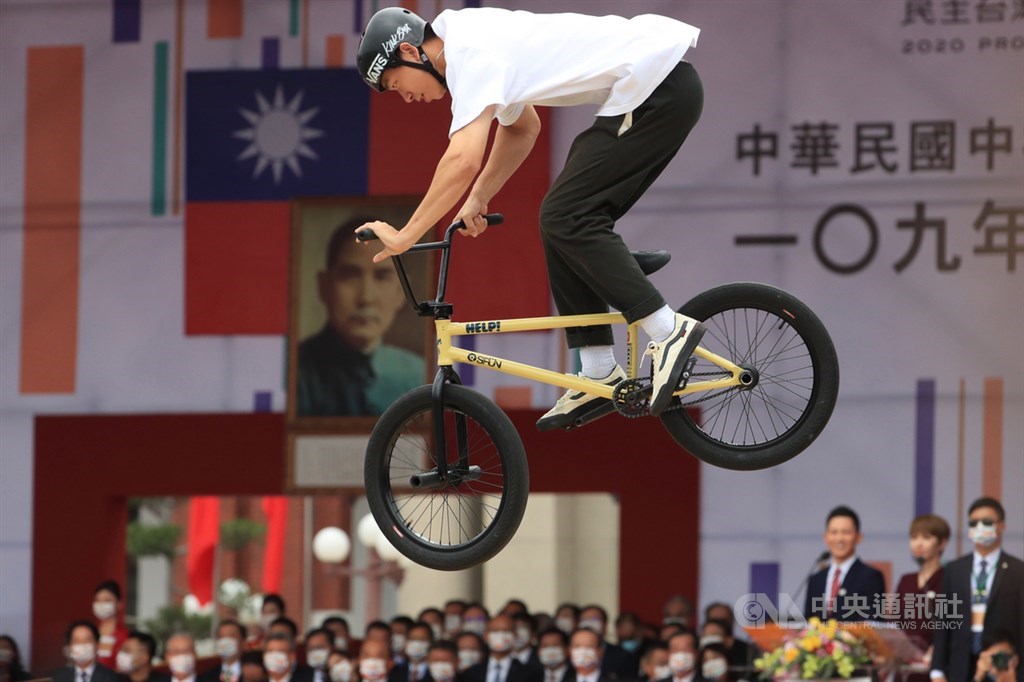 A BMX biker performs tricks in front of officials and guests at the National Day parade.
Taipei First Girls High School's marching band, honor and color guards, steal the attention of the audience as they perform at the parade. Its members are students with outstanding academic achievements and excellent conduct.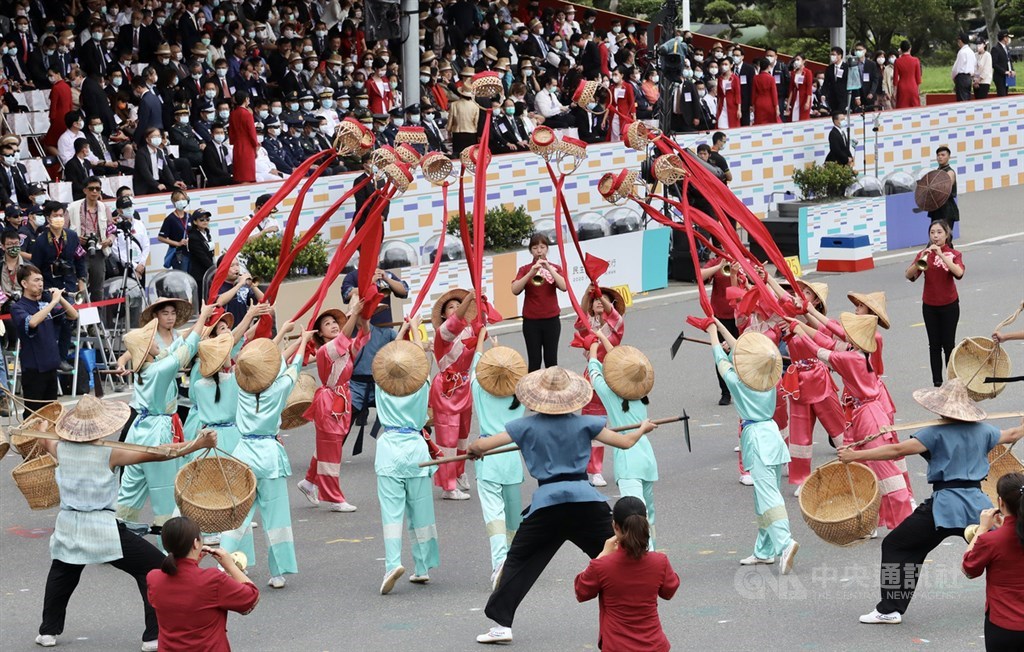 Hakka opera troupes perform at the parade to showcase Taiwan's diverse and inclusive society. Hakka people make up roughly 19.3 percent of Taiwan's population, mostly residing in the Taoyuan, Hsinchu, Miaoli, Kaohsiung, Pingtung, Hualien and Taitung areas.
View All