Government still trying to keep Solomon Islands' ties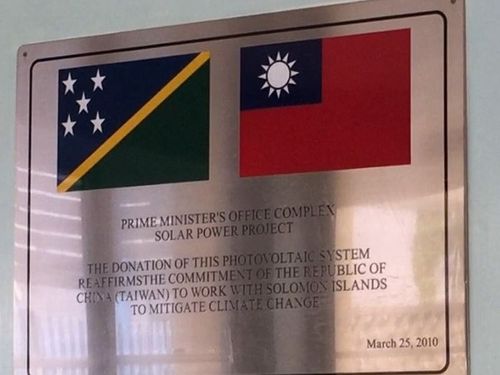 Taipei, Sept. 16 (CNA) Taiwan's government is doing its best to solidify diplomatic ties with the Solomon Islands, the Presidential Office said Monday, amid media speculation that the Pacific island ally will decide on whether to change allegiance to Beijing this week.
"We are doing the best as we can to maintain our diplomatic relations (with the Solomon Islands) in an attempt to prevent Beijing from impacting regional security and stability," Presidential Office spokesman Ting Yun-kung (丁允恭) said.
Ting's comments came as a response to a Solomon Islands media report earlier Monday that quoted unnamed sources as saying that the Pacific island government will make the decision on whether to change recognition from Taipei to Beijing in the coming days.
According to the Island Sun News, Prime Minister Manasseh Sogavare was scheduled to hold a meeting Monday to discuss a task force report that recommends the country change allegiance to China.
Sources told the daily that the decision to switch will be made at the meeting and that the announcement will most likely made later by Wednesday.
If the meeting results in a decision to switch to China, then the government will demand the Taiwanese ambassadorial officials to leave the country, it noted.
Asked to comment, Ting said Taiwan's foreign ministry is keeping close tabs on the matter.
Meanwhile, commenting on the Island Sun News report, foreign ministry spokeswoman Joanne Ou (歐江安) said the ministry has found no sign that the Solomon Islands is planning to expel the nation's ambassador, contrary to reports.
She also denied the same newspaper report that accused Taiwan's ambassador, Oliver Liao (廖文哲), of meddling with domestic politics by trying to persuade more parliamentarians to support Taiwan in the ongoing diplomatic switch debate.
The same report accused Taiwan's embassy of promising pro-China ministers and parliamentarians US$1 million each if they switch their support to Taiwan, the Island Sun News said.
Ou strongly denied the accusations, stressing that no donations were promised.
Taiwan will not engage in money diplomacy with China, she added.