Blue Man Group visits Taiwan for first time in 10 years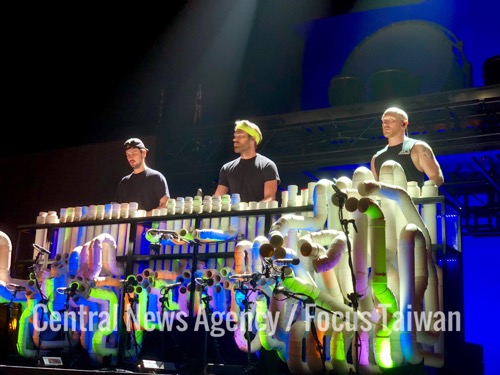 Taipei, July 9 (CNA) After a hiatus of 10 years, one of the world's most popular performance art shows, Blue Man Group (BMG), kicked off in Taipei Tuesday, showcasing creative instruments, comedy, and original artistic performances.
The BMG shows, held July 9-14 at the Taipei International Convention Center, are part of the "Blue Man Group World Tour." After Taipei, the tour continues in Doha, Qatar Aug. 14-17, according to the BMG website.
Blue Man Group rehearsing in Taipei Tuesday
Nils Westermann, music director for the BMG World Tour, told CNA that show goers in Taiwan will see trademark instrument performances often referred to as "highlights" of BMG shows that facilitate a special connection with the audience.
"We have a few musical instruments that we always bring with us that are trademark for Blue Men, like the Drumbone, Big Drum, and the PVC Pipes, and of course we also brought them to Taipei this time. What I always hope and wish for the audience to realize is that we didn't just come here to present these instruments, they are our way to communicate with you," he said.
Nils Westermann, music director for the BMG World Tour
"The inspiration comes from finding something new and using everyday objects that can be found," Westermann said.
"So if I pick up a pipe for example, I can make this into a musical instrument even though someone else might not see it as that," he added.
The Drumbone, which resembles water piping, is carried by the Blue Men while one beats the opening like a drum and another pushes and pulls a slide to change its pitch.
Another iconic instrument is the big drum, which is taller than an average person and is beat with a large round mace-like hammer, while the PVC Pipes are made up of long rows of PVC pipes that make different sounds when hit.
Blue Man Benedict Smith (left), Brian Tavener (center), and Thom Racket (right) rehearsing on the PVC Pipes instrument in Taipei Tuesday
"And the Blue Men, since they don't talk or sing songs, they use different ways to communicate and those instruments do exactly that, so when you hear the instrument and hear the sound it gives you a certain emotion and it can build up tension and it can really connect with the audience and this is why we have these instruments and why they work so well to achieve that," Westermann said.
The connection that is made through the instruments is taken to another level when BMG tries to turn its audience into a part of the show to create an experience that leaves people feeling lively, happy and alive, he added.
Blue Man Benedict Smith
"One bit that is always special is when the Blue Men go into the audience to make the whole theatre a part of the stage. They find someone in the audience that they take up on stage and create something together, and that is always special because this person is kinda representing the entire audience and it gets really close (intimate) and a special moment is created," Westermann said.
Adam Erdossy, the Blue Man Captain for the BMG World Tour and a Blue Man since 2006, said the show creates a unique experience for every different audience because of the way it is presented.
Adam Erdossy, the Blue Man Captain for the BMG World Tour
"Since the Blue Man doesn't communicate with words, it communicates in a much more fundamental, much more primal way through music and the sheer physicality of the human body, that makes everybody in the audience tune into that differently and that makes every show and every experience different," he said.
BMG, which has performed for over 35 million people around the world, is the brain child of three New York performing artists Matt Goldman, Phil Stanton and Chris Wink, who started the concept in the 1980s as the original three Blue Men.
Currently, there are 70 Blue Men performing in Boston, Chicago, Las Vegas, New York, Orlando, and Berlin, in addition to those touring the world.
BMG last performed in Taipei in August 2009.