Taiwan should avoid provoking Beijing: U.S. scholar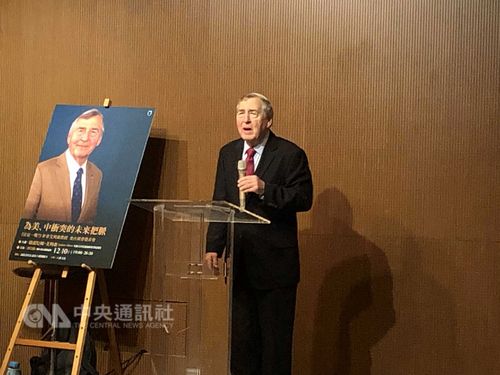 Taipei, Dec. 11 (CNA) Renowned American political scholar Graham Allison advised Monday that Taiwan avoid any actions that might provoke China, so as not to risk losing the United States' support.
Faced with Beijing's suppression in the international community, Taiwan can rely on the U.S. to stick to its security assurances, on the premise that Taiwan is not the one creating conflicts, Allison said at the launch of the Chinese-language version of his book, "Destined for War: Can America and China Escape Thucydides's Trap?"
"Can Taiwan count on the U.S.? I believe so, but not if Taiwan were the source of provocation," Allison said, noting that both the U.S. and China are building their military capabilities.
He said that in 1996, the U.S. moved two carriers into the Taiwan Strait to force China to back down after Beijing launched missile tests near Taiwan, but it is highly unlikely that Washington would make such a move if cross-strait relations escalated to a similar level now.
The Chinese People's Liberation Army was deeply humiliated by the U.S.' intervention in the 1996 Taiwan Strait Crisis, Allison said, noting that China later developed the DF-21 anti-ship missile that could sink U.S. carriers. Now that the U.S. Navy has moved its operations in Asia beyond the first island chain, it is unlikely to risk deploying its carriers in the Taiwan Strait again in a similar scenario, he said.
"I think the consequences for Taiwan would be quite grave," said Allison, a professor at Harvard University's John F. Kennedy School of Government.
Regarding the relations between China and the U.S., he said they could be well on the way to a "Thucydides's Trap," a reference to the ancient Greek historian's observations about the war between Sparta and Athens in the 5th century BC.
When one great power threatens to displace another, war is almost always the result, which is the description of the Thucydides's Trap, Allison said.
The traditional strategic rationale for the relationship between the U.S. and China has collapsed on both sides, leaving each one searching for a grand new strategy to deal with the challenge, he said.
Both sides have to develop "strategic imagination in creating a new form of great power relations" to prevent a war, although war is not inevitable, Allison said.
In his book, he says 12 of the 16 situations that fell into the Thucydides's Trap over the past 500 years ended in war, including the Franco-Prussian War, the Russo-Japanese War, World War I and World War II.