Taiwan shares tumble almost 1.7%, led by tech stocks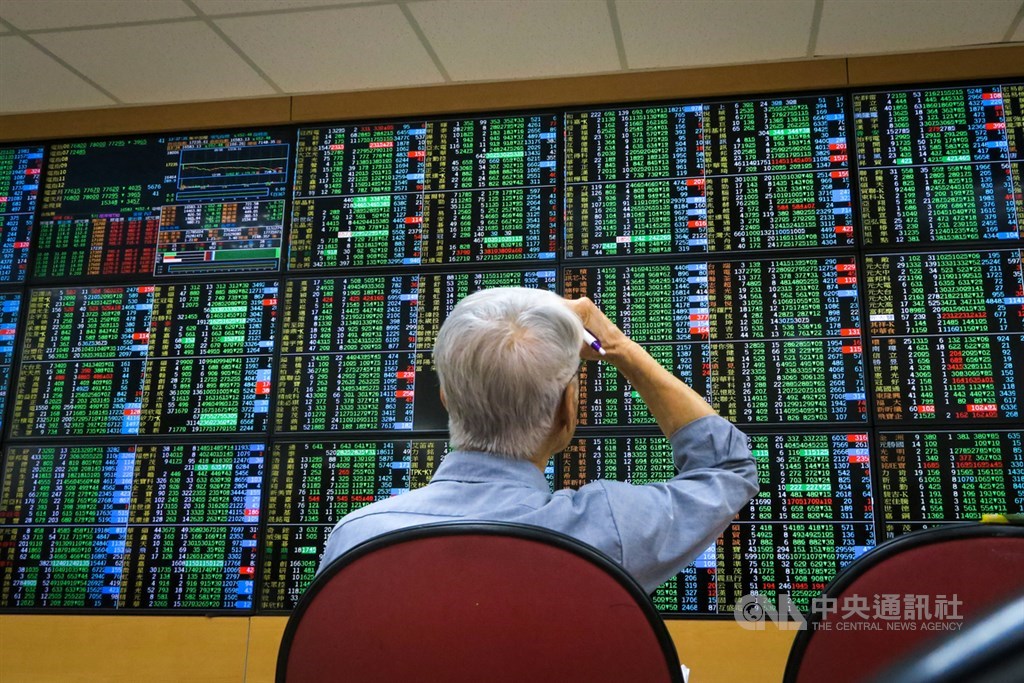 Taipei, Dec. 6 (CNA) Shares in Taiwan moved sharply lower Tuesday as investors reacted to heavy losses on American markets overnight amid renewed concerns that the U.S. Federal Reserve could still push through steep increases in interest rates, dealers said.
The bellwether electronics sector, especially contract chipmaker Taiwan Semiconductor Manufacturing Co. (TSMC), led the broader market lower, but selling was later seen across the board, pushing the Taiex even lower, dealers said.
The Taiex, the Taiwan Stock Exchange's benchmark weighted index, ended down 251.86 points, or 1.68 percent, at the day's low of 14,728.88, off a high of 14,957.82. Turnover totaled NT$244.18 billion (US$7.97 billion).
The market opened down 0.17 percent after a steep downturn on U.S. markets, where the Dow Jones Industrial Average lost 1.40 percent and the tech-heavy Nasdaq index shed 1.93 percent, sending large cap semiconductor stocks in Taiwan into a tailspin, dealers said.
U.S. data
The sell-off at home and on U.S. markets resulted from the better-than-expected results of the U.S. ISM Service index for November, leading investors to fear the Fed might again raise interest rates aggressively, dealers said.
"Since closing at a low in late October, the Taiex has soared more than 2,000 points without any major technical pullback," MasterLink Securities analyst Tom Tang said.
"Investors simply seized on the latest U.S. ISM service data as a reason to speculate that the Fed may stay hawkish, and decided to lock in their profits," Tang said. "Turnover did not expand significantly, indicating many investors were afraid of more losses."
Before Tuesday, the Taiex had risen 2,314.62 points, or 18.27 percent, from the close seen on Oct. 25.
"Investors took their cues from the steep losses among tech stocks on U.S. markets Monday and dumped semiconductor heavyweights, in particular TSMC, throughout the trading session," Tang said. "With a weaker TSMC, it was no surprise that the Taiex remained weak."
Tech stocks
TSMC, the most heavily weighted stock in the local market, lost 2.25 percent to close at the day's low of NT$478.00.
The electronics sector lost 1.99 percent to end at the day's low of 684.98, and the semiconductor sub-index fell 2.36 percent to close at its low of 323.04.
Other semiconductor stocks also lost ground.
IC packaging and testing services provider ASE Technology Holding Co. fell 1.29 percent to end at NT$99.70, and United Microelectronics Corp. (UMC), a smaller contract chipmaker, dropped 1.98 percent to close at NT$44.50.
Powerchip Semiconductor Manufacturing Corp., another smaller contract chipmaker, shed 3.41 percent to end at NT$33.95, and power management solution IC designer Silergy Corp. plunged 10 percent, the maximum daily decline, to close at NT$513.00.
Bucking the downturn, Global Unichip Corp., TSMC's application-specific integrated circuit (ASIC) design subsidiary, rose 0.39 percent to end at NT$754.00.
"Listed companies are reporting their revenue for November," Tang said. "Some of them have reported weaker sales, with Hon Hai punished today for a plunge in November sales."
iPhone assembler Hon Hai Precision Industry Co. lost 2.39 percent to close at NT$103.00 after it reported a 29.04 percent fall in its November sales from a month earlier to NT$551.09 billion as production at its hub in Zhengzhou, China was hurt by COVID-19 lockdowns.
"The electronics sector also faced inventory adjustments due to weakening global demand, and its November sales data is worth watching," Tang said.
● Hon Hai November sales fall 29% due to Zhengzhou plant's lockdown 
Broader market
Fears of aggressive Fed rate hikes also sent old economy and financial stocks lower, as investors pocketed recent gains in many non-tech stocks.
The paper industry shed 2.21 percent, the worst performance among old economy sectors.
Among the falling paper stocks, Longchen Paper & Packaging Co. lost 3.69 percent to close at NT$15.65, and rival Chung Hwa Pulp Corp. dropped 3.39 percent to end at NT$17.10.
Elsewhere in the old economy sector, Taita Chemical Co. dropped 2.68 percent to close at NT$21.75, and Formosa Plastics Corp. lost 2.02 percent to end at NT$87.30.
Also, Wei Chuan Foods Corp. fell 1.30 percent to close at NT$18.95, and Uni-President Enterprises Corp., another big food brand, shed 1.22 percent to end at NT$64.60.
In the financial sector, which lost 1.19 percent, Cathay Financial Holding Co. lost 3.38 percent to close at NT$41.40, CTBC Financial Holding Co. shed 1.54 percent to end at NT$22.40, and Fubon Financial Holding Co. closed down 1.35 percent at NT$58.40.
Outperforming the broader market, however, dumpling vendor Bafang Yunji International Co. rose 2.16 percent to close at NT$212.50, and Wowprime Corp., which owns the Wang Steak house chain, gained 1.53 percent to end at NT$166.00.
"After today's sell-off, the market has become technically weaker, and more losses are possible down the road," Tang said. "The Taiex could test the nearest technical support ahead of 14,500 points, the 20-day moving average, in the short term."
According to the Taiwan Stock Exchange, foreign institutional investors sold a net NT$13.14 billion in shares Tuesday.