Taiwan shares end flat after volatile trading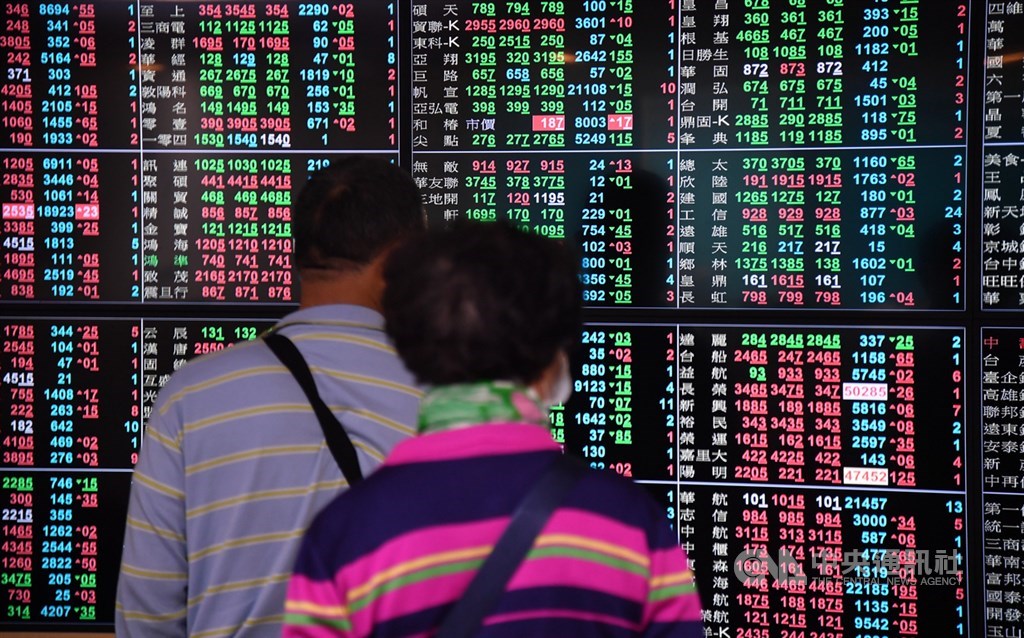 Taipei, Sept. 17 (CNA) Shares in Taiwan closed little changed Friday after a volatile session, with contract chipmaker Taiwan Semiconductor Manufacturing Co. (TSMC) coming off its earlier high as a result of an FTSE index adjustment which went into effect after the market closed, dealers said.
Market sentiment remains concerned over possible negative leads emerging overseas during the upcoming Mid-Autumn Festival long weekend which will last four days, they said.
The Taiex, the weighted index on the Taiwan Stock Exchange (TWSE), ended down 1.91 points, or 0.01 percent, at 17,276.79, after moving between 17,235.45 and 17,408.71. Turnover totaled NT$310.74 billion (US$11.21 billion).
The market opened down 0.59 points on follow-though selling from a session earlier, when the Taiex fell 0.43 percent, and stayed below the previous closing level in the first part of the morning session until TSMC regained its footing, pushing the main board up by about 130 points at one point, dealers said.
However, selling reemerged in the few minutes before trading ended at 1:30 p.m., prompting TSMC to give up all of its gains and also eroded the earlier upturn of other heavyweights on the back of the cut in weighting on FTSE indexes, they said.
"The last ditch selling boosted today's turnover by more than NT$60 billion with TSMC in focus," Hua Nan Securities analyst Kevin Su said. "It was no surprise that the trading became volatile right before the index adjustments went into effect."
TSMC, the most heavily weighted stock on the local market, closed unchanged at NT$600.00 after fluctuating between NT$599.00 in the early morning session and NT$610.00 before the late session selling set in.
In line with TSMC's volatility, the bellwether electronics sector index ended up 0.28 percent at 815.60 after moving between 811.32 and 823.28.
"Despite the selling of TSMC shares, the company and other contract chipmakers still saw their production capacity fully booked as there remains a global supply shortage," Su said.
Selling was also seen among other large cap semiconductor stocks due to the FTSE index adjustments, Su said.
Shares in United Microelectronics Corp., the second largest local contract chipmaker after TSMC, lost 0.91 percent to end at NT$65.60 after hitting a high of NT$467.20.
Novatek Microelectronics Corp., a supplier of drive ICs for flat panel use, dropped 0.12 percent to close at NT$428.50, off a high of NT$437.00. Smartphone IC designer MediaTek Inc. rose 0.43 percent to end at NT$940.00 but came off a high of NT$952.00.
Also in the electronics sector, iPhone assembler Hon Hai Precision Industry Co. rose 0.93 percent to close at NT$108.50, while Largan Precision Co., a supplier of smartphone camera lenses to Apple Inc., lost 1.42 percent to end at NT$2,425.00.
"As the tech sector dominated today's session fluctuations, many old economy stocks remained in the doldrums throughout the session," Su said.
In the steel sector, which fell 1.17 percent, China Steel Corp., the largest steel maker in Taiwan, dropped 1.82 percent to close at NT$37.80, and rival Tung Ho Steel Enterprise Corp. shed 1.27 percent to end at NT$41.80.
Bucking the downturn, the transportation sector, where many large shipping stocks are traded, staged a rebound, up 2.98 percent to lend some support to the broader market.
In the wake of growing freight rates, shares in Evergreen Marine Corp., Taiwan's largest container cargo shipper, rose 3.23 percent to close at NT$128.00, Yang Ming Marine Transport Corp. gained 4.24 percent to end at NT$123.00, and Wan Hai Lines Ltd. added 4.74 percent to close at NT$210.00.
In addition, bulk cargo shipper Tze Shin International Co. also grew 1.09 percent to end at NT$27.70.
Elsewhere, Asia Cement Corp. plunged 3.23 percent to close at NT$45.00 after the Supreme Administrative Court on Thursday revoked the 20-year extension of its mining rights in Xincheng Township, Hualien County.
Taiwan Cement Corp. lost 1.93 percent to end at NT$50.70, Formosa Plastics Corp. dropped 0.97 percent to end at NT$102.00, and textile brand Far Eastern New Century Corp. fell 0.51 percent to close at NT$29.50. Eclat Textile Co. rose 0.99 percent to close at NT$614.00.
"Excluding the last ditch selling, today's turnover remained thin as many investors tended to stay on the sidelines ahead of the upcoming long weekend," Su said.
"In addition, the U.S. Federal Reserve will hold a policymaking meeting next week, which has made many investors at home and abroad more cautious."
"As long as turnover stays low, the Taiex will continue to move in a narrow range," Su said.
According to the Taiex, foreign institutional investors bought a net NT$1.60 billion worth of shares on the main board Friday.