Taiwan shares end lower after early gains eroded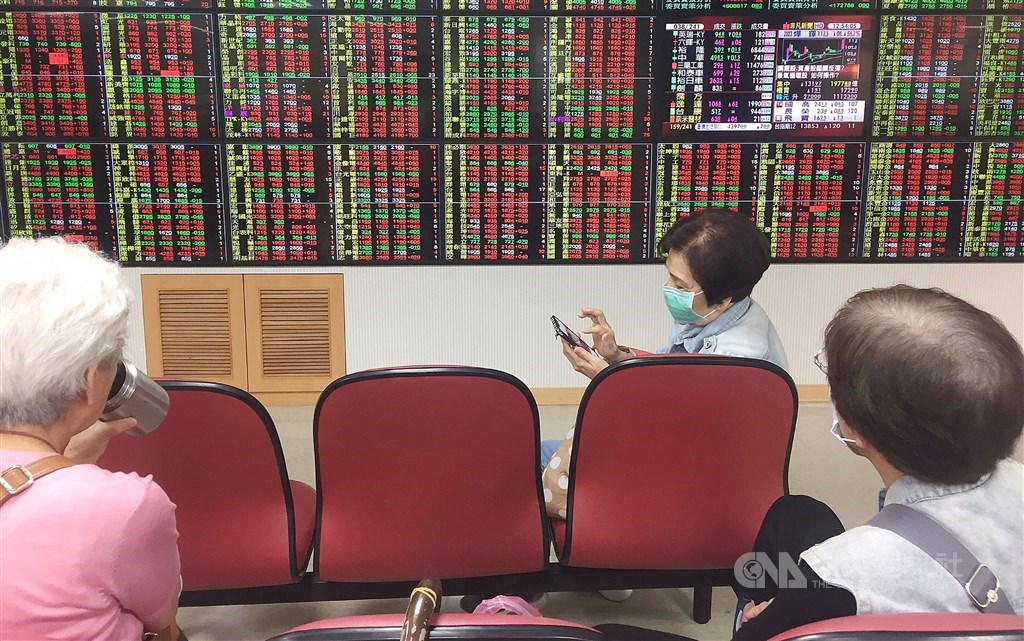 Taipei, Nov. 24 (CNA) Shares in Taiwan closed moderately lower Tuesday as investors shifted to the sell side, taking advantage of the main board's earlier upturn, dealers said.
Selling focused on the bellwether electronics sector, which had driven the broader market higher in recent sessions, while old economy and financial stocks remained largely in the doldrums throughout the session, the dealers said.
The weighted index on the Taiwan Stock Exchange (TWSE), or Taiex, ended down 70.88 points, or 0.51 percent, at 13,807.13, after moving between 13,798,32 and 13,951,17, on turnover of NT$263.21 billion (US$9.22 billion).
The market opened up 0.29 percent and soon rose to the day's high in the wake of gains posted on the U.S. markets, where the Dow Jones Industrial Average rose 0.56 percent Monday amid optimism toward COVID-19 vaccine development, the dealers said.
However, with the Taiex breaching the 13,900-point mark briefly, pressure set in as investors started to cut their holdings in large cap stocks, in particular in the semiconductor industry, which pushed down the broader market into negative territory by the end of the session, they said.
"After recent solid gains, the main board has faced stiff technical resistance ahead of 14,000 points," More Rich Securities Consulting analyst Chang Chih-cheng said. "The initial gains today prompted many investors to change course and pocket their profits."
The Taiex closed at a historic high of 13,878.01 on Monday. The index hit a historic interday high Tuesday before falling back to end lower.
"The tech sector fell victim to downward pressure as investors locked in their gains by selling semiconductor heavyweights and TSMC (Taiwan Semiconductor Manufacturing Co.) became one of the most visible targets," Chang said.
TSMC, the most heavily weighted stock in the local market, lost 0.91 percent to close at NT$492.00 after hitting a high of NT$500.00.
"There were high technical hurdles ahead of NT$500.00 for TSMC, and as long as TSMC weakened, there was no way for the Taiex to make another takeoff," Chang said.
In the semiconductor sector, integrated circuit designer MediaTek Inc. fell 0.13 percent to close at NT$742.00, off a high of NT$752,00, and IC packaging and testing services provider ASE Technology Holding Co. dropped 0.68 percent to end at NT$73.40, after coming off NT$74.90.
Bucking the downturn, United Microelectronics Corp., a smaller contract chipmaker, rose 4.95 percent to close at NT$38.15 after its American depositary receipts soared 20.24 percent overnight. Nevertheless, the stock came off a high of NT$39.70.
Also in the electronics sector, iPhone assembler Hon Hai Precision Industry Co. fell 1.09 percent to close at NT$82.00 and smartphone camera lens supplier Largan Precision Co. dropped 0.88 percent to end at NT$82.00.
"Selling was also seen among many non-tech stocks, indicating that caution dominated the session amid fears over a major pullback," Chang said.
Among the falling old economy stocks, Tung Ho Steel Enterprise Corp. lost 1.57 percent to close at NT$31.30, Formosa Chemicals & Fibre Corp. dropped 1.37 percent to end at NT$78.90 and Formosa Plastics Corp. fell 1.35 percent to close at NT$87.60, while China Steel Corp., the largest steelmaker in Taiwan, ended unchanged at NT$22.65.
In the financial sector, Mega Financial Holding Co. lost 1.35 percent to close at NT$29.30 and Fubon Financial Holding Co. dropped 1.21 percent to end at NT$44.95.
"Market sentiment was also hurt by a move by foreign institutional investors to cut their long position futures contracts yesterday, so many local retail investors were concerned that they would also dispose of stocks on the spot market," Chang said.
According to the TWSE, foreign institutional investors sold a net NT$4.78 billion-worth of shares on the main board Tuesday.