CORONAVIRUS
/
Taiwan reports 45,767 new COVID-19 cases, 152 deaths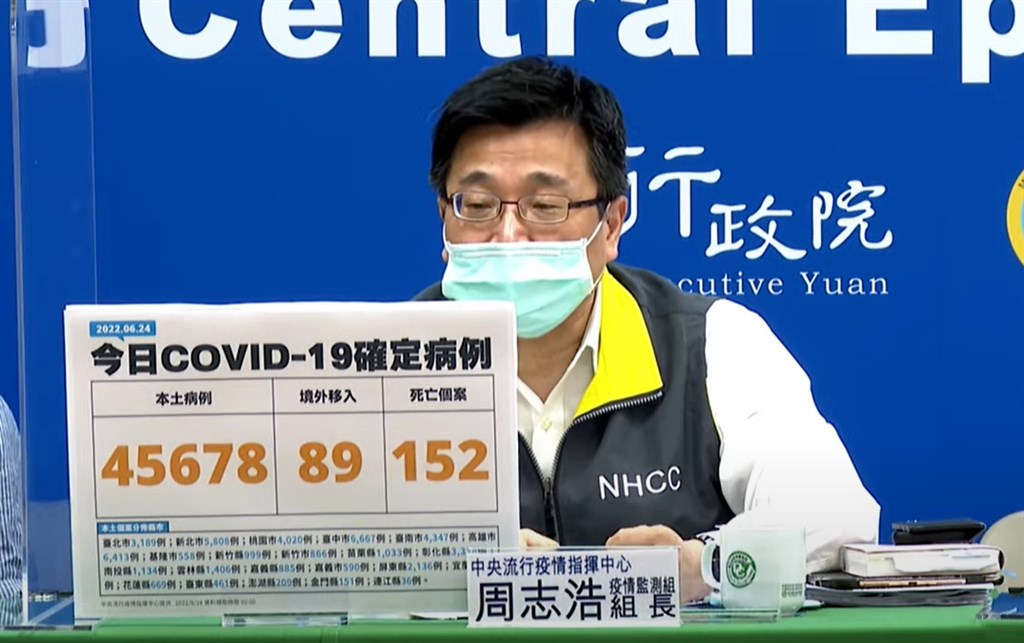 Taipei, June 24 (CNA) Taiwan reported 45,767 new COVID-19 cases Friday, all but 89 of which were domestically transmitted, and 152 deaths from the disease, according to the Central Epidemic Command Center (CECC).
The deceased ranged in age from their teens to their 90s. They included 138 individuals who had chronic illnesses or other severe diseases, and 79 who were unvaccinated against COVID-19, the CECC said.
Among the deaths reported Friday, two were under 20 years old, Lo Yi-chun (羅一鈞), deputy head of the CECC's medical response division, said at a daily COVID-19 press briefing.
One of them was a 12-year-old boy, who had a muscular system disease, Lo said.
On June 21, the boy fell ill at school, experiencing breathing difficulty and an accelerated heartbeat, and he was rushed to hospital after he lost consciousness, Lo said.
On arrival at the hospital emergency room, the boy had no vital signs, and he could not be resuscitated, Lo said, adding that a post-mortem COVID-19 test showed that the child was infected with the disease.
According to CECC data, the boy was unvaccinated against COVID-19.
As of Friday, 20 children under the age of 13 had died in Taiwan after contracting COVID-19, Lo said.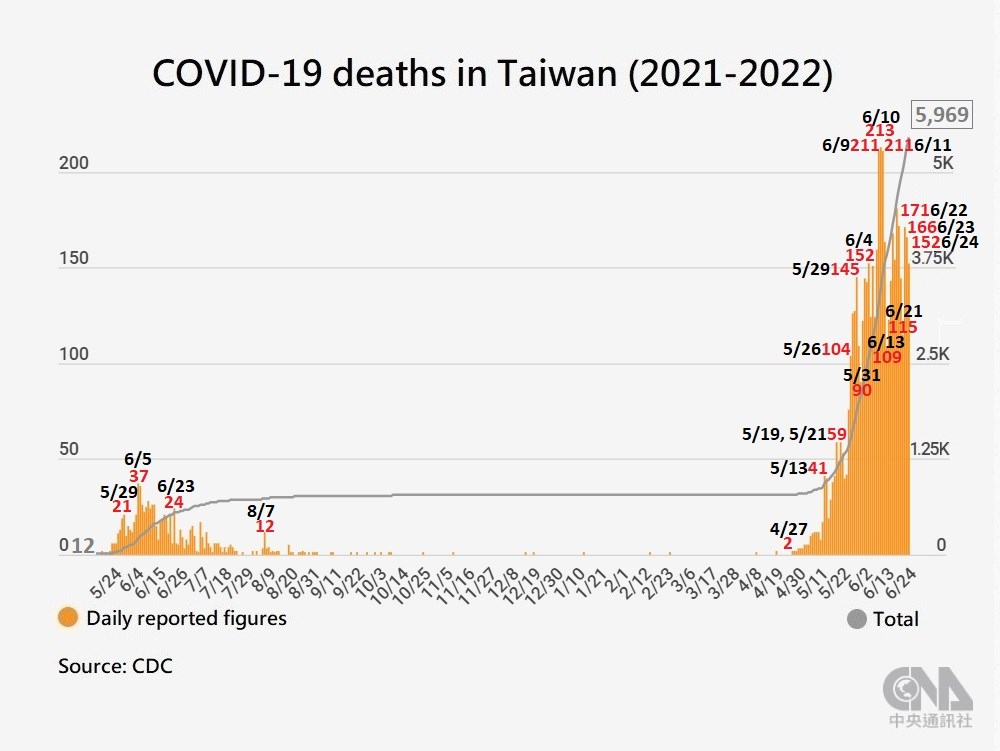 One of the other deaths reported Friday was a 19-year-old, who suffered from asthma and had received two doses of a COVID-19 vaccine, Lo said.
The teenager developed symptoms such as fatigue and muscle pains in May, and he later began experiencing breathing difficulties whenever he was walking, Lo said.
He went to a hospital emergency room on June 5 and tested positive for COVID-19, while other tests showed that he had hepatitis and muscle inflammation, Lo said.
He was admitted to hospital, but on June 18, he went into shock and fell unconscious, Lo said, adding that he died two days later while he was in intensive care receiving extracorporeal membrane oxygenation.
Severe infections
The CECC also said Friday that 129 previously reported COVID-19 cases had become severe, while 243 other individuals had developed moderate symptoms of the disease.
Of the 3,458,910 domestic cases reported in Taiwan this year, 5,983 have been classified as severe infections and 8,214 as moderate, accounting for 0.17 percent and 0.24 percent of the total, respectively, according to CECC data as of June 23.
In all other cases, the infected individuals were either asymptomatic or had mild symptoms, the CECC said.
Of the domestic cases Friday, Taichung reported the highest number, with 6,667, followed by Kaohsiung with 6,413, and New Taipei with 5,808.
Tainan recorded 4,347 cases, Taoyuan 4,020, Changhua County 3,318, Taipei 3,189, Pingtung County 2,136, Yunlin County 1,406, Nantou County 1,134, Miaoli County 1,033, Hsinchu County 999, and Chiayi County 885.
Hsinchu City reported 866 cases, Yilan County 783, Hualien County 669, Chiayi City 590, Keelung 558, Taitung County 461, Penghu County 209, Kinmen County 151, and the Matsu Islands 36.
To date, Taiwan has recorded 3,533,335 COVID-19 cases since the pandemic began in early 2020, including 3,519,161 domestic infections.
With the 152 deaths reported Friday, the number of confirmed COVID-19 fatalities in the country rose to 5,969.
Taiwan has been recording over 100 COVID-19 deaths every day during the month of June.
Also on Friday
June 24: Third round of rapid test rationing plan to start July 1
Recent cases
June 23: Taiwan reports 48,356 new COVID-19 cases, 166 deaths
June 22 Taiwan reports 52,246 new COVID-19 cases, 171 deaths
June 21: Taiwan reports 56,404 new COVID-19 cases, 115 deaths
June 20: Taiwan reports 35,632 new COVID-19 cases, 144 deaths
June 19: Taiwan reports 50,636 new COVID-19 cases, 172 deaths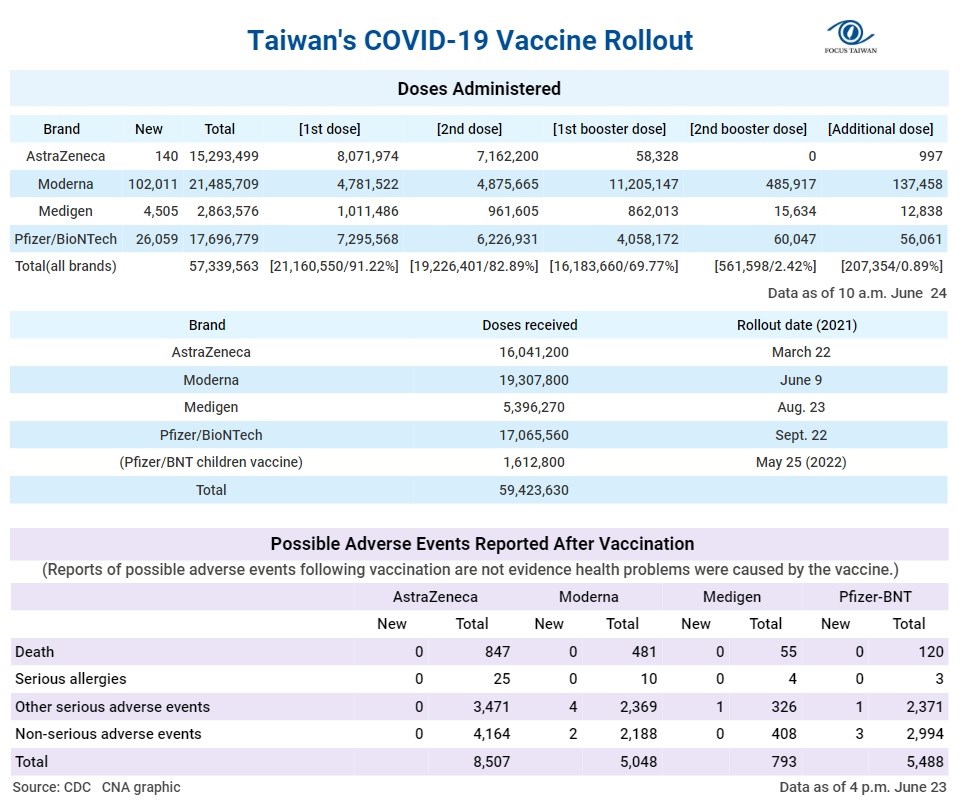 View All