CORONAVIRUS
/
Taiwan reports 933 new COVID-19 cases, including record 744 domestic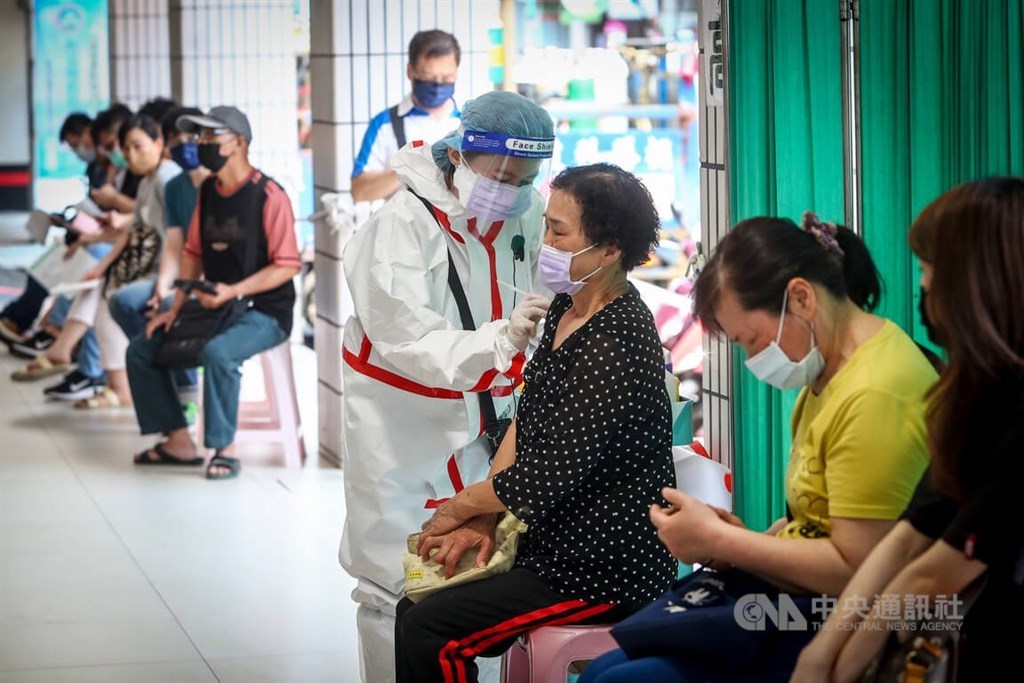 Taipei, April 13 (CNA) Taiwan's Minister of Health and Welfare Chen Shih-chung (陳時中) said Wednesday the country is still at the start of the current wave of COVID-19 infections, after a record single-day high of 744 new domestically transmitted cases was reported that day.
"Cases are bound to continue rising," Chen said at the daily Central Epidemic Command Center (CECC) press briefing.
"It is hard to predict when the number of cases will peak. Anything is possible."
Wednesday's 744 new domestic cases are the highest number recorded in a single day since the pandemic began in early 2020, breaking the previous high of 720 domestic cases set on May 22, 2021.
The previous single-day high for 2022 was 551 domestic cases, reported Tuesday.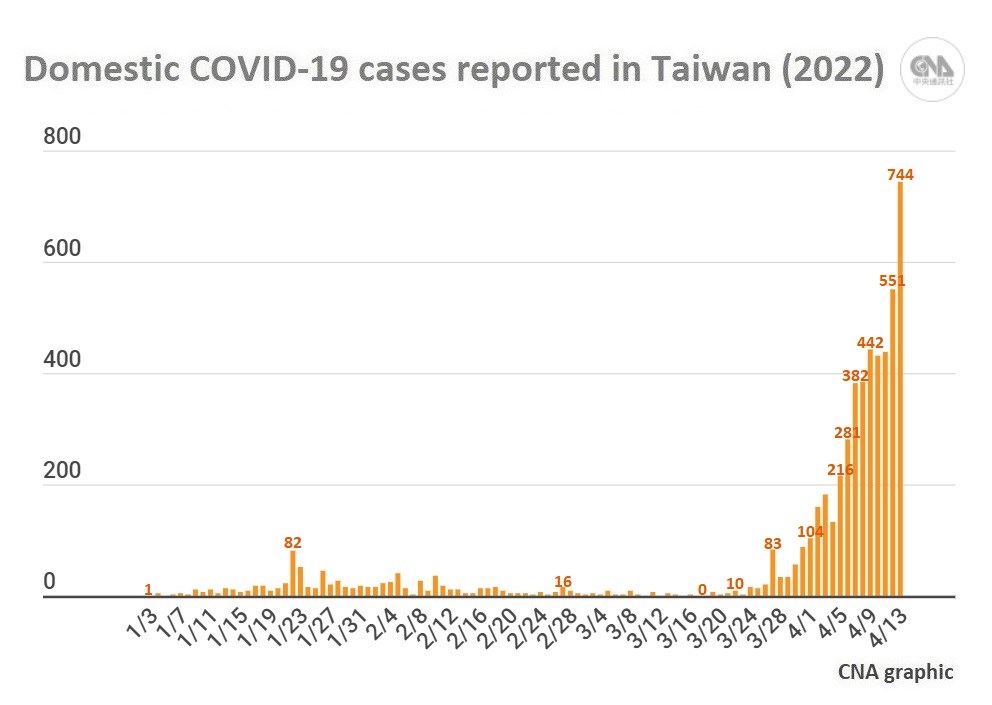 The domestic cases on Wednesday were spread across 19 of Taiwan's 22 cities and counties, with New Taipei reporting the highest number, 264, followed by Taipei with 141, according to the CECC.
Taoyuan reported 65 cases, Keelung 56, Kaohsiung 50, Hualien County 48, Hsinchu County and Taichung 23 each, Yilan and Pingtung counties 14 each, Tainan 12, Hsinchu City 11, Changhua County seven, and Taitung County four.
Miaoli County, Chiayi City, and Chiayi County recorded three cases each, Yunlin County recorded two cases, and Nantou County one.
Of the 4,932 domestic COVID-19 cases recorded nationwide from Jan. 1 to April 12, 16 were classified as moderate infections and two as severe, while the rest, accounting for 99.64 percent of the total, were either mild or asymptomatic, Chen said.
Taiwan added three new patients with moderate illnesses on Wednesday, all in their 80s with chronic illnesses who received either two or three doses of a COVID-19 vaccine, Chen said.
The patients tested positive between April 7 and April 11, and are currently in a stable condition and being treated at local hospitals, according to Chen.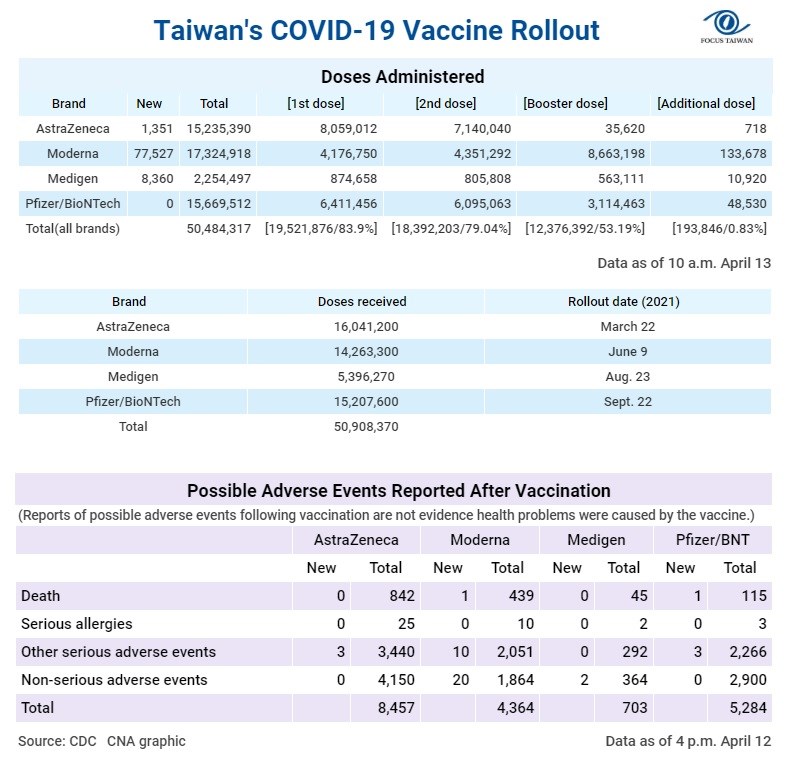 Meanwhile, Taiwan recorded 189 new imported cases on Wednesday, of which 95 were travelers who tested positive on arrival in the country.
To date, Taiwan has confirmed 29,593 COVID-19 cases since the pandemic began, including 20,273 domestically transmitted infections, according to CECC data.
With no deaths reported Wednesday, the number of confirmed COVID-19 fatalities in the country remained at 854, the data showed.
Related News
April 13: Local governments publish lists of places visited by COVID-19 cases
April 13: Final shipment of COVID-19 drug molnupiravir arrives
April 13: MOE open to revising guidelines on suspending in-person classes
April 13: Details on government requisition of COVID-19 rapid tests to come soon
April 13: Taiwan nearing deal to acquire COVID-19 vaccines for 5-11-year-olds
April 12: CECC repeats call to use social distancing app as COVID cases rise
April 12: Taiwan further relaxes border restrictions on family visits
April 11: New Taipei trying out home quarantine for some COVID-19 patients
Recent cases
April 13: Taiwan reports record single-day high of 744 domestic COVID-19 cases
April 12: Taiwan reports 551 new domestic COVID-19 cases, highest this year
April 11: Taiwan reports 630 new COVID-19 cases, including 439 domestic
April 10: Taiwan reports 575 new COVID-19 cases, including 431 domestic
April 9: Taiwan reports 578 new COVID-19 cases, 442 domestic, one death
View All