Three more earthquakes hit Hualien, felt across Taiwan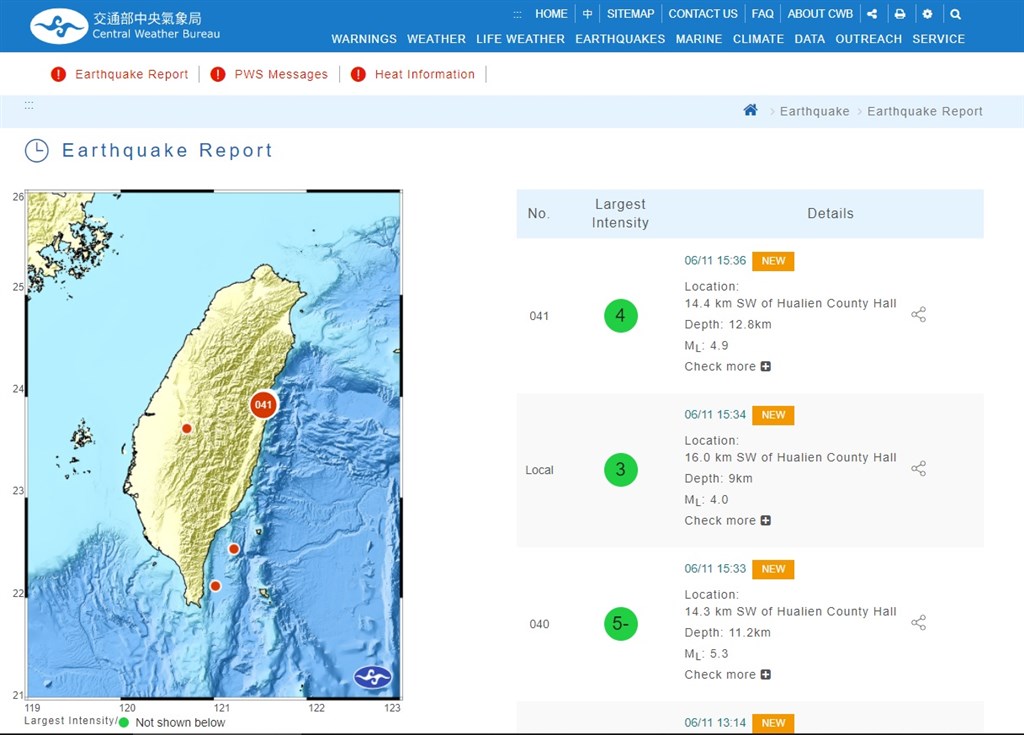 Taipei, June 11 (CNA) Three earthquakes rattled Shoufeng Township in Hualien County after 3:30 p.m. Friday, following two temblors in the same area a couple hours earlier.
The latest series of earthquakes started at 3:33 p.m., with the first one recorded at magnitude 5.3 and centered 14.3 kilometers southwest of Hualien County Hall, at a depth of 11.2 km, according to the Central Weather Bureau (CWB).
The earthquake's intensity, which gauges its actual effect, was highest in Hualien, where it measured 5 on Taiwan's 7-tier intensity scale, the bureau said.
It registered an intensity of at least 1 in most other cities and counties across Taiwan, except Keelung and Kaohsiung, CWB data showed.
One minute later, a magnitude 4 earthquake was recorded 16 km southwest of Hualien County Hall, at a depth of 9 km, the bureau said. Within two minutes, a third one struck, at magnitude 4.9 and centered 14.4 km southwest of county hall, at a depth of 12.8 km, the CWB said.
The three earthquakes struck about two hours after another two rattled the same area at a depth of about 11 km -- one registering magnitude 5.0 at 1:12 p.m., and the other magnitude 4.3 at 1:14 p.m., according to the bureau.
No immediate damage or injuries were reported.