Status of 58 people on board crashed flight 'uncertain:' CAA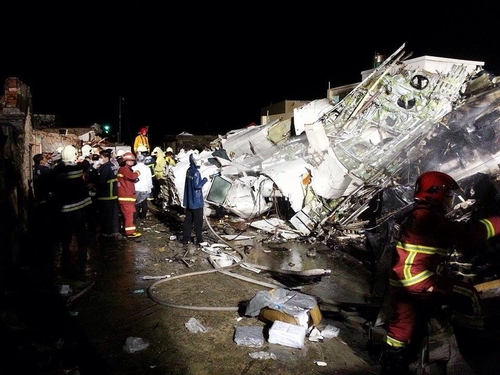 Update: 48 confirmed dead, 10 injured in TransAsia plane crash (July 24)
Taipei, July 23 (CNA) The status of the 54 passengers and four crew members aboard Wednesday's TransAsia Airways Flight 222 remained unclear hours after the ATR 72 crashed in a botched emergency landing in Penghu, according to Jean Shen, director-general of the Civil Aeronautics Administration (CAA).
Flight GE 222 requested a go-around when it tried to land at Magong airport at 7:06 p.m. in inclement weather, but "lost contact" with the tower, Shen said during a press meeting.
The airport lost track of the flight during its go-around when it was about 300 feet above the ground, Shen said.
The turboprop ATR 72, which took off at 5:43 p.m. from Kaohsiung in southern Taiwan, was 14 years old, Shen said.
The Aviation Safety Council has called an emergency meeting to look into the cause of the accident.
Early reports from authorities in Penghu indicated as many as 51 people on board had died.
(By Wang Shu-fen and Lee Hsin-Yin)ENDITEM/WH