First locally built tram car to be delivered Nov. 11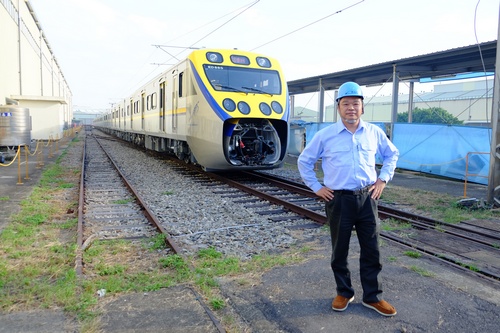 Taipei, Oct. 23 (CNA) The first domestically built tram car will be delivered to Danhai Light Rail Transit System Nov. 11 with 15 more to follow in 2017, according to Taiwan Rolling Stock Co. (TRSC).
The company, based in Hukou, Hsinchu, has been making commuter trains for Taiwan Railway Administration. After investing billion of dollars in its tram car project, it will deliver its first tram to New Taipei city government next month.
"We're already 20 years behind other advanced countries (in making trams)," said Tsai Huang-liang (蔡煌瑯), chairman of TRSC which is a joint venture of China Steel Corp., Tang Eng Iron Works and two Japanese firms -- Nippon Sharyo and Sumitomo Corp. -- who are minority share holders.
To manufacture light rail trams, TRSC has been cooperating with Germany's Voith Engineering Services. "Light rail trams are pollution-free and environmentally friendly; they will be the mainstream public transit tools of the future," said Tsai.
He has a high aim for his company. Currently with a staff of 250, Tsai said if TRSC becomes the locomotive of Taiwan's light rail industry, it will create 10,000 jobs whose output is valued at between NT$70 billion and NT$80 billion.
"While we seek a lofty aim of building our own aircraft and navy ships, we should not ignore the car industry which is technologically more feasible," said Tsai.
Once Taiwan has built its tram car production chain, "it will have the ability to bid for rail car projects in other countries, making Taiwan an exporter of car making technology," Tsai said.