CORONAVIRUS
/
Daily number of new COVID-19 in Taiwan approaches 50,000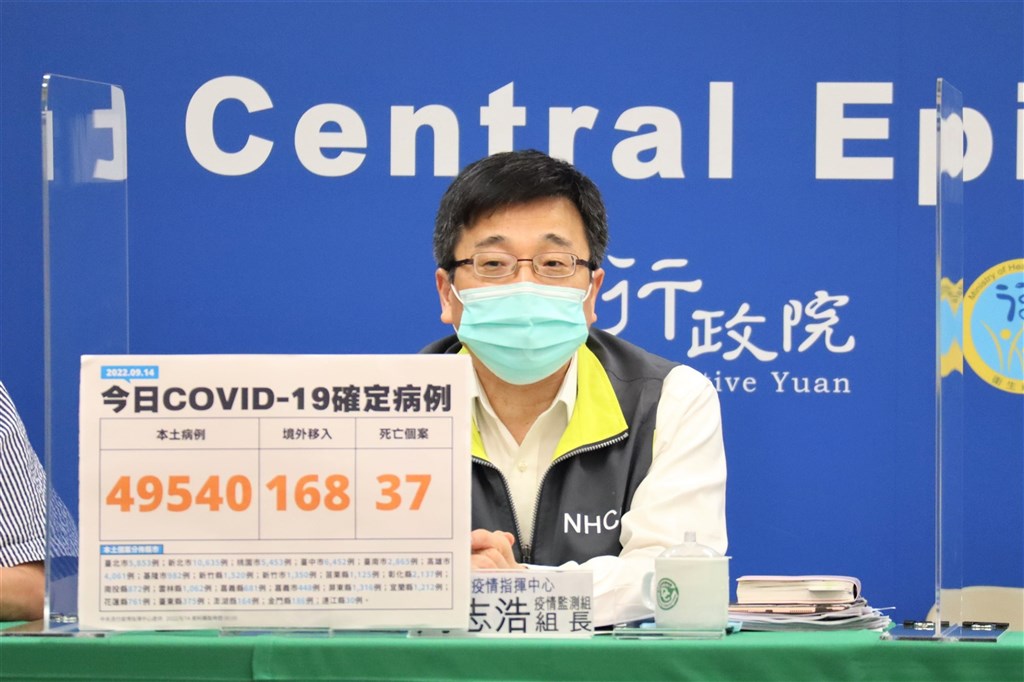 Taipei, Sept. 14 (CNA) Taiwan reported 37 deaths from COVID-19 on Wednesday and 49,708 new COVID-19 cases, the second day in a row the number of new cases exceeded 40,000 as the Omicron BA.5 variant takes hold, according to the Central Epidemic Command Center (CECC).
The number of new cases was around 20 percent higher than a week earlier amid a surge in infections linked to the Omicron BA.5 variant of the coronavirus, Centers for Disease Control (CDC) Director-General Chou Jih-haw (周志浩) said at a CECC press briefing Wednesday.
It was the third time Taiwan had exceeded 40,000 new cases in a single day in September and was the closest of the three days to hitting 50,000 cases, a single-day total not seen in Taiwan since June 22.
Deaths reported on Wednesday
The 37 deaths from COVID-19 brought the total number in Taiwan since the pandemic began to 10,350, according to CECC data.
The deceased ranged in age from their 20s to their 90s, and all but three had underlying health issues, such as cancer and kidney diseases, CECC data showed.
At the press briefing, CDC Deputy Director-General Lo Yi-chun (羅一鈞) said 21 of the 37 deceased had not received any COVID-19 vaccine doses, and he urged people who have not gotten vaccinated to get at least one shot.
Among the 16 people whose deaths were reported Wednesday, six had received one dose of a COVID-19 vaccine, five had received two doses, four had received three doses, and one had received four doses, according to the CECC.
The youngest casualty was a man in his 20s, who had heart arrhythmia and had received three COVID-19 vaccine doses, Lo said.
The man was confirmed as having COVID-19 after an online consultation with a doctor on Sept. 9 because he experienced a sore throat and a rapid test he took for COVID-19 was positive, Lo said.
The man was found unconscious at home later that day and was taken to the emergency department of a nearby hospital, Lo said, and despite efforts to resuscitate him, he was pronounced dead in the early hours of Sept. 10.
The CECC also reported 23 cases newly classified as severe and 39 as moderate.
Regional breakdown
New Taipei reported the highest number of new cases Wednesday, with 10,635, followed by Taichung with 6,452, Taipei with 5,853, Taoyuan with 5,453, Kaohsiung with 4,061, and Tainan with 2,865, the CECC said in a statement.
Changhua County had 2,137 new cases, Hsinchu County 1,520, Hsinchu City 1,350, Pingtung County 1,316, Yilan County 1,212, Miaoli County 1,125, Yunlin County 1,062, and Keelung 982.
Nantou County had 872 cases, Hualien County 761, Chiayi County 681, Chiayi City 448, Taitung County 375, Kinmen County 186, Penghu County 164 and the Matsu Islands 30, the CECC said.
To date, Taiwan has recorded 5,804,343 COVID-19 cases since the pandemic began in early 2020, including 31,292 cases classified as "imported" because they were deemed to have originated abroad.
As of Wednesday, 93.3 percent of those eligible in Taiwan had received at least one COVID-19 vaccine shot, while 87.1 percent had received two shots and 72.7 percent had received a first booster shot.
Some 10.1 percent of the population has received a second booster shot, including 35.6 percent of those aged 65 and above, CECC statistics showed.
Also on Wednesday
Sept. 14: Taiwan researchers find possible key to encephalitis in child COVID cases
Sept. 14: Taiwan to receive updated Moderna vaccine Friday
Sept. 14: Health expert urges people to get fully vaccinated amid COVID-19 surge
Latest COVID-19 rules
Sept. 29: Taiwan's new COVID-19 protocols for arriving passengers
Sept. 8: Taiwan to ease COVID-19 in-person class suspension rules
Sept. 5: Taiwan to resume visa-free entry for multiple countries from Sept. 12
Sept. 1: Taiwan's new COVID-19 policies taking effect Sept. 1
Sept. 1: Taiwan's new COVID-19 screening rules for hospital admission
Related News
Sept. 13: Japan to relax entry rules for Taiwan citizens from Sept. 14
Sept. 9: Health Ministry expands eligibility for Chinese herbal COVID-19 drug
Sept. 8: Girl to receive NT$3 million payout for adverse COVID vaccine reaction
Sept. 8: Taiwan's ACIP head thinks it's time to end quarantine for arriving travelers
Sept. 2: Taiwan grants EUA for 2nd-generation Moderna COVID-19 vaccine
Aug. 28: Taiwan begins rollout of Pfizer-BNT vaccines for young children
Aug. 24: Omicron subvariant-induced outbreak forecast to peak earlier: CECC
Recent cases
Sept. 13: Taiwan reports 47,051 new COVID-19 cases, 17 deaths
Sept. 12: Taiwan reports 25,583 new COVID-19 cases, 28 deaths
Sept. 11: Taiwan reports 32,128 new COVID-19 cases, 29 deaths
Sept. 10: Taiwan reports 32,128 new COVID-19 cases, 29 deaths
Setp. 9: Taiwan reports 34,260 new COVID-19 cases, 55 deaths
View All