CORONAVIRUS
/
Taiwan reports 12,313 new COVID-19 cases, two deaths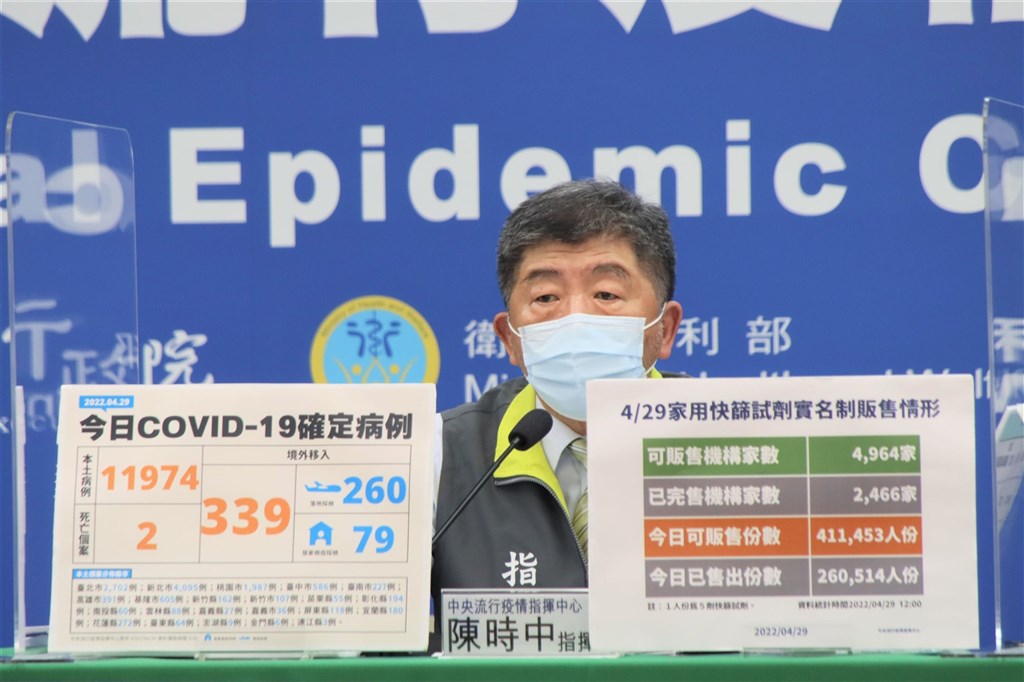 Taipei, April 29 (CNA) Taiwan on Friday reported 12,313 new COVID-19 cases, most of which were domestic infections, and two deaths from the disease, according to the Central Epidemic Command Center (CECC).
The CECC said 339 of the new 12,313 new cases were contracted abroad, while 11,974 were domestically transmitted, a figure that set a new daily high and surpassed 10,000 for the second day.
The two COVID-19 patients who died -- men in their 80s and 50s -- passed away on April 23 and April 24, respectively, the CECC said.
One of them had received three shots of a COVID-19 vaccine, and the other had gotten two doses, the CECC said, adding that the two patients had tested positive on April 18 and April 21, respectively.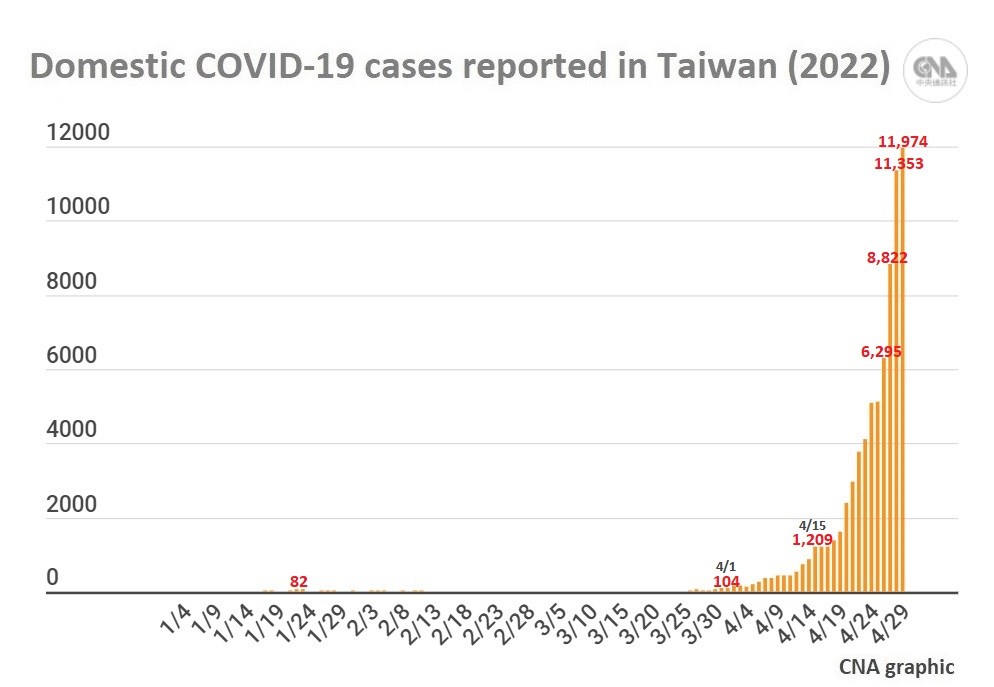 The CECC also reported that another 29 patients had contracted moderate COVID-19 infections, and one had developed a severe infection.
Lo Yi-chun (羅一鈞), deputy head of the CECC's medical response division, said the new severe case is that of a woman in her 80s, who has a chronic neurological disease.
The woman, who received three doses of a COVID-19 vaccine, developed pneumonia and respiratory complications after she contracted COVID-19, Lo said. The patient is being treated with the antiviral drug remdesivir and is receiving oxygen therapy, he said.
The 29 moderate cases, meanwhile, are people ages 10 to 100 years old, including 15 who are not vaccinated against COVID-19, according to CECC data.
One of the 15 unvaccinated patients is a teenager who has a history of heart and neurological diseases, Lo said.
After she became infected with COVID-19, her oxygen levels dropped and she developed pneumonia, Lo said, adding that she is being treated with remdesivir.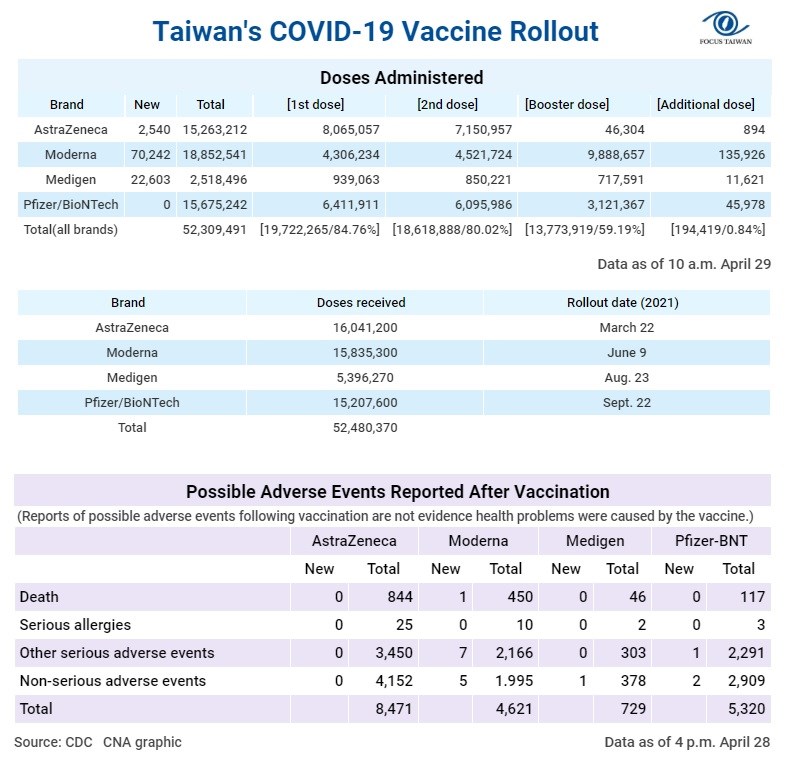 Of the 63,006 domestic cases recorded nationwide from Jan. 1 to April 28, 170 have been classified as moderate infections, and 19 as severe, accounting for 0.27 percent and 0.03 percent of the total, respectively, according to CECC data.
In all of the other cases, the infection has been either mild or asymptomatic, the CECC said.
New cases on Friday
On Friday, New Taipei reported the highest number of new cases, with 4,095, followed by Taipei with 2,702, Taoyuan with 1,987, Keelung with 605, and Taichung 586.
Kaohsiung reported 391 cases, Hualien County 272, Tainan 227, Changhua County 194, Yilan County 180, Hsinchu County 162, Pingtung County 118, Hsinchu City 107, Yunlin County 88, Taitung County 64, Nantou County 60, Miaoli County 55, Chiayi City 36, and Chiayi County 27.
Penghu recorded nine cases, while Kinmen and the Matsu islands reported six and three, respectively.
Meanwhile, of the 339 new imported cases, 260 were travelers who tested positive on arrival in Taiwan, according to the CECC.
To date, Taiwan has confirmed 100,753 COVID-19 cases since the pandemic began in early 2020, including 89,579 domestically transmitted infections.
With the two deaths reported Friday, the number of confirmed COVID-19 fatalities in the country rose to 862.
Also on Friday
April 29: Pharmacists group critical of low rapid test deliveries for weekend
April 29: Taiwan expected to buy 30 million COVID-19 saliva rapid tests
April 29: Health minister urges public to refrain from taking PCR tests
Related News
April 28: COVID-19 contacts to receive fewer free tests during '3+4' quarantine
April 28: Taiwan inks new Pfizer-BioNTech vaccine deal, approves use for children
April 28: Nearly 60,000 COVID-19 rapid test kits sold in 2 hours
April 27: Taiwan to maintain current mask mandate through May
April 26: COVID vaccine rollout for 6-11-year-olds to start May 2: MOE
April 25: Taiwan will retain 10-day quarantine rule for arriving travelers: CECC
April 21: Rapid testing to replace preventive quarantine: health minister
April 15: Taiwan mandates 3 COVID shots for high-risk groups, venues
April 7: Taiwan suspends some COVID contact tracing, adopts new control model
April 1: Taiwan still plans to open up gradually, despite case spike: Premier
Recent cases
April 28: Taiwan reports 11,517 new COVID-19 cases, two deaths
April 27: Taiwan reports 8,923 COVID-19 cases, two deaths
April 26: Taiwan reports 6,339 new COVID-19 cases, zero deaths
April 25: Taiwan reports 5,221 new COVID-19 cases, zero deaths
April 24: Taiwan reports 5,172 new COVID-19 cases, zero deaths
View All