CORONAVIRUS
/
Taiwan relaxes quarantine rules for airline crew members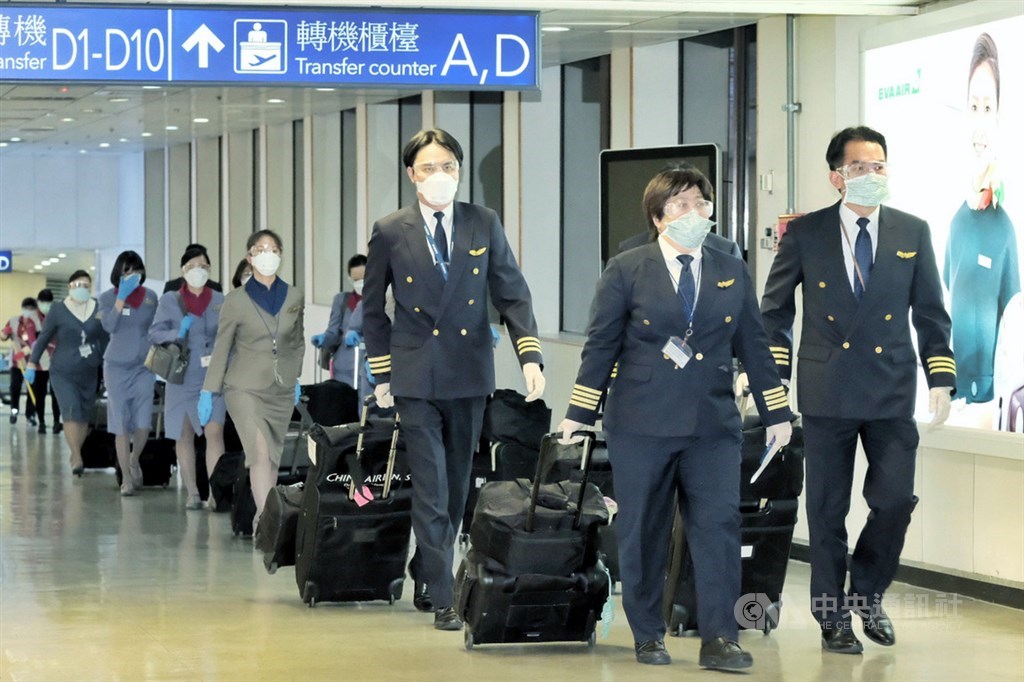 Taipei, April 27 (CNA) Domestic airline crew members with a booster COVID-19 vaccine shot will be allowed to quarantine for less time and in certain shared residences beginning May 1, under new rules announced by the Central Epidemic Command Center (CECC) Wednesday.
The new rules came after the Pilots Union Taoyuan -- which represents nearly 50 percent of pilots at domestic airlines -- said that they would not rule out taking "collective action" if the quarantine rules were not relaxed, citing their low infection rates and intense quarantine requirements.
Long-haul flights
Under the new rules, crew members on long-haul flights who have received their booster shot at least two weeks prior to their assignment will be quarantined for three days upon returning to Taiwan, down from the current five days, the CECC said.
They can choose to quarantine at a shared residence if they have their own room and bathroom, and they can also opt to quarantine at designated hotels or company dorms, the CECC said.
At present, crew members on long-haul flights who had gotten a booster shot are only allowed to quarantine at home if they are the only ones staying in the residence.
Following the three-day quarantine period, they have to follow self-health management rules for four days, as opposed to the five days that are currently required.
Update: Taiwan relaxes quarantine rules for crew members of long-haul flights (June 11)
Short-haul flights
The new rules for crew members on short-haul international turnaround flights who received their boosters two weeks prior to their assignment require them to monitor their health for five days after returning, down from the current seven days.
For crew members who have not yet gotten a booster shot, the rules remain unchanged. Those on long-haul flights have to quarantine for five days followed by nine days of enhanced self-health management after returning, and they can only quarantine at hotels, company dorms, or alone in their homes.
Those serving short-haul flights have to follow seven days of self-health management after returning.
Minister of Health and Welfare Chen Shih-chung (陳時中) said that the CECC would continue to evaluate the possibility of further loosening quarantine rules for crew members of domestic airlines.
The COVID-19 pandemic has seen Taiwan's airline crew members stuck in a cycle of quarantine and work, which has disrupted their lives and exacerbated mental and physical health issues.
In its statement on Monday, the Pilots Union Taoyuan said that it was ridiculous and discriminatory that people who come into contact with COVID-19 cases in Taiwan only have to quarantine for three days, while crew members have to quarantine for five days, despite being required to quarantine overseas while on their assignment.
Related: Stuck in work-quarantine cycle, flight crews hope for reprieve
According to the Civil Aeronautics Administration (CAA), over 96 percent of crew members at domestic airlines have received a vaccine booster.
A total of 51 crew members have tested positive for COVID-19 as of April 21, CAA data shows.
Update
June 11: Taiwan to cut COVID-19 quarantine for arrivals to 3 days
May 3: Taiwan to shorten quarantine for arriving travelers from 10 to 7 days
Related News
April 27: Taiwan to maintain current mask mandate through May
April 27: Taiwan reports 8,923 COVID-19 cases, two deaths
April 26: New '3+4' quarantine rule for contacts of COVID cases
April 21: Rapid testing to replace preventive quarantine: health minister
April 7: Taiwan suspends some COVID contact tracing, adopts new control model
View All