CORONAVIRUS
/
Taiwan breaks record for 2nd day with 874 new domestic COVID-19 cases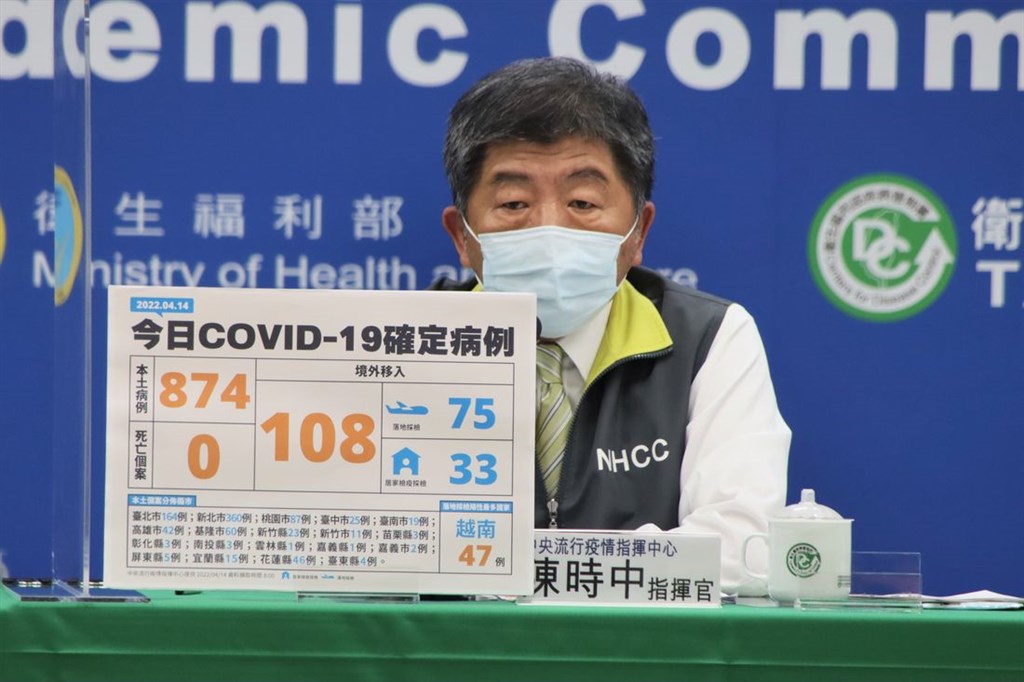 Taipei, April 14 (CNA) Taiwan on Thursday reported 874 new domestic COVID-19 cases, breaking its daily record for the second consecutive day, according to the Central Epidemic Command Center (CECC).
New Taipei reported the highest number of domestic cases, with 360, followed by Taipei with 164, Taoyuan with 87, and Keelung with 60, the CECC said.
In total, new domestic cases rose Thursday to 874 from the 744 reported the previous day, which had broken the previous one-day high of 720 on May 22, 2021.
Taiwan also reported 108 new imported cases on Thursday, 75 of them travelers who had tested positive on arrival in Taiwan, according to the CECC.
Update: Taiwan's new domestic COVID-19 cases rise to record 874
To date, Taiwan has confirmed 30,574 COVID-19 cases since the pandemic began, including 21,146 domestically transmitted infections, according to CECC data.
With no deaths reported Thursday, the number of confirmed COVID-19 fatalities in the country remained at 854, the data showed.
Recent cases
April 13: Taiwan reports record single-day high of 744 domestic COVID-19 cases
April 12: Taiwan reports 551 new domestic COVID-19 cases, highest this year
April 11: Taiwan reports 630 new COVID-19 cases, including 439 domestic
April 10: Taiwan reports 575 new COVID-19 cases, including 431 domestic
April 9: Taiwan reports 578 new COVID-19 cases, 442 domestic, one death
View All