Taiwan receives fifth shipment of Pfizer-BioNTech COVID-19 vaccine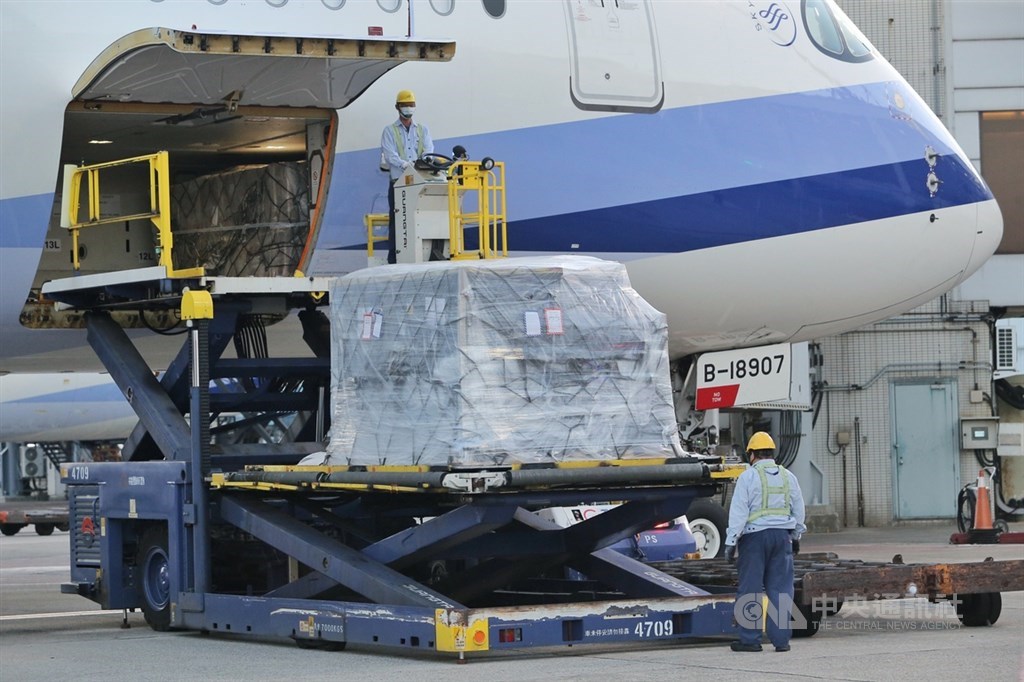 Taipei, Oct. 4 (CNA) Taiwan took delivery of a fifth shipment of the Pfizer-BioNTech (BNT) COVID-19 vaccine early Monday morning, the third batch to arrive in the country in the past week.
The shipment arrived at Taiwan Taoyuan International Airport on a China Airlines cargo plane at 5:36 a.m. It contains around 200,000 doses, according to Terry Gou (郭台銘), founder of Hon Hai Precision Industry Co.
The delivery is part of 15 million doses ordered by Hon Hai Precision Co./YongLin Charity, Taiwan Semiconductor Manufacturing Co., and the Buddhist humanitarian organization Tzu Chi Foundation, which will all be donated to the government for distribution.
The vaccine doses will undergo inspection by the Food and Drug Administration, which will take one to two weeks, before they can be distributed for use, as is standard procedure, according to the Central Epidemic Command Center (CECC).
The CECC will release more details about the shipment, such as the specific number of doses delivered, at a press conference Monday afternoon.
Taiwan received its first shipment of the Pfizer-BNT vaccine on Sept. 2, and rollout began on Sept. 22 with students aged 12-17.
Eligibility was later expanded to individuals aged 18-22, seniors 65 years old and over, and people aged 40 and over who suffer from serious or rare illnesses or injuries.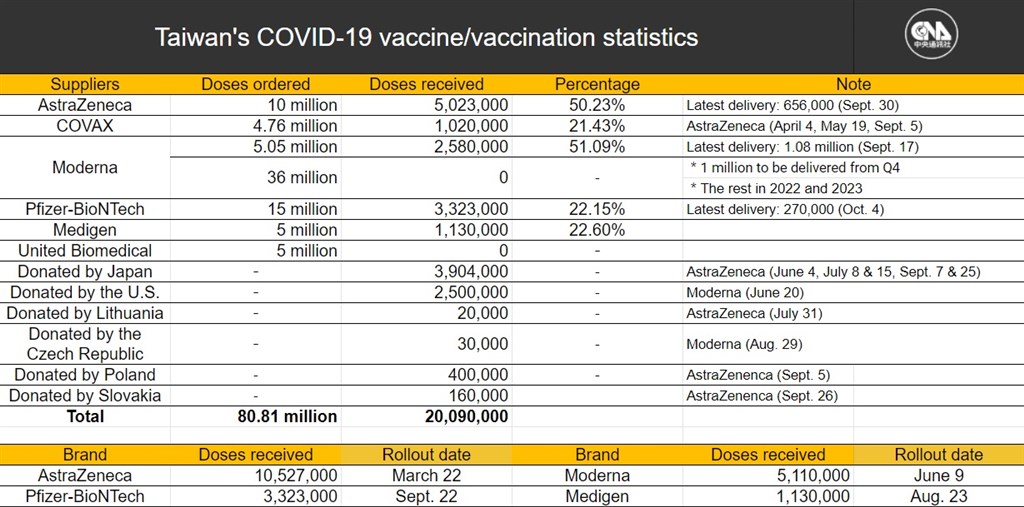 The next round of vaccination using the Pfizer-BNT brand will be from Oct. 6-14. Three groups of people will be eligible, provided they registered their information on the government's 1922 vaccine platform and indicated their willingness to receive the Pfizer-BNT vaccine prior to Sept. 29.
These three groups are: individuals aged 18-22, seniors 64 years old and over, and people aged 18 and over who suffer from serious or rare illnesses or injuries.
They can make an appointment to receive their first shot of the vaccine from 10 a.m. Monday to 4 p.m. Tuesday.
The CECC had previously said that from Oct. 13-20, people aged 12-22, individuals aged 49 and above, and anyone who suffers from rare or serious illnesses or injuries will also be able to get the Pfizer-BNT vaccine.
In Taiwan, anyone wanting to be vaccinated against COVID-19 must first register their information and vaccine preferences on the government's 1922 platform.
An official appointment to receive a vaccine shot can be made on the same platform once an individual becomes eligible for any of the vaccines they have chosen.