CORONAVIRUS
/
Taiwan adds 33 new COVID-19 cases; Taipei, Pingtung clusters 'contained'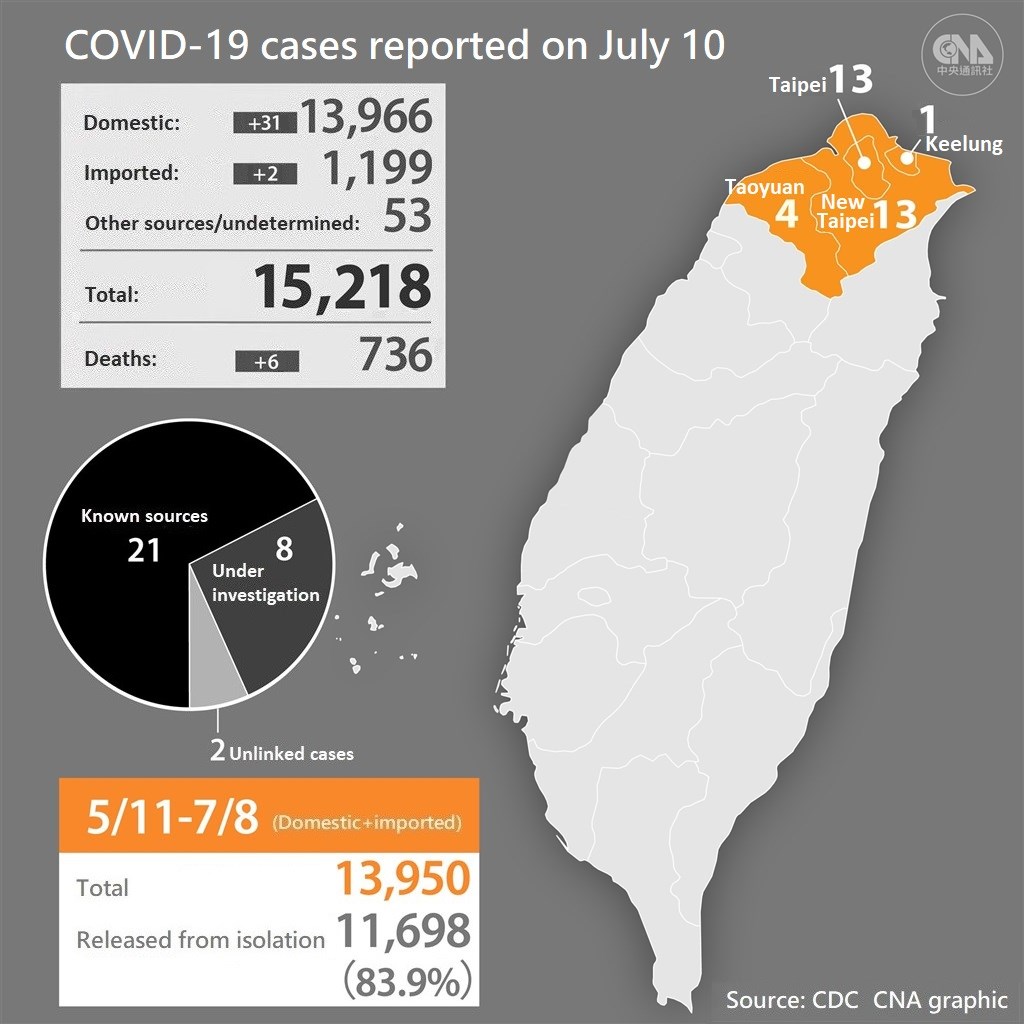 Taipei, July 10 (CNA) The Central Epidemic Command Center (CECC) on Saturday reported 33 new cases of COVID-19, including 31 domestic infections in the north of the country, but said the recent infection clusters in Taipei and Pingtung had been brought under control.
At a press briefing, Health Minister Chen Shih-chung (陳時中) said the number of new cases linked to clusters at wholesale markets in Taipei City had dropped considerably since the CECC set up a special command center in the area on July 2.
He was referring to the 200-plus cases recently confirmed at the First Fruit & Vegetable Wholesale Market, the Second Fruit & Vegetable Wholesale Market, and Huannan Market, which are located in the city's Wanhua and Zhongshan districts.
From July 1-3, the CECC and Taipei City government tested 11,159 people at the three markets, and 51 of them, or 0.44 percent, were positive, Chen said.
During further testing on July 8 and 9, only four new cases were found among the 4,671 people tested, which indicated a positivity rate of 0.08 percent, he said.
"Given this improvement in the situation, the CECC decided to close its special command center in the area on Saturday, but testing will continue at the markets next week," Chen said.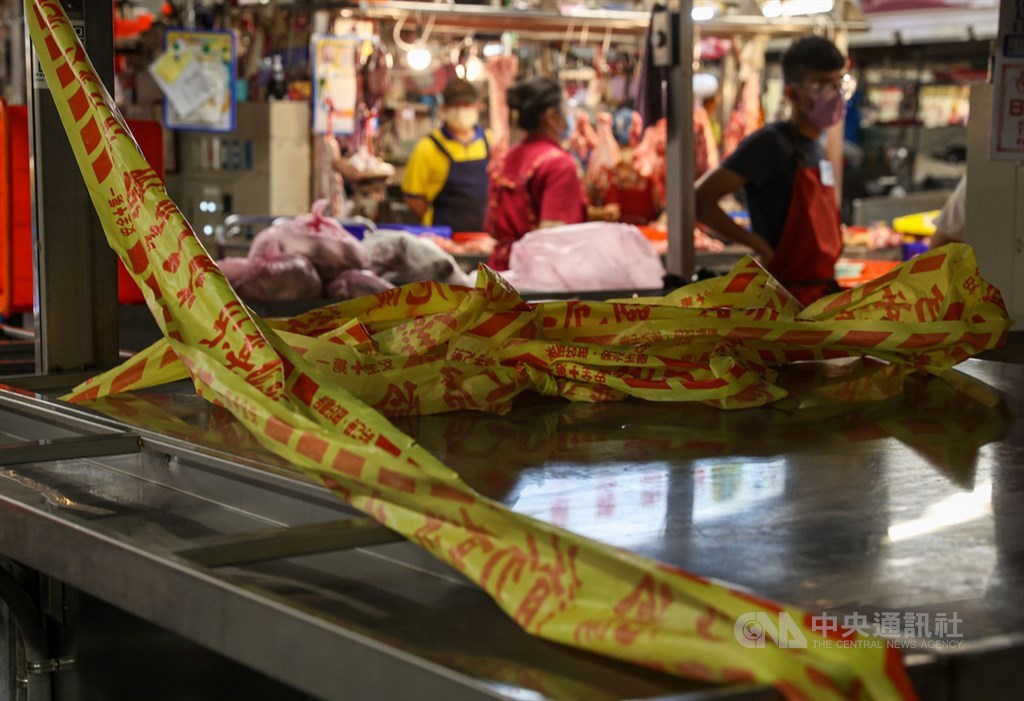 Meanwhile, the number of cases in a Delta variant cluster in Pingtung remained at 17 on Saturday, despite widespread testing, which indicated that it was under control, according to Chen.
Recent tests on 3,033 patients and staff at Fangliao General Hospital, where several of the infections are believed to have occurred, have all been negative, while over 500 of the 600 contacts identified in the cluster have been released from quarantine, Chen said.
Meanwhile, of the 33 new COVID-19 cases confirmed Saturday, 31 were domestic infections, all in northern Taiwan, and 19 had tested positive while in quarantine, according to the CECC.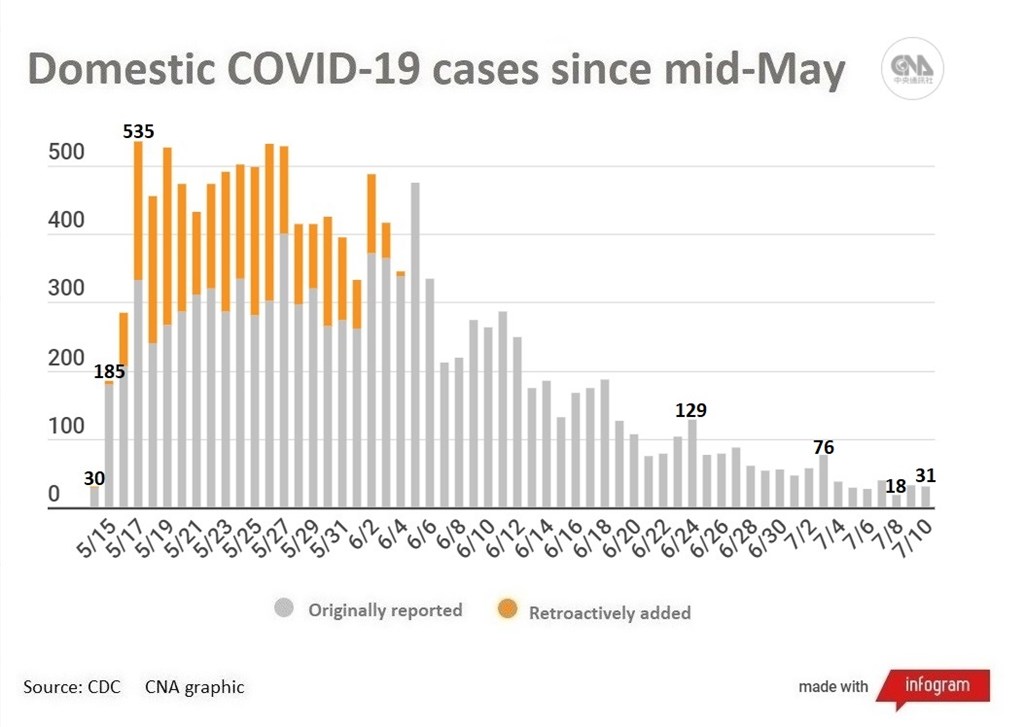 Taipei and New Taipei cities each reported 13 cases, followed by Taoyuan with four cases and Keelung with one, the CECC said.
Of the domestic cases, 21 had a known source of infection, while two had unknown links to other cases, and eight were under investigation, the CECC said.
The two imported cases were Taiwan nationals, in their 20s and 30s, who returned from Italy and Belgium in late June and tested positive before the end of their quarantine period, the CECC said.
It said the six deaths reported Saturday were two men and four women, ranging in age from their 30s to their 80s, who passed away between July 6 and July 8.
The new cases bring the total number in Taiwan to 15,218, of which some 13,800 are domestic infections reported since May 15, when the country first recorded over 100 cases in a single day.
The number of deaths in Taiwan from COVID-19 has now risen to 736, including 724 since May 15, CECC data shows.
Recent cases
July 9: Taiwan reports 32 domestic COVID-19 cases; all in the north
July 8: Taiwan reports 18 new domestic COVID-19 cases, all in Greater Taipei
July 7: Taiwan reports 40 new COVID-19 cases, sees flat trend
July 6: Taiwan reports 29 new COVID-19 cases, 1 more in Delta cluster
July 5: Taiwan reports 31 new COVID-19 cases, Delta cluster grows to 16 cases
View All