Publicly 'announced' Taiwan-U.S. security meeting significant: experts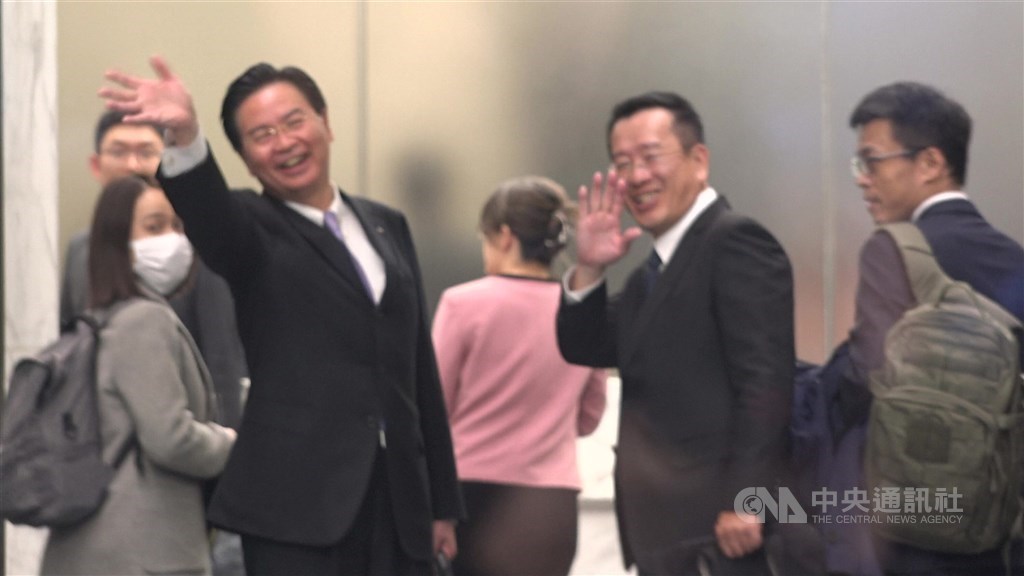 Washington/Taipei, Feb. 22 (CNA) Local experts on Wednesday said it was significant that the latest security dialogue between Taiwan and the United States, held at the American Institute in Taiwan's (AIT) Washington headquarters Tuesday, was made public before it was held given the current geopolitical climate.
The meeting between Foreign Minister Joseph Wu (吳釗燮) and National Security Council Secretary-General Wellington Koo (顧立雄) from Taiwan, and U.S. Deputy Secretary of State Wendy Sherman and Principal Deputy National Security Adviser Jon Finer started at about 10 a.m. and did not end until 5 p.m. Tuesday.
Although there were no indications from either Taipei or Washington of what was discussed during the seven-hour meeting held at AIT headquarters, located in Rosslyn, Arlington, Virginia, across the Potomac River from Washington D.C., the meeting has attracted substantial media attention.
Amid the geopolitical situation one year after Russia invaded Ukraine, the recent meeting between U.S. President Joe Biden and Ukrainian President Volodymyr Zelenskyy in Kyiv and Chinese Foreign Minister Wang Yi (王毅) visiting Moscow, the meeting was a "major advance" in Taiwan-U.S. relations, according to Vincent Chao (趙怡翔).
In terms of the venue, this meeting was held in the vicinity of Washington D.C., while previous editions of such meetings took place further from the capital, Chao, who served as political director at the Taipei Economic and Cultural Representative Office in the U.S. from 2019-2021, told CNA.
In a departure from previous practice, officials from both sides did not shy away from media cameras outside AIT headquarters and there was media coverage of the meeting before it took place, indicating the intention of the U.S. to publicize the meeting, said Chao, a Taipei city councilor for the ruling Democratic Progressive Party (DPP).
The U.S. was conveying a message that security in the Taiwan Strait is also an issue the world should be concerned about in addition to the war in Ukraine, he said.
Although the meeting was the latest routine dialogue involving high-level officials from the two sides, holding the meeting in the week that marked one year since Russia invaded Ukraine was of significance, Lu Yeh-chung (盧業中), a professor in National Chengchi University's Department of Diplomacy, said Wednesday.
The meeting also once again underscored established channels of communication between Taiwan and the U.S., Lu said.
Chen Chien-jen (程建人), who served as foreign minister from 1999-2000 and the nation's representative to the U.S. from 2000-2004, said that such meetings have a wide-ranging agenda, touching on issues related to security, diplomacy, economics and trade that are of importance to Taiwan-U.S. relations.
Independent Legislator Freddy Lim (林昶佐) said the meeting sent a clear message to the international community that exchanges between Taiwan and the U.S. are becoming normal and open, and there is no turning back.
Kuomintang (KMT) Legislator Johnny Chiang (江啟臣) speculated that the two sides might have discussed how to preempt disruptions in cross-strait relations should President Tsai Ing-wen (蔡英文) visit the U.S. or U.S. House Speaker Kevin McCarthy visit Taiwan as media reports have suggested.
The DPP government should explain to the public what was discussed at the meeting after the delegation returns to Taiwan, Chiang said.
According to Bonnie Glaser, director of the Asia Program at the German Marshall Fund, the annual meeting between senior officials from both governments have taken place for the past 25 years.
AIT represents U.S. interests in Taiwan in the absence of official diplomatic ties. It headquarters are based in the U.S. with branch offices in Taipei and Kaohsiung.
Other participants at the meeting included Assistant Secretary of State for East Asian and Pacific Affairs Daniel Kritenbrink, Rick Waters, deputy assistant secretary of state for China and Taiwan, and Ely Ratner, assistant secretary of defense for Indo-Pacific Security Affairs.
Deputy Assistant Secretary of Defense for China Michael Chase, National Security Council (NSC) Senior Director for China and Taiwan Laura Rosenberger, Rush Doshi, the NSC's director for China and AIT Taipei Director Sandra Oudkirk also took part in the meeting.