President gives words of encouragement following diplomat's suicide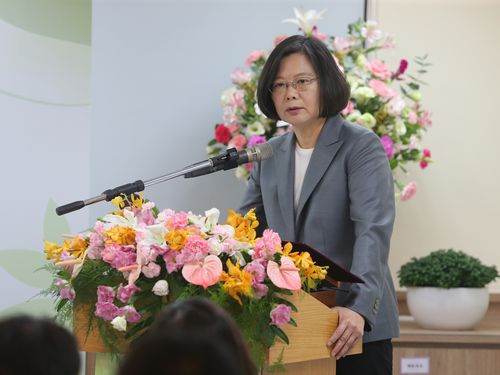 Taipei, Sept. 15 (CNA) President Tsai Ing-wen (蔡英文) has offered words of encouragement to Taiwan's diplomatic personnel, a gesture meant to boost their morale following the suicide of a diplomat posted in Japan.
In her Facebook and Instagram pages, Tsai posted a message late Friday, saying the burden shouldered by the country's diplomatic personnel has been very heavy.
"Their contribution and great efforts represent the hopes embraced by the 23 million people in Taiwan to connect with the international community. Thank you," Tsai wrote.
Tsai emphasized that many of the country's diplomatic personnel, regardless of their gender and age and no matter where they are, have kept devoting themselves at every critical moment to ensuring Taiwan's sovereignty and international status.
"Taiwan is not lonely at all," Tsai said. "(Due to the presence of the country's diplomatic personnel), Taiwan has been seen everywhere in the world and the country has received cherished friendship worldwide."
Tsai's message was posted after the head of Taiwan's representative office in Osaka, Japan committed suicide early Friday.
Su Chii-cherng (蘇啟誠), 61, who assumed the post only in July, was found dead at his residence in Osaka, according to sources familiar with the incident.
Japanese media reported that a suicide note left by Su to his family indicated he felt miserable amid criticism about the Osaka office's way of dealing with Taiwanese travelers grounded at Kansai International Airport last week.
According to Taiwan's representative to Japan Frank Hsieh (謝長廷), the Osaka office had been under considerable pressure since Kansai International Airport was closed due to flooding on Sept. 4, causing many Taiwanese travelers to be stranded.
Hsieh and Taiwan's office in Osaka had come under criticism for not measuring up to the efforts by the Chinese consulate and diplomats in Osaka to help Chinese citizens who were also stuck at the airport.
In an open letter to the country's diplomatic personnel which the Ministry of Foreign Affairs (MOFA) released on Saturday, Foreign Minister Joseph Wu (吳釗燮) said he has been heartbroken in the wake of Su's death, lamenting the lost of an excellent colleague.
In the letter, Wu described Su as a humble, sincere and outstanding diplomat.
Wu said Su's death has caused a broken family, adding that as the head of the MOFA, he blamed himself for the suffering of Su's family.
Wu said the MOFA needs to make some changes by taking better care of its staff's physical and mental health, as well as their family life, as they take on challenges in the international stage.
"The MOFA is a big family," Wu said. "We need to care about each other and lend more support to each other."
Wu thanked his colleagues for their contribution when Taiwan is facing a difficult time in the world amid rising isolation due to China. Wu added the country's diplomatic personnel are determined to unite themselves and continue to work hard for Taiwan.