Taiwan asks Japan for support in seeking membership of CPTPP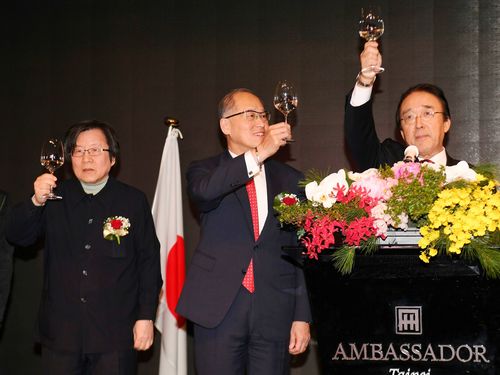 Taipei, Dec. 11 (CNA) Taiwan asked Japan Monday for support in its efforts to join a new regional trade arrangement called the "Comprehensive Progressive Trans-Pacific Partnership" (CPTPP) to contribute to regional prosperity.
In an address at a reception to celebrate the upcoming birthday of the emperor of Japan, Chiou I-jen (邱義仁), head of the Taiwan-Japan Relations Association (TJRA), which handles bilateral affairs in the absence of diplomatic ties, called on Japan to support the nation's possible participation in the CPTPP.
"If Taiwan could gain Japan's support and become a party to the CPTPP, it would not only benefit both our countries, but would also promote regional prosperity," he said.
Formerly known as the Trans-Pacific Partnership (TPP), the name of the regional trade deal was changed to CPTPP after the U.S. withdrew earlier this year.
The proposed CPTPP, a trade agreement between the remaining 11 members of the TPP -- Australia, Brunei, Canada, Chile, Japan, Malaysia, Mexico, New Zealand, Peru, Singapore and Vietnam -- is being negotiated among the countries involved.
Following the exit of the U.S., Japan is now leading the CPTPP talks.
Chiou made the comments at the reception organized by Japan-Taiwan Exchange Association, the de facto Japanese embassy in Taiwan in the absence of official diplomatic ties, ahead of Emperor Akihito's 84th birthday on Dec. 23.
In his address, Japan's top envoy to Taiwan, Mikio Numata, lauded the great progress in bilateral relations over the past year.
He citied the examples of the change of the name of his association from "Interchange Association" into "Japan-Taiwan Exchange Association," in January.
Taiwan's Association of East Asian Relations was also later changed to TJRA to reflect both organizations' business duties, he noted.
The Japanese government sent Vice Minister of Internal Affairs and Communications Jiro Akama to Taiwan in March, he went on.
Numata noted that some long-term issues have been resolved this year, as the Taiwan government lifted its ban on Japanese beef imports.
To show gratitude for the move, the envoy said, his association prepared Japanese beef that was served at the reception.
He also expressed hope that other remaining import ban issues can be resolved soon.
Numata was referring to Taiwan's ongoing ban on the import of food products from the five radiation-affected prefectures of Japan -- Gunma, Fukushima, Ibaraki, Tochigi and Chiba -- following the Fukushima Daiichi nuclear plant disaster in 2011, a ban that was imposed by the previous Kuomintang administration.
It further tightened restrictions in 2015 when products from those prefectures were discovered on shelves in Taiwan, drawing strong criticism from the Japanese government.
Since regaining power in May 2016, the Democratic Progressive Party administration has said it is considering lifting the ban on food imports from four of the prefectures but excluding Fukushima -- but has run into heavy opposition. No progress has been made on the issue since then.