AIT chairman skeptical U.S. naval vessels will visit Taiwan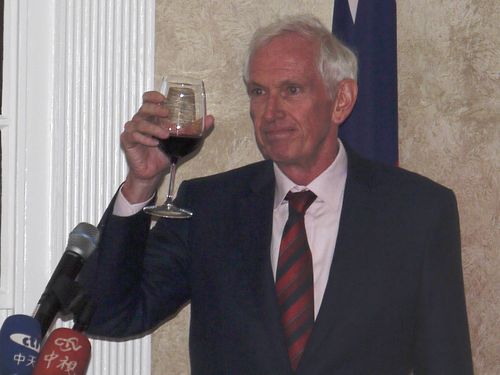 Washington, July 11 (CNA) American Institute in Taiwan Chairman James Moriarty expressed skepticism on Tuesday that American naval vessels will visit Taiwanese ports in the future and said such port calls might even be "dangerous."
The Senate Armed Services Committee in late June approved a provision to re-establish "regular ports of call by the U.S. Navy" at ports in Taiwan as part of the National Defense Authorization Act for 2018, but Moriarty questioned whether that will ever happen.
"To state the obvious, it would be very difficult and perhaps dangerous for U.S. naval ships to go into a port in Taiwan," he said in response to a question before attending an event at the Twin Oaks estate in Washington on Tuesday.
"What has happened as far as I understand is that it's come out of a Senate committee and of course that's a long way from becoming U.S. legislation, and as I understand it's a sense of the Senate so it's not a binding legislative requirement," he said.
Passage of the resolution by the committee made front page news in Taiwan in late June, and was seen as a sign of strengthening relations between Washington and Taipei.
Moriarty's comment was the first by the U.S. executive branch on the issue.
On broader ties between the U.S. and Taiwan, the AIT chairman described the bilateral relationship as "very strong" though acknowledging that there are issues, especially related to trade, that need to be discussed.
He expected the two sides "to have good discussions on that in the coming months."
A main thorn in bilateral trade talks has been Taiwan's restrictions on imports U.S. beef and pork.
Certain U.S. beef products are not allowed into Taiwan due to mad cow disease concerns while U.S. pork containing traces of the leanness enhancing drug ractopamine remains banned because of ongoing safety concerns about the drug and strong opposition from local hog farmers.
"There have been commitments made by Taiwan in the past that Taiwan should keep. If the United States has to keep its commitments to Taiwan, then it should work both ways," he said, referring to commitments the U.S. believes Taiwan has made on meat imports.
Moriarty said there could be trade talks in the coming weeks.
On the deadlock in relations between Taiwan and China, he called for "flexibility and creativity," saying that "there's got to be a way for the two sides to talk to each other constructively, and we do deliver that message to both sides of the Strait consistently."
Twin Oaks was the residence of nine Republic of China ambassadors to the United States from 1937 until 1979 and it is still in the hands of Taiwan, which is officially known as the Republic of China, and is used for official receptions.