Gov't to help Taiwan companies seek compensation from Vietnam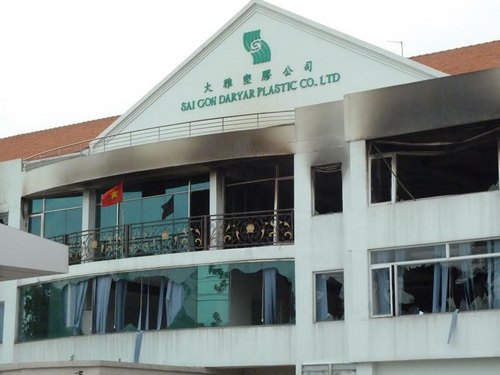 Taipei, May 15 (CNA) Vice Economics Minister Cho Shih-chao said Thursday that his ministry will help Taiwanese businesses hurt by the anti-China riots in Vietnam seek compensation.
The Vietnamese government is obligated under a 1993 bilateral protection agreement to compensate Taiwanese firms for losses incurred due to war, armed conflict, a national state of emergency, riots, rebellion or disturbances, Cho said.
He pointed out the strong economic ties between the two countries, noting that Vietnam is the largest single target of Taiwanese investment in Southeast Asia with US$27.3 billion of Taiwanese funds over the years. Bilateral trade volume has reached US$11.5 billion per year, he added.
Following the riots, however, the ministry will advise companies seeking to set up operations in Vietnam to assess the risks first, he said.
The riots centered around the southern province of Binh Duong erupted Tuesday, when Vietnamese crowds took to the streets to protest a Chinese oil-drilling venture in an area of the South China Sea that Hanoi regards as its exclusive economic zone.
As of Thursday, the situation in southern Vietnam had mostly been brought under control, Cho said, citing information from Taiwan's representative office in Vietnam.
An initial investigation found that more than 100 Taiwanese factories had been broken into, including around a dozen set on fire, he said. Several hundreds of other factories and offices have suspended operations out of safety considerations.
Property damage has been reported at 73 factories, mostly in Binh Duong though some were in neighboring Dong Nai province, according to Cho.
The affected Taiwanese businessmen are safe and have been put up temporarily in a Taiwanese school in Ho Chi Minh City and various hotels in Binh Duong, Dong Nai and Ba Ria-Vung Tau province to the south, he said.
(By Hsieh Chia-chen and Y.F. Low)ENDITEM/WH
Related stories:●May 15: Taiwan wants compensation from Vietnam for riot losses●May 15: Taiwanese factories in Vietnam resuming operations●May 15: Situation in Vietnam has improved: foreign minister
(Click here for developments related to the anti-China protest-turned-riot in Vietnam.)