ELECTION 2024
/
Lai urges voters to vote against China; Hou calls for cross-strait peace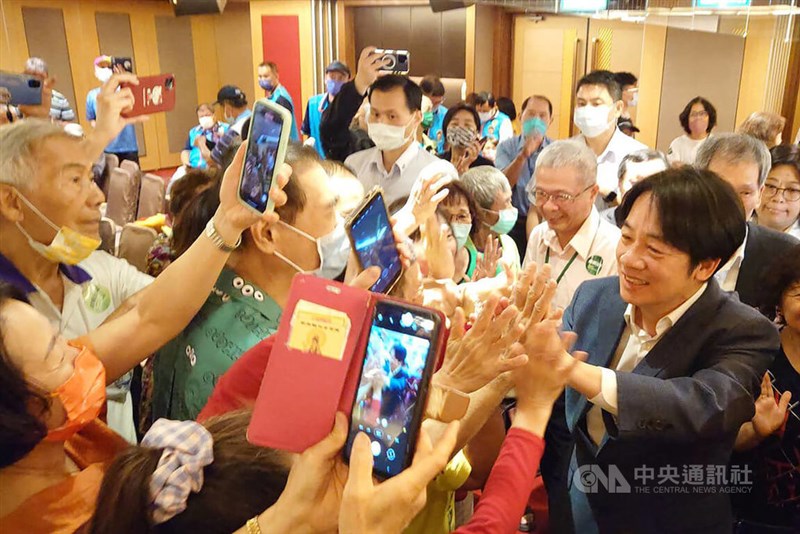 Taipei, June 3 (CNA) Vice President Lai Ching-te (賴清德), the ruling Democratic Progressive Party's (DPP) presidential nominee, on Saturday accused China of trying to raise fear about a possible war in a bid to lead Taiwanese people to select a political party it favors, but his main opponent New Taipei City Mayor Hou Yu-ih (侯友宜) says it's the DPP that has brought Taiwan to the brink of war and vowed to lead Taiwanese people to pursue peace.
Lai urged Taiwanese voters to use their ballots to counter the Chinese Communist regime's will in Taiwan's presidential election scheduled for Jan. 13, 2024.
Holding a different view from Lai, Hou, the main opposition party Kuomintang's (KMT) candidate, said Taiwan should pursue peace across the Taiwan Strait, calling for voters in the country to keep in mind how to avoid war and to also make friends through peace.
In a rally to mobilize his supporters in Chiayi City, southern Taiwan, Lai said if Taiwan lets China dictate its election results, it will see an end to the road to democracy.
Lai said whether a war will break out will be decided by a dictator, referring to China, instead of the DPP.
The vice president said as Taiwan is faced with growing military threats from China, people in the country have to take it seriously and not bow to the Chinese dictatorship, adding that once Taiwan makes a wrong choice in the election, there is no way to return.
Citing Tsai in her speech at the third anniversary of her second inauguration on May 20, Lai said no political party should talk up war fears for the sake of its own political interest, implying that the KMT was doing so. Lai added the presidential election is not a choice between war and peace.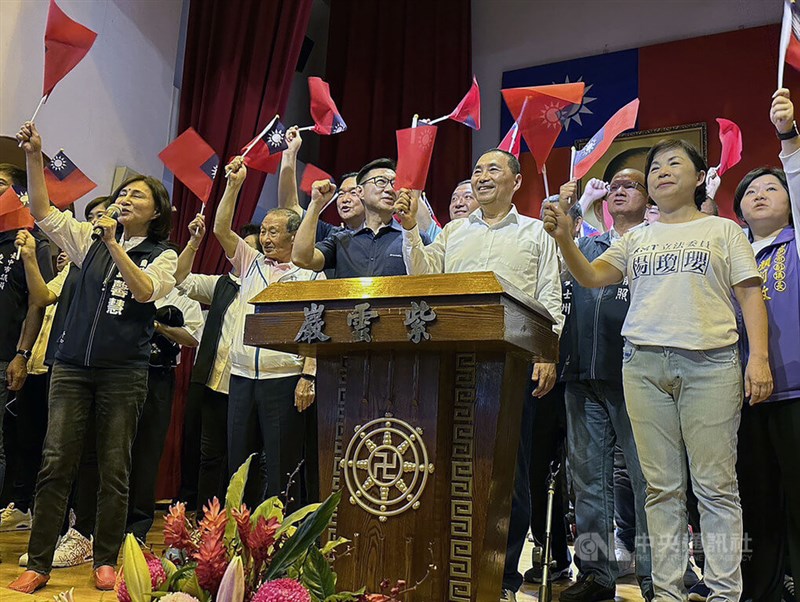 For his part, Hou said in a town hall meeting in Taichung, central Taiwan, that the DPP had pushed Taiwan to the brink of a war, pointing out that there has been no mutual trust between Taipei and Beijing during its nearly eight years in power, with cross-strait peace now shaky.
Hou said as long as Taiwan enjoys peace, people here will be able to devote themselves to economic development, but if a war with China breaks out, that will destroy what Taiwan currently has and end its future.
Before Russia's invasion of Ukraine on Feb. 24, 2022, few people believed a war would break out, Hou said, suggesting that now people believe the same thing could happen in Taiwan.
Lai, meanwhile, said any cross-strait negotiations should proceed on an equal footing and with dignity, to pursue the welfare of people on the two sides and China cannot require Taiwan to give up its sovereignty and accept the "1992 consensus" and "one China principle."
The DPP rejects the "1992 consensus," arguing that agreeing to it implies acceptance of China's claim over Taiwan. It has also drawn a parallel between the "1992 consensus" and Beijing's "one country, two systems" formula for Taiwan, though there is no evidence Beijing demands acceptance of the latter in order to restore relations.
Beijing's insistence on acceptance of the 1992 consensus and the DPP's stance against it have led to a virtual freeze in cross-strait ties since 2016, when Tsai took office and rejected the "1992 consensus" that underpinned warmer ties between Taiwan and China during the KMT administration of President Ma Ying-jeou (馬英九) from 2008 to 2016.
The KMT, for its part, has argued it has never accepted China's "one country, two systems" formula but still managed to reduce tensions with Beijing by accepting the 1992 consensus and defining it to mean "one China, each to their own interpretation," with Taiwan defining it as the Republic of China, it's official name.
Hou, a former director of the National Police Agency, who rose up in ranks from being an entry-level police officer after helping to solve some major crimes, said he has experienced several rounds of mass shootings with villains and was well aware of how scary a war would be.
While Taiwan needs to raise its self-defense capabilities, it also needs to pursue peace and reduce tensions across the Taiwan Strait, Hou said.
He vowed to lead the people of Taiwan to pursue peace and to work hard, allowing them to live a good life on this land.
View All