Taiwan hopes for peace, end of COVID in LNY message to China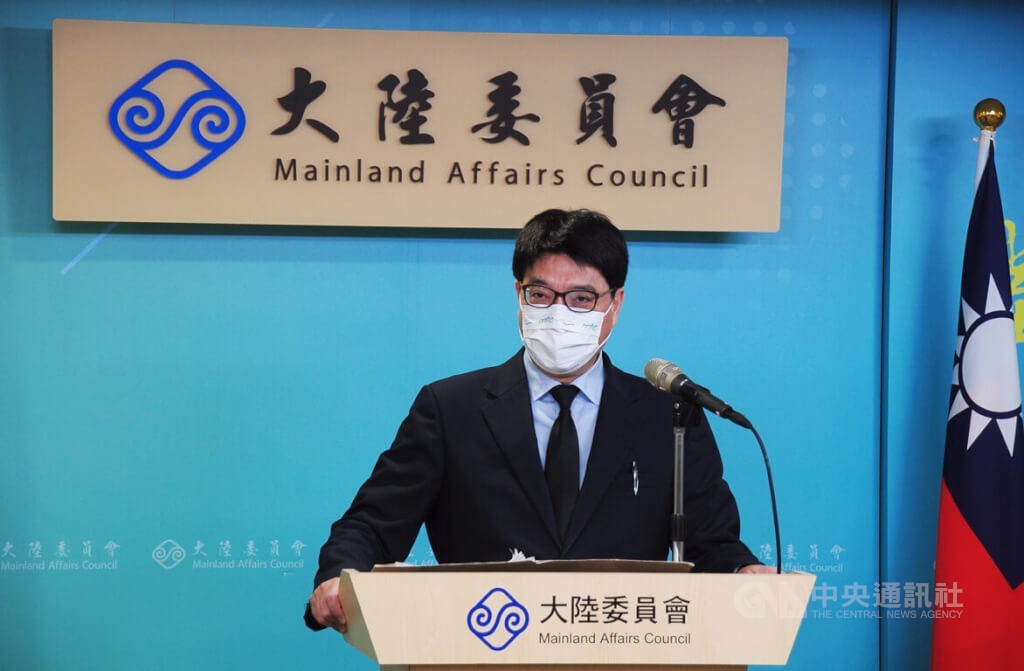 Taipei, Jan. 13 (CNA) Taiwan's Mainland Affairs Council (MAC) has sent China a Lunar New Year (LNY) message hoping that the COVID-19 outbreak there will soon ease and that the Taiwan Strait is blessed with peace and stability, which is the shared hope of people on the two sides.
MAC spokesperson Chiu Chui-cheng (邱垂正) sent the message at a news conference in Taipei on Thursday in keeping with a custom among ethnic Chinese people to exchange blessings around the LNY holiday, which this year begins on Jan. 20 in Taiwan.
Chiu's message also had a clear political component.
The Chinese Communist Party (CCP) should recognize and respect the sovereignty of the Republic of China (Taiwan's official title) and the democratic values and freedom which the Taiwanese people hold dear, he said.
He also urged the CCP to change its negative and coercive policies and behavior toward Taiwan, so that cross-Taiwan Strait relations could be improved.
China has ramped military activity around Taiwan over the past year.
It peaked on Dec. 25 when during a round of military drills the People's Liberation Army (PLA) sent 71 planes -- the most on any single day in 2022 -- and seven warships to areas in the general vicinitiy of Taiwan.
Of the 71 aircraft, 47 either crossed the median line of the Taiwan Strait or entered the southwestern corner of Taiwan's air defense identification zone (ADIZ), in which all aircraft are required to comply with special identification or reporting procedures.
Chiu also responded to a comment by Ma Xiaoguang (馬曉光), a spokesman for China's Taiwan Affairs Office (TAO), on Wednesday that "certain politicians on the island should give up their separatist views of Taiwan independence if they really wanted peace in the Taiwan Strait."
Chiu said the two sides of the strait should treat each other with goodwill and a spirit of reconciliation, and that China's refusal to rule out using force on Taiwan was the source of tension in the strait.
"The CCP must renounce its coercion of Taiwan before the two sides can have any positive interaction," Chiu said.
Asked about a recent remark by TAO Director Sung Tao (宋濤) calling for talks on the "reunification of the country" with unspecified Taiwanese representatives, Chiu said Taiwan's government welcomes any equal, legal cross-strait exchanges not bound by political frameworks.
The government has repeatedly said it does not allow agencies, civil groups, individuals, or political parties to engage in any form of negotiations aimed at furthering Beijing's "one country, two systems" agenda for Taiwan that seeks to eliminate its sovereignty, Chiu said.
As Taiwan seeks to identify ways to resume cross-strait exchanges, it will step up efforts to uphold national security, he said.
Sung's call for negotiations with representatives from all quarters of Taiwan was a "united front" tactic aimed at dividing Taiwanese society, through which the CCP is trying to undermine Taiwan's sovereignty and democratic system, Chiu said.
Regarding Ma's statement Wednesday that the Chinese government hopes to increase the number of air routes between Taiwan and China, Chiu said the MAC has asked the Civil Aeronautics Administration (CAA) about the matter and confirmed that the CAA has yet to receive any requests from China to add more flight routes.
Chiu suggested that Chinese agencies improve their communications to avoid causing unnecessary misunderstandings between the Taiwanese and Chinese governments.
The two sides currently operate more than 200 flights per week on the four air routes currently allowed by the Chinese government, and that airlines can file requests to increase the number of flights if necessary, he said.
Regarding the number of passengers traveling by ferry between Kinmen and Lienchiang counties and Xiamen since China and Taiwan resumed sea travel between the three destinations earlier this month, Chiu said that there were 381 inbound and 235 outbound passengers on the Kinmen-Xiamen route from Jan. 7 to Jan. 11.
Meanwhile, there were 32 inbound and 43 outbound passengers on the Lienchiang-Xiamen route from Jan. 8 to Jan. 11, he said.