COST OF LIVING
/
Imported eggs being sent to hypermarkets amid shortage: COA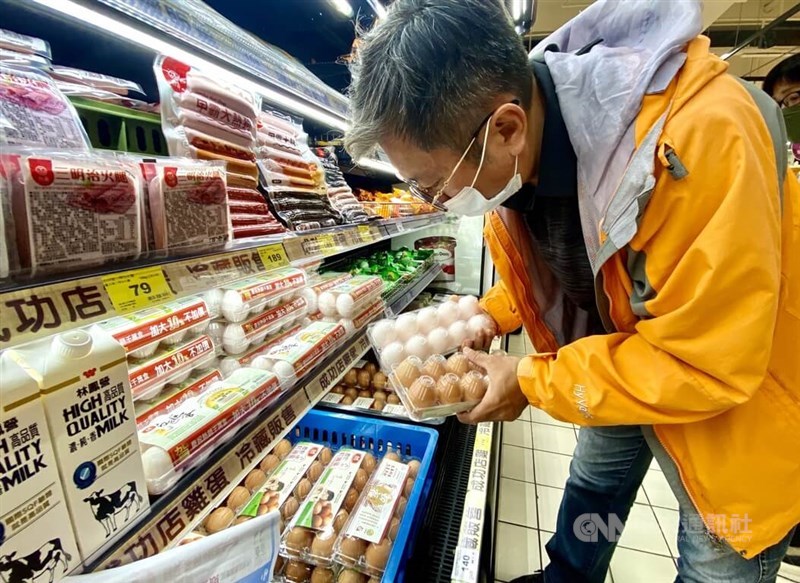 Taipei, March 29 (CNA) Imported eggs were being distributed to major hypermarket and supermarket chains across Taiwan starting Wednesday in a bid to ease a persistent egg shortage seen around Taiwan since January, the Council of Agriculture (COA) said.
By March 31, 7 million imported eggs and 2.8 million eggs from local processors will be distributed to outlets of major chains, including RT-MART, Carrefour, px mart, a.mart and Simple Mart, starting with those in Taipei and New Taipei where the shortages have hit hardest, the COA said.
Eggs remain difficult to find in supermarkets and the initial deliveries of egg to the chains sold out quickly.
Carrefour said some 8,000 boxes of imported eggs allocated to its 40 stores in areas north of Changhua had all sold out as of noon, while an additional 4,500 boxes will be available for sale at 27 outlets in areas south of Changhua on Thursday.
Elsewhere, both RT MART and px mart said Wednesday that they had started to sell imported eggs at their outlets in Taipei and New Taipei, without indicating how long those eggs lasted.
Simple Mart and a.mart also announced that imported eggs will be available at their stores starting Thursday or Friday.
Beyond the additional deliveries before the end of the month, the COA said 30 million and 50 million eggs will be imported in April and May, respectively, to make up a daily shortage of at least 500,000-800,000 eggs that has persisted since the Lunar New Year holiday in late January.
The major chains have put policies in place allowing the purchase of only one or two boxes of eggs per customer so that more consumers can buy them.
According to the COA, imported eggs must first be rinsed and graded at commercial egg processing plants before being distributed to retail hypermarket or supermarket chains, where they will be sold as pre-washed eggs at prices ranging between NT$65-NT$99 per box.
Under the government's egg import program, imported egg products, including fresh shell eggs, liquid eggs and boiled eggs, are coming from the United States, Japan, Australia, the Philippines, Brazil, Turkey, Singapore, Thailand and Malaysia.
View All