Taiwan shares fall on U.S. losses amid rate hike fears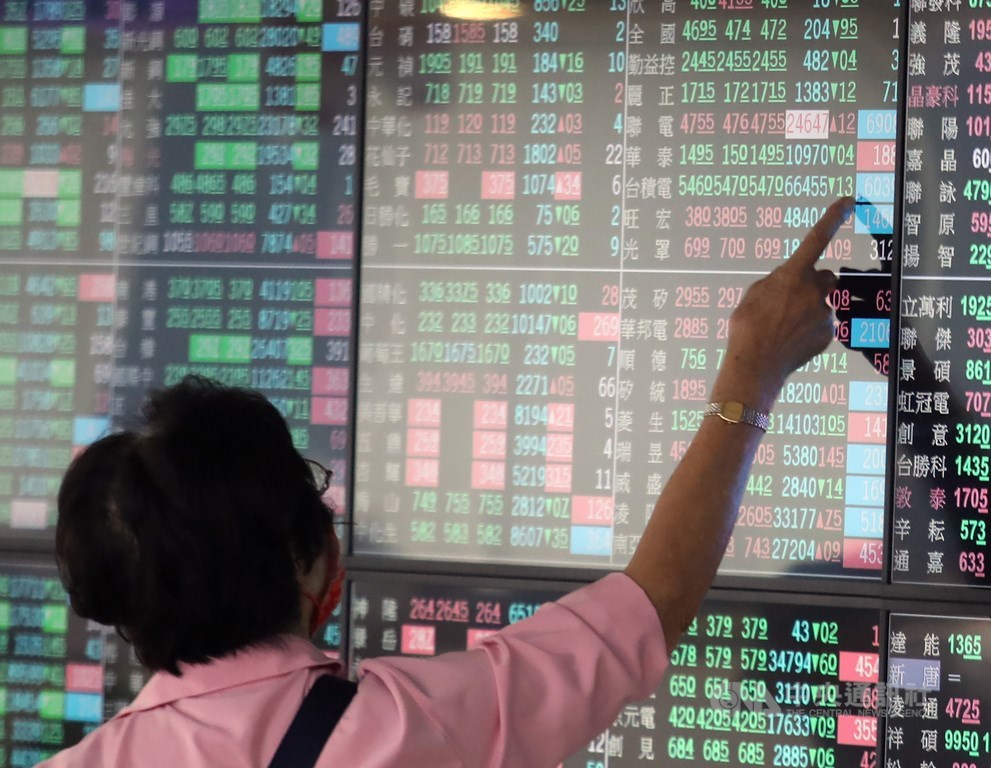 Taipei, June 21 (CNA) Shares in Taiwan took a beating Monday as investors reacted to the heavy losses on American markets at the end of last week over concerns that the U.S. Federal Reserve will raise interest rates sooner than expected, dealers said.
The bellwether electronics sector came under heavy downward pressure, leading the Taiex lower, while the shipping and paper industries outperformed the broader market on a cyclical recovery, they said.
The Taiex, the Taiwan Stock Exchange's (TWSE) benchmark weighted index, ended down 255.56 points, or 1.48 percent, at 17,062.98, after moving between 17,023.31 and 17,305.49. Turnover totaled NT$510.69 billion (US$18.27 billion).
The market opened down 0.08 percent and selling soon accelerated following a 1.6 percent fall in the Dow Jones Industrial Average on Friday.
Market sentiment at home and abroad was dampened after St. Louis Fed President James Bullard anticipated Friday that the U.S. Fed will start a rate hike cycle as soon as 2022, earlier than the end of 2023 start hinted at in a Fed statement on June 16, dealers said.
"Bullard's comments struck the nerves of many investors in global financial markets. After the hawkish tone by the Fed, markets worldwide are expecting central banks to raise rates twice by the end of 2023," Concord Securities analyst Kerry Huang said.
"Markets in Taiwan and the region could not keep from feeling the effects of the Dow dive," Huang said, referring to the losses suffered by markets in Tokyo and Hong Kong.
In Taiwan, he said, investors locked in recent gains built in the semiconductor industry, in particular in contract chipmaker Taiwan Semiconductor Manufacturing Co. (TSMC).
TSMC, the most heavily weighted stock in the local market, fell 3.32 percent to close at the day's low of NT$583.00. Led by TSMC, the electronics sector fell 2.53 percent, and the semiconductor sub-index lost 3.29 percent.
Selling was also seen among other major semiconductor stocks.
United Microelectronics Corp., a smaller contract chipmaker in Taiwan, closed 1.92 percent lower at NT$51.20, IC packaging and testing services provider ASE Technology Holding Co. dropped 3.00 percent to close at NT$113.00, and smartphone IC designer MediaTek Inc. declined 4.87 percent to end at NT$918.00.
Also in the electronics sector, iPhone assembler Hon Hai Precision Industry Co. lost 2.19 percent to close at NT$108.50, and Largan Precision Co., a supplier of smartphone camera suppliers to Apple Inc., dropped 2.32 percent to end at NT$2,950.00.
"Judging from the losses suffered by these large tech stocks, I expect foreign institutional investors continued to be net sellers today," Huang said.
According to the TWSE, foreign institutional investors sold a net NT$33.58 billion in shares Monday after a net sell of NT$15.81 billion on Friday.
Bucking the downturn, power management IC designer Silergy Corp. rose 0.60 percent to close at NT$3,375.00 on an estimated 20-30 percent year-on-year increase in sales in 2021.
Also, flat panel maker AU Optronics Corp. gained 2.57 percent to end at NT$23.10 on a technical rebound from Friday.
"Shipping stocks kept attracting strong buying as many large ports worldwide remained jammed, which continued to lead to cargo shipping service shortages and higher freight rates," Huang said.
In the transportation sector, which rose 8.37 percent, container cargo shipper Wan Hai Lines Ltd. soared 10 percent, the maximum daily increase allowed, to close at NT$249.00,
Evergreen Marine Transport Corp., the largest container cargo shipper, rose 8.57 percent to end at NT$153.00, and rival Yang Ming Marine Transport Corp. added 6.02 percent to close at NT$158.50.
Buying spread to bulk cargo shipping companies, with U-Ming Marine Transport Corp. up 10 percent to end at NT$75.60.
Huang said paper suppliers moved higher on rising industrial paper prices. Longcheng Paper & Packaging Co. closed 3.82 percent higher at NT$27.20, and Shihlin Paper Co. gained the maximum 10 percent to end at NT$63.20.
After Monday's plunge, more losses on the Taiex are possible with strong technical resistance likely seen around the 60-day moving average of 16,837 points, Huang said.
"Investors should watch closely what the Fed says and the reaction of U.S. markets," Huang said, noting that Fed Chair Jerome Powell is scheduled to attend a U.S. congressional hearing later this week.