Hon Hai shares up on higher sales in March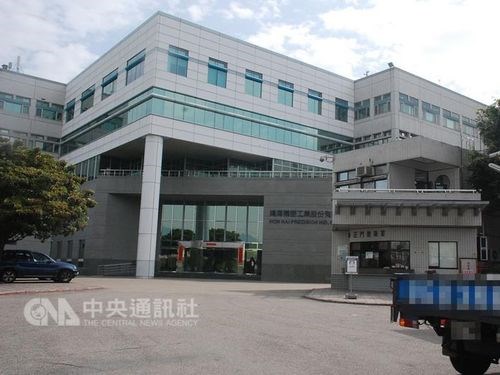 Taipei, April 7 (CNA) Shares of Taiwan-based manufacturing giant Hon Hai Precision Industry Co. moved higher Tuesday after the company reported a 60 percent month-on-month increase in sales in March, dealers said.
Analysts attributed the growth to the resumption of operations of the iPhone assembler's sprawling production base in China in March, which was running far below capacity in February due to lockdowns to contain the spread of the novel coronavirus.
Hon Hai shares closed 1.42 percent higher at NT$71.20 with 46.46 million shares changing hands on the Taiwan Stock Exchange, where the benchmark weighted index ended up 1.81 percent.
In a statement released Monday, Hon Hai, also known as Foxconn internationally, said it had consolidated sales of NT$347.65 billion in March, which was up 59.87 percent from a month earlier but down 7.69 percent from the same period a year earlier.
Hon Hai, which employs more than 1 million workers in China to roll out gadgets for brands such as Apple, Sony, Dell, HP and Xiaomi, saw its sales plunge 40.35 percent in February from a month earlier to below NT$300 billion because of virus containment efforts.
The significant sales growth in March indicated Hon Hai was gradually restoring production to normal, analysts said.
The latest sales figure also echoed comments by Hon Hai Chairman Liu Young-way (劉揚偉), who said in early March that Hon Hai's production was meeting more than 50 percent of demand in the current quarter, a traditionally slow season for the electronics industry.
Judging from that progress, Hon Hai's production in China was expected to fully meet seasonal demand by the end of March, Liu said at the time.
In its statement, Hon Hai said its consumer electronics and smart device division posted the highest month-on-month growth in sales in March, followed by its electronics component division, computing devices and enterprise-used products.
In the first quarter, Hon Hai had consolidated sales of NT$929.68 billion, down 46.6 percent from a quarter earlier and also down 11.99 percent from a year earlier, the company said.
The sequential sales decline in the first quarter came close to a market estimate of a 45 percent fall due to coronavirus containment efforts and slow season effects.
Analysts felt the fall would be manageable for Hon Hai, even if the lower sales number pushed down the company's profit margin for the three-month period.
Hon Hai expected its first half sales to be relatively unchanged from a year earlier as orders deferred from the first quarter would likely be placed in the second quarter, boosting shipments.
For all of 2020, Hon Hai said, its sales will fall slightly from a year earlier.