Taiwan shares end down slightly after earlier gains eroded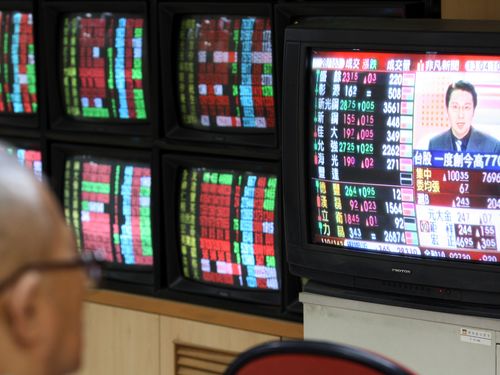 Taipei, May 22 (CNA) Shares in Taiwan closed slightly lower on reduced turnover Wednesday after giving up earlier gains amid lingering concerns over trade tension between the United States and China, dealers said.
While the bellwether electronics sector staged a technical rebound from a slump in the previous session, the upturn was capped, and old economy and financial stocks came under heavier downward pressure, which pushed down the broader market by the end of the session, the dealers said.
The weighted index on the Taiwan Stock Exchange (TWSE), or Taiex, ended down 7.28 points, or 0.07 percent, at 10,457.22, after moving between 10,453.50 and 10,520.62, on turnover of NT$94.85 billion (US$3.01 billion).
Tuesday's turnover stood at NT$129.86 billion.
The market opened up 0.16 percent and rose to the day's high as investors took cues from gains on U.S. markets, where the Dow Jones Industrial Average rose 0.77 percent and the tech-heavy Nasdaq index added 1.08 percent Tuesday, the dealers said.
The electronics sector moved higher, led by contract chipmaker Taiwan Semiconductor Manufacturing Co. (TSMC), in the wake of a 2.13- percent increase posted by the Philadelphia Semiconductor Index in the U.S. overnight after Washington temporarily eased restrictions on Chinese telecom equipment supplier Huawei Technologies, they said.
But with the Taiex breaching the 10,500-point mark at one point, some investors shifted to the sell side, with selling focusing on non-tech stocks, which served as a driver to boost the main board, the dealers said.
The U.S. Commerce Department said on Monday that it would give a 90-day reprieve to allow Huawei to buy American-made goods in a bid to maintain existing networks and provide software updates to existing Huawei handsets until Aug. 19.
"Despite the temporary measure to ease the ban, uncertainty imposed by the Washington-Beijing trade dispute remained in place," Concord Securities analyst Kerry Huang said. "Many investors have feared that the U.S. ban will expand to other Chinese companies."
According to the New York Times, the administration of U.S. President Donald Trump was considering the possibility of restricting the flow of American technology to Hangzhou Hikvision Digital Technology Co., a leading Chinese maker of video surveillance gear.
"Therefore, the bellwether electronics sector saw its gains limited. Even worse, old economy and financial stocks suffered heavy selling, as investors pocketed their gains seen a session earlier," Huang said.
"Today's reduced turnover simply showed that many investors remained bothered by lingering worries over global trade," he said.
The electronics sector closed up 0.36 percent to close at 414.47, off an earlier high of 418.44.
Among the rebounding integrated circuit stocks after the upturn in their U.S. counterparts, TSMC, the most heavily weighted stock in the local market, rose 1.71 percent to close at NT$238.00 after hitting a high of NT$240.50. TSMC's gains contributed about 40 points to the Taiex.
Also in the semiconductor segment, IC packaging and testing services provider ASE Technology Holding Co. rose 0.48 percent to end at NT$62.90 off a high of NT$63.70, while smaller rival King Yuan Electronics Co. added 0.57 percent to close at NT$26.55, off a high of NT$26.90.
Underperforming the broader market, iPhone assembler Hon Hai Precision Industry Co. fell 1.33 percent to end at NT$74.00 after hitting an earlier high of NT$75.30.
"The losses suffered by non-tech stocks showed that many investors wanted to keep more cash on hand," Huang said. "In the current uncertainty, I suggest that investors raise their cash levels in their portfolios to 60 percent-70 percent."
Among falling old economy stocks, Nan Ya Plastics Corp. lost 1.40 percent to close at NT$77.50, Far Eastern New Century Corp. fell 1.72 percent to end at NT$31.50 and food brand Uni-President Enterprises Corp. shed 2.33 percent.
In the financial sector, which fell 0.50 percent, Cathay Financial Holding Co. lost 0.84 percent to close at NT$41.15 and Fubon Financial Holding Co. shed 1.23 percent to end at NT$42.50.
"The main board is faced with stiff technical resistance ahead of the 10-day moving average of 10,526, which is why the Taiex fell from its earlier high, with many investors reluctant to chase prices," Huang said.
According to the TWSE, foreign institutional investors sold a net NT$11.12 billion on the main board Wednesday after a net sell of NT$7.18 billion a day earlier.