Taiwan shares end flat after recovering earlier losses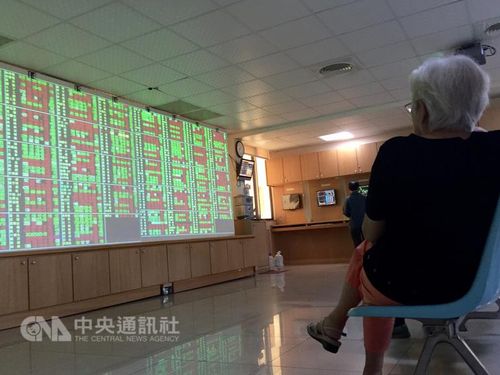 Taipei, Dec. 24 (CNA) Shares in Taiwan closed little changed Monday after recouping earlier losses on the back of active bargain hunting as investors left behind heavy losses on Wall Street at the end of last week, dealers said.
Turnover remained thin, as many foreign institutional investors are away for the Christmas and New Year holiday, and despite late-trading bargain hunting, market sentiment remained haunted by the ongoing trade dispute between the United States and China, the dealers said.
The weighted index on the Taiwan Stock Exchange (TWSE), or Taiex, ended down 6.46 points, or 0.07 percent, at 9,639.70, after moving between 9,613.29 and 9,658.95, on turnover of NT$68.16 billion (US$2.21 billion).
The market opened up 0.37 points and rose to the day's high in the early morning session on a mild technical rebound during the previous session, but selling soon set in to push the Taiex down into negative territory for the rest of the session, the dealers said.
However, the downward pressure was offset by bargain hunting as investors took cues from mixed regional markets, where some major markets such as Shanghai and Shenzhen climbed out of their earlier doldrums, with buying centered on select local heavyweights, which helped the Taiex end little changed, they said.
On Friday, the Dow Jones Industrial Average closed down 414 points or 1.81 percent to send the index down 6.8 percent, its worst percentage drop since October 2008.
"The latest plunge in the Dow largely reflected concerns over the government shutdown in the U.S.," equity market analyst Andy Hsu said. "But investors in the region seemed to have faith that a consensus in Washington will be reached soon to resolve the problem, which will make the impact on the stock market short-lived."
"Bargain hunters appeared more willing to enter the market today, helping some of the regional markets, like Taipei, recover from their lows," Hsu said.
Among the large-cap tech stocks that recouped from their losses, Largan Precision Co., a smartphone camera lens supplier to Apple Inc., rose 0.93 percent to close at NT$3,270.00 after hitting NT$3,240.00.
iPhone assembler Hon Hai Precision Industry Co. added 0.71 percent to end at NT$71.40, off an early low of NT$70.70, while contract chipmaker Taiwan Semiconductor Manufacturing Co. (TSMC) fell 0.68 percent to close at NT$220.00 after hitting NT$219.50.
"Moreover, stocks owned by conglomerates were also resilient to unfavorable external factors, as these business groups tend to buy to dress up their books with the year approaching an end," Hsu said.
Formosa Plastics Corp. and Nan Ya Plastics Corp., which belong to conglomerate Formosa Plastics Group, closed unchanged at NT$98.30 and NT$73.70, respectively, off an earlier low of NT$98.10 and NT$73.50.
Among other gaining conglomerate stocks, Taiwan Cement Corp. rose 0.99 percent to close at NT$35.80, and Asia Cement Corp. added 0.15 percent to end at NT$34.50.
Hsu said he also suspected buying partly came from government-led funds as it was easy for these funds to boost the Taiex without active foreign institutional investor participation.
In the financial sector, one of the favorites of government-led funds, which closed up 0.11 percent, E. Sun Financial Holding Co. rose 0.75 percent to close at NT$20.20, while Fubon Financial Holding Co. lost 0.43 percent to end at NT$46.85.
"As foreign institutional investors continue to retreat from the trading floor, the local equity market is expected to move in a narrow range and turnover is likely to remain low for the rest of the month," Hsu said.
"Of course, the Washington-Beijing trade dispute is expected to dominate the global financial markets, as few can be sure if the issue will be resolved any time soon," Hsu said.
According to the TWSE, foreign institutional investors sold a net NT$2.8 billion-worth of shares on the main board Monday.