Asian International Stamp Exhibition showcases the beauty of Taiwan's classical arts and culture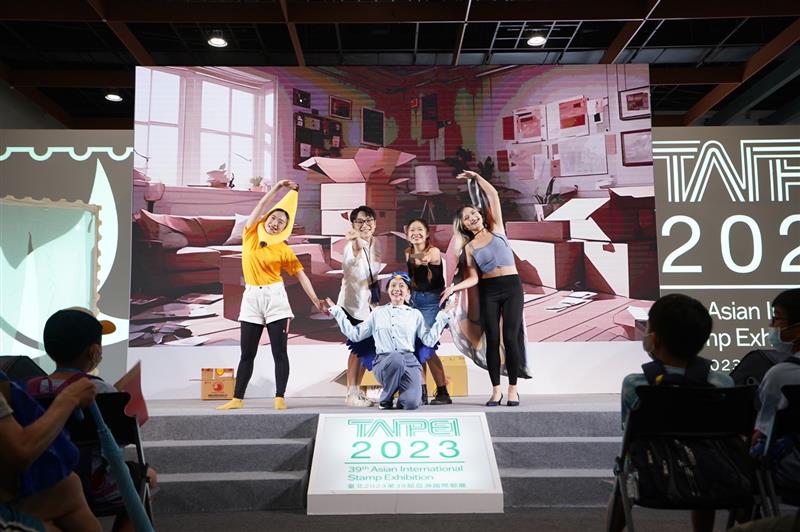 The 39th Asian International Stamp Exhibition entered its fourth day on Aug. 14 in Taipei, under the theme of "Art Day." Chunghwa Post has released a set of postage stamps titled "Taiwan in Literature," based on Yu Kwang-chung's poem "Passing Fangliao Town" and Xu Di-shan's prose piece "The Peanut." In addition to the different exhibition areas at the site, artistic and cultural performances are held at the stage area, along with lectures on philately and knowledge-sharing activities for visitors to enjoy.
Performing arts group The Alphabets and Hakka singer Chen Yong-tao were invited to perform. The former brought their theatrical production combined with modernity and tradition based on the theme of postage stamps; the latter sang his songs about the affection for the land and environmental concerns. As for the expert sharing session, Deputy Director of the National Palace Museum Yu Pei-chin was invited to share with the public the beauty of porcelain craftsmanship; while sculptor Lin Hung-sung of the Central Engraving and Printing Plant explained the process of printing the "Taiwan in Literature" stamps. He Hwei-ching of the National Taiwan University spoke about the history of Taiwan's mail delivery system when post offices delivered mail using post riders in the past.
According to Chunghwa Post, the exhibition was well attended by over 140,000 visitors, as of Aug. 13. The True Vine Life-Caring Association was invited to visit the exhibition and take part in various hands-on activities, including washing off stamps and making mosaic postage stamp frames and finger-painted postcards. It is hoped that through the display of the philatelic items and creative activities, the public can gain a different viewing experience and promote philately. Join us on Aug. 15, the last day of the exhibition!