Taiwan APEC envoy Morris Chang meets with U.S. vice president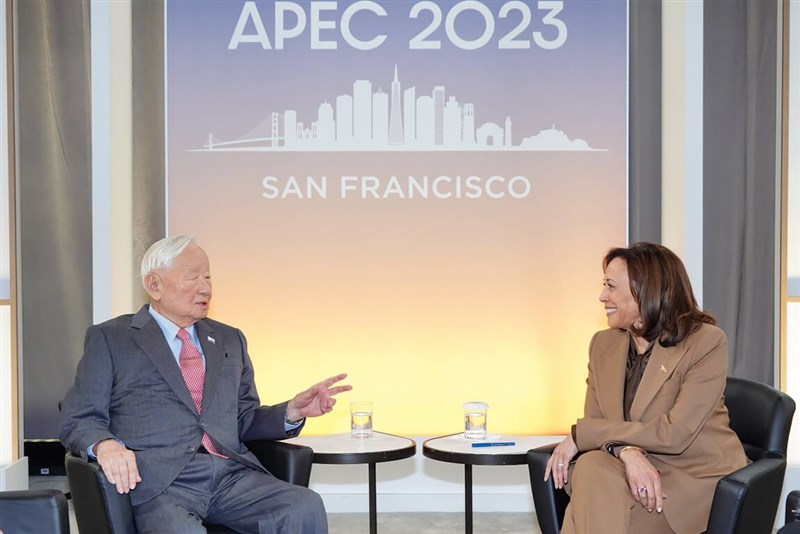 San Francisco, Nov. 16 (CNA) Morris Chang (張忠謀), who is representing Taiwan at the ongoing Asia Pacific Economic Cooperation (APEC) summit, met with United States Vice President Kamala Harris on Thursday to discuss the economic partnership between the two sides.
According to Taiwan's delegation to the APEC Economic Leaders' Meeting, the Taiwan Semiconductor Manufacturing Co. (TSMC) founder and Harris met to discuss issues related to the strengthening of bilateral economic ties and the maintenance of regional peace and stability.
The two reportedly met at around 3:30 p.m. (San Francisco time) and their conversation lasted about 20 minutes.
Chang took the opportunity to meet with the U.S. vice president during an afternoon break, Presidential Office Deputy Secretary-General Alex Huang (黃重諺) said.
Huang did not offer specifics of what Chang and Harris discussed, but said leaders and officials who have met with Taiwan's delegation at the APEC summit have voiced concern about security and stability in the Asia-Pacific region and global supply chain resilience.
They have also expressed the hope that Taiwanese high-tech companies would invest in their respective countries, he said.
An official familiar with the situation told CNA that Chang is well-respected through his business achievements and his contributions to Taiwan, and that "many world leaders have approached him on their own to have a chat with him," drawing interest in Taiwan.
Earlier Thursday, Chang met with top White House economic adviser Lael Brainard to discuss economic ties between Taipei and Washington.
Related News
Nov. 17: Biden reaffirms U.S. commitment to Taiwan's self-defense: White House
Nov. 17: TSMC founder meets with White House adviser at APEC summit
Nov. 16: NDC chief meets with U.S. undersecretary to discuss bilateral cooperation
Nov. 16: Taiwan thanks Biden for supporting status quo in meeting with Xi
Nov. 15: Taiwan's APEC envoy, TSMC founder Chang, arrives in San Francisco
Nov. 15: Republican senators urge Biden not to give in on Taiwan in Xi meeting
Nov. 14: Biden to call for cross-strait peace, stability in meeting with Xi
Nov. 10: TSMC founder Chang vows to enhance Taiwan's visibility as APEC envoy