New Zealand lawmakers form first-ever cross-party group on Taiwan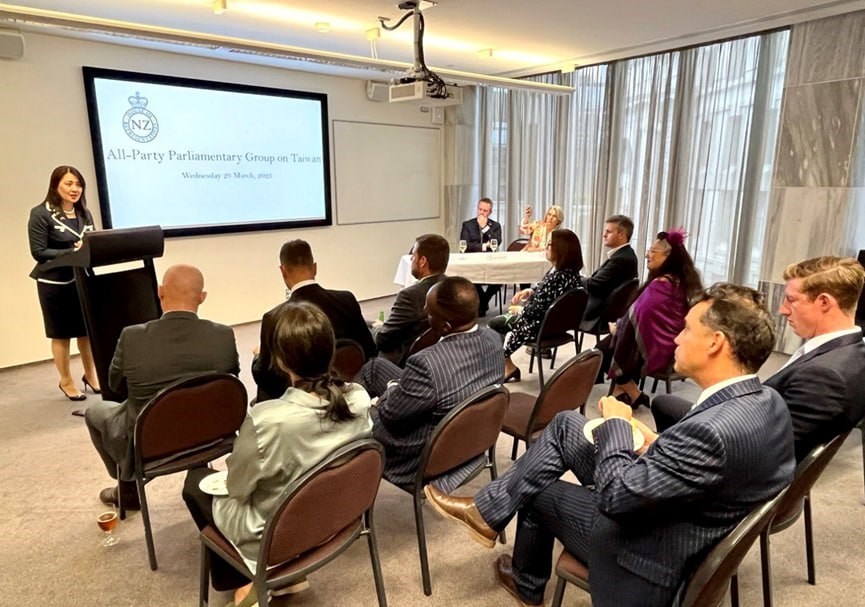 Taipei, March 31 (CNA) Members of parliament in New Zealand have formed the country's first-ever cross-party group on Taiwan, which its founders say aims to promote exchanges between Taiwan and New Zealand.
Some 15 parliamentarians gathered for an event marking the group's inauguration in Wellington on March 29, which featured Taiwan's representative to New Zealand Joanne Ou (歐江安) as the guest speaker.
Also in attendance were the group's two conveners, Simon O'Connor of the National Party and Ingrid Leary of the ruling Labour Party, as well as David Seymour, leader of the ACT New Zealand, Taiwan's Ministry of Foreign Affairs (MOFA) said in a press release Friday.
O'Connor was cited by New Zealand media as saying that the "informal" group, which currently numbers 22 members of parliament, could be "an effective way" to facilitate talks between New Zealand and Taiwan on trade, health care and semiconductors.
Meanwhile, Leary said via social media that the group's formation was "timely" as Taipei and Wellington celebrated the 10th anniversary this year of a bilateral free trade agreement, the Agreement between New Zealand and the Separate Customs Territory of Taiwan, Penghu, Kinmen, and Matsu on Economic Cooperation (ANZTEC).
Both Taiwan and New Zealand share democratic values and a common interest in a stable Indo-Pacific region, she added.
The Taiwan friendship group, according to MOFA, is the first such group formed by New Zealand lawmakers across party lines.
In addition to Ou's address, Foreign Minister Joseph Wu (吳釗燮) and Democratic Progressive Party legislator Michelle Lin (林楚茵) delivered congratulatory remarks at the event through pre-recorded videos, MOFA said.
Lin currently heads a newly formed parliamentary friendship group in Taiwan's Legislature that seeks to promote ties between Taiwan and New Zealand.