Jason Hu not quitting as vice chairman of KMT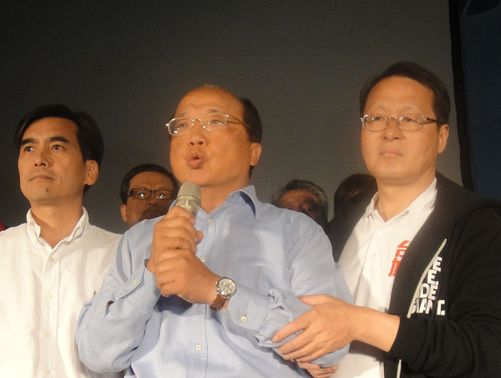 Taipei, Nov. 30 (CNA) Taichung Mayor Jason Hu, who lost his re-election bid a day earlier, said Sunday he will not quit his post as a vice chairman of the ruling Kuomintang (KMT), which suffered a resounding defeat in the local government elections.
"Now is the time to stay put and help the party recoup itself, and I will not consider resigning from (my vice chairman) post in the KMT," he told a media personality during a TV interview.
Hu was asked if he has any intention of following Taipei Mayor Hau Lung-bin's footsteps to quit the vice chairmanship of the KMT to "share the responsibility" for the party's electoral loss.
He was also asked to comment on whether there is any likelihood that he will take up the chairman's job if Ma Ying-jeou decides to quit the post and concentrate on his government job as the president of the Republic.
"No one in a position to make that decision has talked to me about this," Hu said, adding that he did not, at the moment, have any plans to become the KMT's chairman.
Vice President Wu Den-yih and New Taipei Mayor Eric Chu, also vice chairmen of the ruling party, are also reported to be likely candidates to succeed Ma in the aftermath of the party's humiliating election defeat on Saturday.
Commenting on the rumors, Hu said he will not comment on the personnel changes beyond saying that when the party is in trouble, it is the duty and obligation of all members to come to its rescue even at the cost of their lives.
Hu had earlier dismissed speculations that he may be the one to replace Premier Jiang Yi-huah, who had resigned the previous evening to shoulder the responsibility of the ruling party's election defeat.
Related stories:●Nov. 30: Jason Hu quashes speculations about possible premiership●Nov. 30: Ma to make new plans in wake of KMT election defeat: spokesman●Nov. 30: Hau Lung-bin will quit as KMT vice chairman: spokesman