MPOX
/
Taiwan reports 3rd domestically transmitted mpox case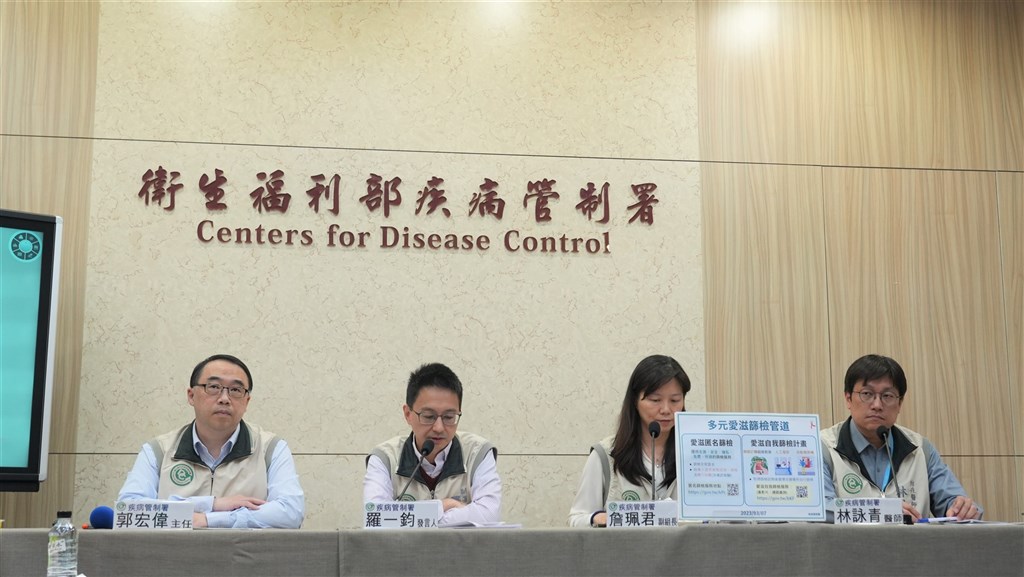 Taipei, March 7 (CNA) Taiwan on Tuesday reported a third locally transmitted case of mpox, involving a Taipei man in his 30s with no recent history of overseas travel, according to the Taiwan Centers for Disease Control (CDC).
At a press briefing, CDC official Kuo Hung-wei (郭宏偉) said that the man had sought medical attention after developing a fever, blisters and lesions in late February.
Kuo added that after a test confirmed the man's mpox diagnosis on March 3, the infected individual was placed in hospital quarantine, where he remains.
Among the 18 people who had contact with the infected individual recently, one was listed as a high-risk close contact, two lived with the man, and the rest were medical staffers, Kuo said.
While none of the 18 have developed symptoms of mpox, previously known as monkeypox, Kuo said the man's close contacts had been asked to conduct 21 days of self-health monitoring backdated to the last day of contact
According to the CDC data, the infection was Taiwan's third domestic case of mpox.
The first two domestically transmitted cases, reported in Hsinchu and Kaohsiung, respectively, are still quarantined and have improved after receiving treatment, CDC Deputy Director-General Lo Yi-chung (羅一鈞) said.
All of the three local infections had no contact with each other, he added.
At Tuesday's press event, Lo also said that people who had sexual contact with an infected individual would be eligible to receive a vaccine suitable for mpox, which had previously been reserved for medical personnel, laboratory workers, and close contacts.
Under the new guidelines, people who have had sexual contact with a confirmed mpox case but did not get a vaccine as a form of treatment post-exposure (post-exposure prophylaxis (PEP), will be eligible to take the vaccine as a pre-exposure prophylaxis (PrEP) after a 21-day self-health management period, according to Lo.
There are 1,100 vaccine doses for the disease in Taiwan, enough to inoculate around 3,000 people against mpox, Lo said.
Since the vaccine doses must be kept at minus 20 degrees Celsius and be injected within 12 hours once opened, local health authorities in Taipei, New Taipei, Taoyuan, Taichung, Tainan, and Kaohsiung will begin a mass vaccination drive at the end of March.
Laboratory workers and other close contacts can arrange to receive the vaccine outside of these six cities by contacting their local health units, Lo said.
Taiwan is working on purchasing 10,000 more doses of vaccines suitable for mpox, which the government expects to begin administering after the Tomb Sweeping Day in early April, Lo added.
View All