48 people confirmed dead in Taroko Express train accident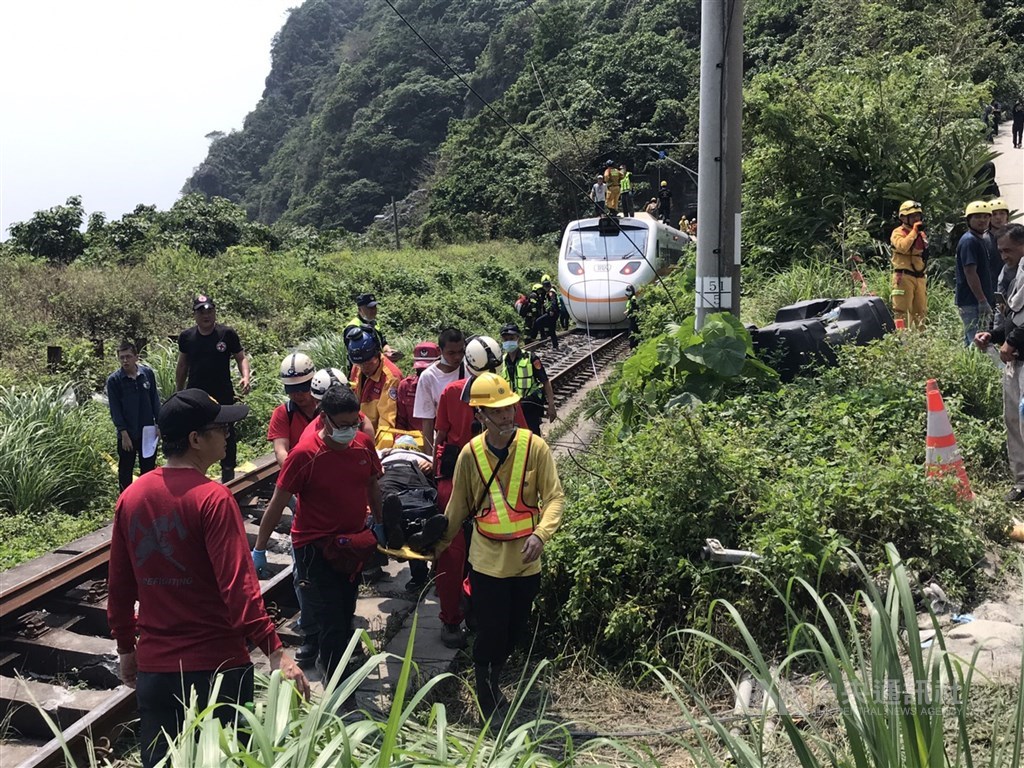 Update: Death toll rises to 50 in deadliest TRA accident in decades: MOTC
Taipei, April 2 (CNA) Forty-eight people have been confirmed dead in an accident involving a Taroko Express train in Hualien County that was heading south toward Hualien and Taitung on Friday morning, according to the latest update by the National Fire Agency.
Another 66 passengers on the eight-carriage train suffered moderate to severe injuries and were sent to six hospitals in the eastern Taiwan county for treatment, the agency said.
The accident occurred at 9:28 a.m. as the express train slammed into a crane truck as it was about to enter the Qingshui Tunnel, according to the Taiwan Railways Administration (TRA), which operates the Taroko Express trains.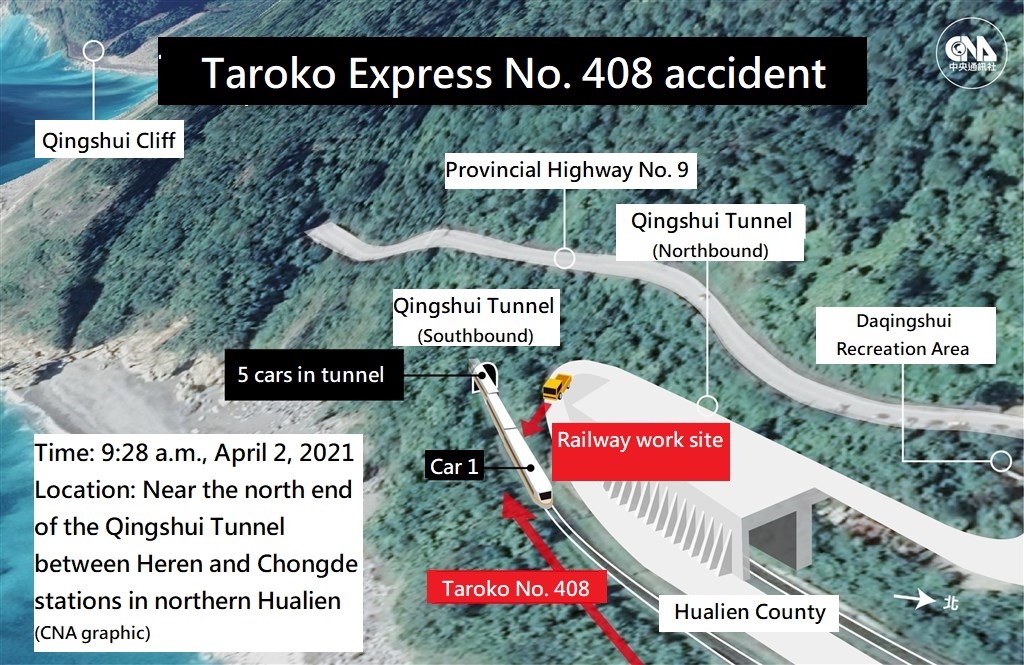 The crane truck had been parked on a hill above the track, but authorities suspect the truck driver did not engage the emergency brake, and the truck slid down the hill and fell onto the track.
The first five carriages of the train lost control and piled up inside the narrow, single-track tunnel, which complicated rescue efforts, the TRA said.
As of 4 p.m., however, all passengers had been removed from the train, according to the National Fire Agency. At least 350 people were on the train when the accident occurred.
One of them, surnamed Wu, recalled the scene inside the tunnel immediately after the accident occurred.
"I got myself out of the train, but I didn't want to look at the scene. Many people were just lying there," he said.
"It was totally dark. Nobody knew what to do."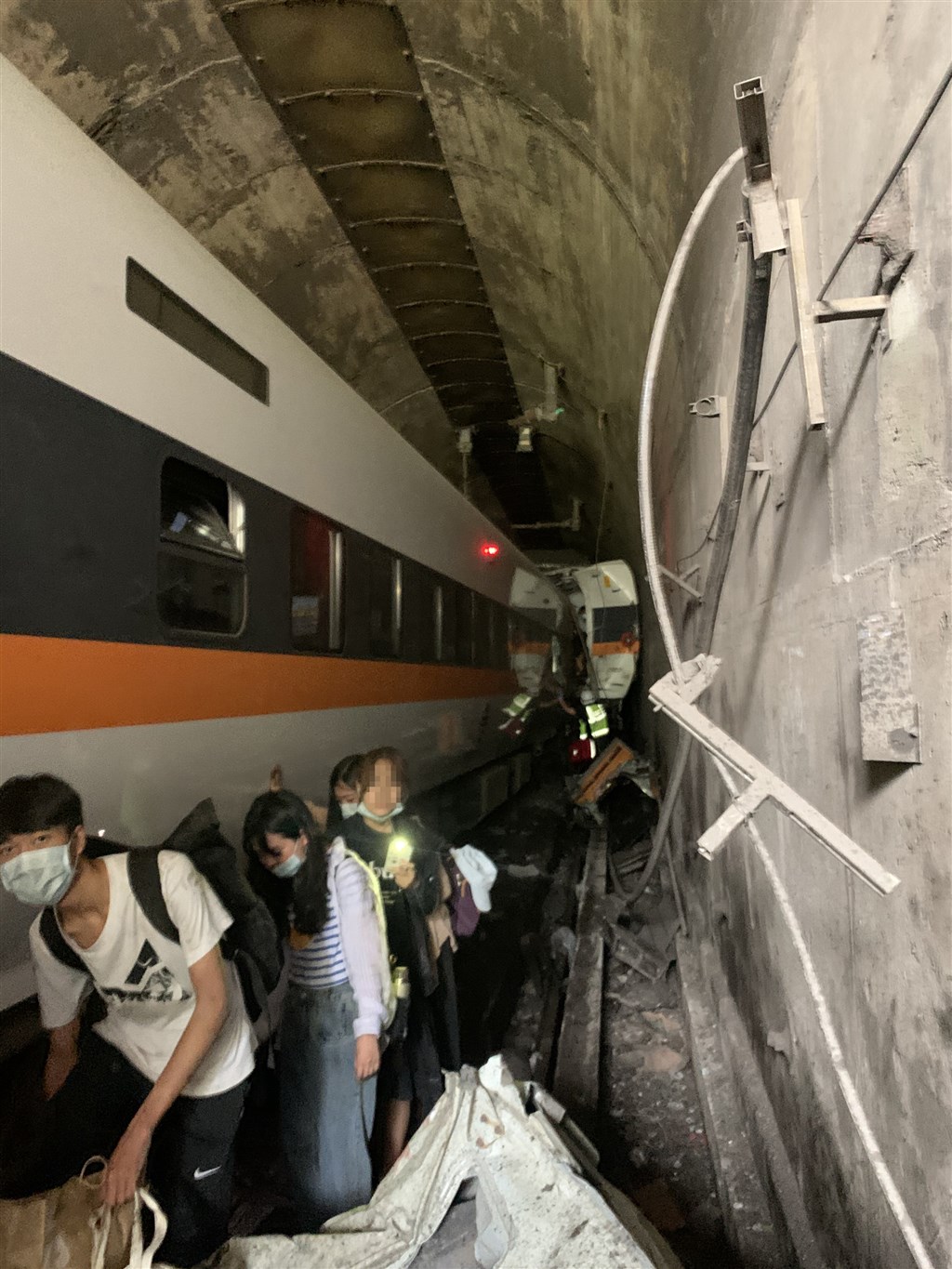 The passenger, who resides in Taitung County, said he suddenly heard a crashing sound and quickly felt dizzy.
After regaining his focus, he realized the carriage had lost power and was twisted badly out of shape, leaving the passengers trapped inside. But several of them were sending text messages on their mobile phones to report that they were safe, Wu said.
A woman said she and her husband were on their way home to Taitung for the four-day Tomb Sweeping Festival when they heard a huge crashing sound as the train was about to enter the tunnel.
They then felt their carriage being pushed from behind by another carriage before coming to a halt, and had to break the window to escape, she said.