People with disabilities seek at-large seats in Legislature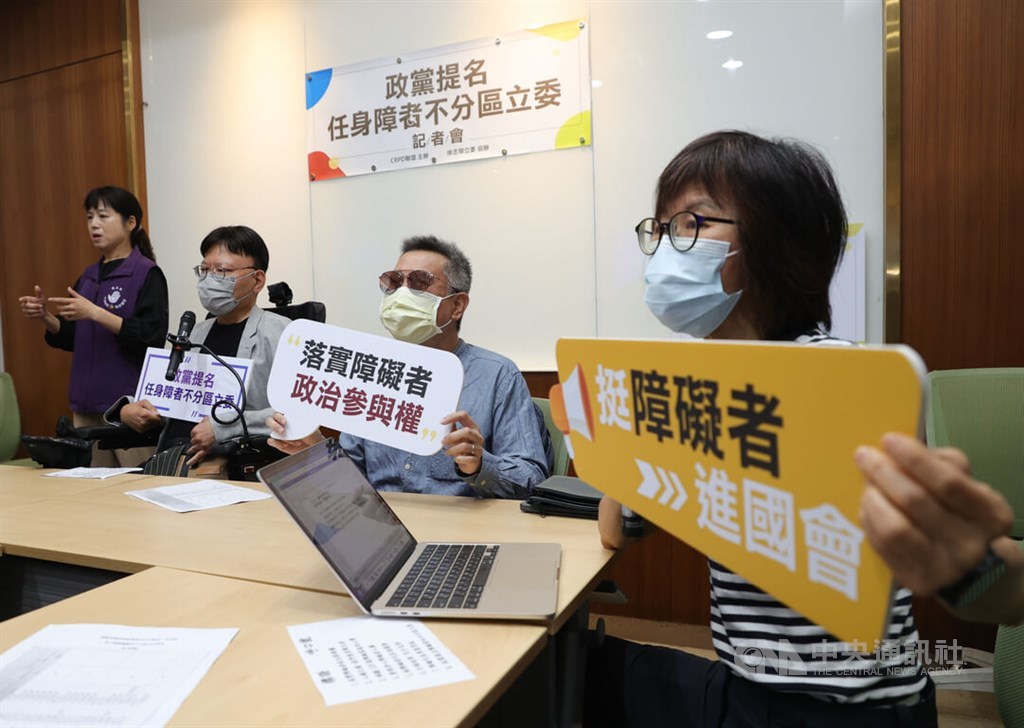 Taipei, March 22 (CNA) Several disabled rights groups urged political parties on Wednesday to include people with disabilities on their party list for the legislative elections scheduled in January 2024, so they and their families can be better represented in the Legislature.
The lack of lawmakers with disabilities in the current Legislature has hindered efforts to push for policies that affect over 1.2 million people with disabilities and their 5 million family members in Taiwan, said Taiwan Association for Disability Rights Chairperson Peter Chang (張宗傑) at a news conference in Taipei that day.
"Don't make decisions for people with disabilities" if they are not involved in the decision-making process, Chang said, adding that the issue is non-partisan.
Major political parties can demonstrate they stand with the disabled community by ensuring people with disabilities have seats as legislators-at-large in the elections scheduled on Jan. 13, 2024, said Parents Association for the Visually Impaired secretary-general Lan Chie-chou (藍介洲) at the news conference.
Those with disabilities best understand the challenges faced by members of their community, and they urgently need to have representation in the Legislature, said Shih Yung-mu (施雍穆), an adviser to the Federation of Spinal Cord Injured.
Although Taiwan has adopted the Convention on the Rights of Persons with Disabilities and introduced the People with Disabilities Rights Protection Act, it is still difficult for people with disabilities to seek legal redress when they face discrimination, said Legislator Hsu Chih-jung (徐志榮) of the opposition Kuomintang (KMT) at the news conference.
Members of the disabled community should have seats in the Legislature to help form policies that could better meet their needs and to oversee the government's implementation of such polices, Hsu said.
Shyu Jong-shyong (徐中雄) of the KMT became the first lawmaker with disabilities after he was elected to represent then-Taichung County in 1992 and took office in 1993.
He served six terms in the Legislature before resigning to take up the post as one of three deputy mayors of Taichung in 2011, when Taichung City and Taichung County were merged to form a special municipality.
A constitutional amendment passed in 2005 reduced the total seats in the Legislature to 113-- 73 locally elected, six elected by Indigenous people in Taiwan, and 34 at-large seats for political parties that receive 5 percent of the total vote or more in the legislative election.
Since Shyu's election, there had been at least one lawmaker with disabilities until the current term that began in 2020, when no parties put members of the disabled community in safe seats on their list of nominees for the at-large positions in the election held in January that year.