U.S. likely to support Taiwan in event of Chinese invasion: O'Brien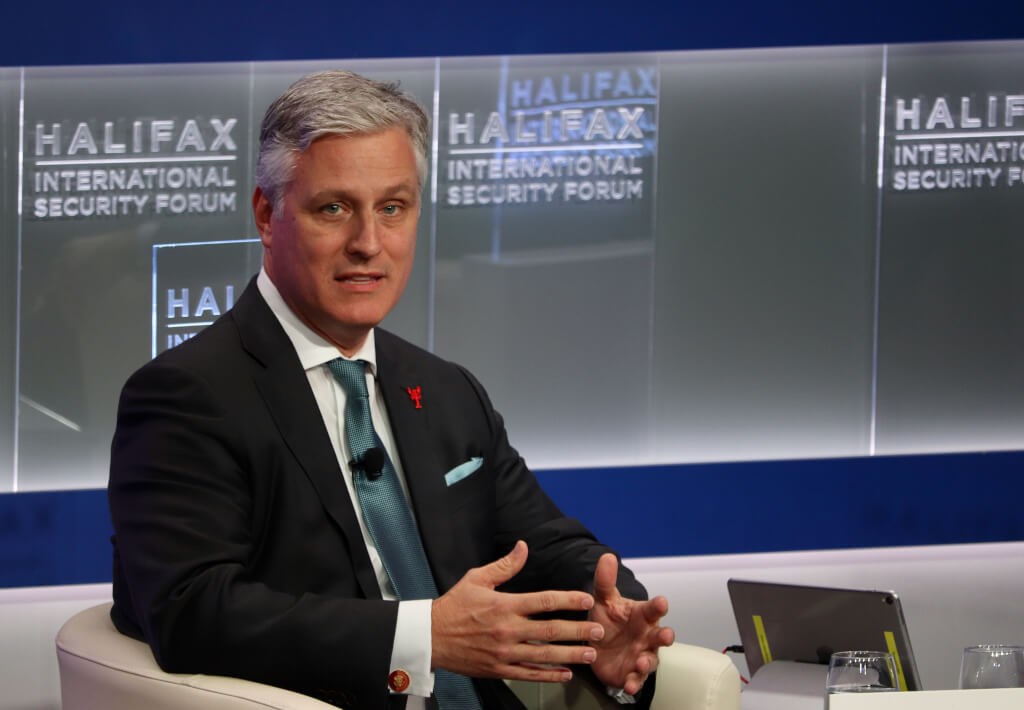 Taipei, March 21 (CNA) The United States will stand with Taiwan in the event of a military attack by China and along with its partners "secure peace through strength," former U.S. national security adviser Robert C. O'Brien said in Taipei on Tuesday.
O'Brien, who arrived in Taiwan on Monday, made the remarks while delivering a speech after accepting the Order of Brilliant Star with Special Grand Cordon from President Tsai Ing-wen (蔡英文) at the Presidential Office.
The former national security adviser to President Donald Trump is leading a delegation in Taiwan for a five-day visit in his capacity as chairman of Global Taiwan Institute's (GTI) US-Taiwan task force.
O'Brien was awarded the honor because he "played a key role in promoting relations between the Republic of China, Taiwan, and the United States of America," according to an announcement by the Presidential Office.
Taiwan is a "shining example of what democracy, the rule of law, and individual liberty can mean to a country," but there are autocracies and totalitarian regimes that do not value those same principles of freedom, O'Brien said.
"Should aggression take place by a totalitarian regime against Taiwan, and it's our hope and our prayer that it never does, I want you to know that I believe the United States will stand with Taiwan," O'Brien said, citing public statements by U.S. President Joe Biden that the U.S. would come to Taiwan's aid if China tried to take it by force.
In an apparent reference to recent reports that he said at a forum in Doha, Qatar that the U.S. would "destroy" Taiwan or its semiconductor industry in the event of China prevailing in a war with Taiwan, O'Brien said: "Let me be very clear, because I want to make this statement so that the those who would twist our words and engage in propaganda and misinformation can't do so."
"America is not attempting to change the 'status quo' with respect to Taiwan. Not President Trump, not President Biden," O'Brien said.
"What America and its partners have made clear is that the world will not go back to a century or more ago when a large neighbor could invade its smaller neighbor for glory, or for territorial expansion or for economic gain," he said.
Referring to the ongoing war between Ukraine and Russia, O'Brien said it is inspiring to see Ukrainians defending their homes with bravery and determination, and he believes Taiwanese would do the same if faced with similar circumstances.
"Our adversaries must know that we will never exchange our freedom, our principles, our values, and sacrifice them in exchange for peace. Instead, we will secure peace through our strength," he said.
Noting that a strong defense deters aggression, O'Brien said he is pleased to see Taiwan is spending more on its security, has extended conscription, and is deploying anti-access/area denial asymmetric platforms that will turn Taiwan into a "porcupine" and make it stronger and safer.
The U.S., on the other hand, should deliver the weapons systems that Taiwan has purchased from it, including Harpoon anti-ship missiles and Stinger anti-aircraft missiles, as soon as possible and not make Taiwan wait, he said.
Tsai thanked the U.S. for paying close attention to issues concerning Taiwan's security.
"In the face of expanding authoritarianism, democratic partners must stand even more united in jointly safeguarding regional peace and stability. Ambassador O'Brien frequently cites President Reagan's maximum of 'peace through strength,' we profoundly agree with this sentiment," Tsai said.
To that aim, Taiwan has in recent years increased its national defense budget and strengthened its asymmetric warfare capabilities, and will reinstate one-year conscription from 2024, the president said.
In addition, Taiwan has established the All-Out Defense Mobilization Agency to integrate reserve and civic defense resources, and is drawing on the strength of multiple Cabinet-level agencies to counter disinformation and hybrid warfare, she said.
"Through all of these efforts, we are fulfilling the notion that peace depends on national defense, and that national defense depends on the people of Taiwan," she said.
Tsai said that her administration anticipates that Taiwan and the U.S. will continue to deepen their partnership through security cooperation and economic and trade exchanges.